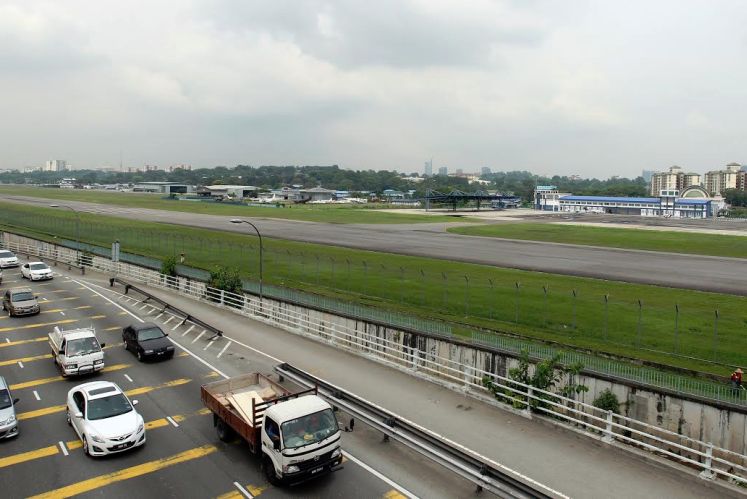 High-level talks come as growing economic links with China stir debate in Malaysia
MALAYSIA and China are set to hold meetings in the coming days to push ahead with proposals for the construction of three new ports along the Strait of Malacca as well as plans to jointly develop the Bandar Malaysia project tied to troubled state investment fund 1Malaysia Development Bhd (1MDB).
A high-powered 35-member Chinese delegation, headed by China's Public Security Minister Guo Shengkun, is scheduled to hold negotiations tomorrow with Malaysian Deputy Prime Minister and Home Minister Datuk Seri Ahmad Zahid Hamidi on funding options and implementation timelines for the development of the Melaka Gateway port and another one on Selangor's Carey Island.
Another item is the proposed development of a dedicated energy port in Bagan Datoh, Perak, which was first broached between the two governments in January during a visit to Beijing by Zahid.
Planners of the energy port in Bagan Datoh, which is in Zahid's parliamentary constituency, envisage an oil pipeline that will cut across Peninsular Malaysia and reach Bachok, a coastal town in the eastern state of Kelantan facing the South China Sea. The estimated cost of construction could hit RM30 billion (S$9.7 billion), government sources say.
A senior Home Ministry official, who confirmed the upcoming meetings, told The Straits Times that Guo and Zahid are leading the talks because the ports and pipeline projects are ventures of mutual security interest to both governments.
Separately, Finance Ministry secretary-general Tan Sri Irwan Serigar Abdullah is scheduled to lead a delegation to Beijing later in the week to meet potential players for the 1MDB-related real estate project, Bandar Malaysia.
The development, located at the edge of downtown Kuala Lumpur, will house the terminus for a proposed high-speed rail connection with Singapore.
Government officials close to the situation said Irwan, who is Malaysian Prime Minister Datuk Seri Najib Razak's new point man for Bandar Malaysia, is expected to hold talks with Chinese state-owned enterprises — such as China Overseas Land and Investment as well as Greenland Group — over their possible involvement in the development. Private sector concerns are also expected to feature in these talks, including giant entertainment and property developer Dalian Wanda.
Bandar Malaysia grabbed the headlines earlier this month after Najib's government abruptly terminated a deal with a Malaysian-Chinese joint venture to spearhead the 97ha project.
Kuala Lumpur declared that Malaysia's Iskandar Waterfront Holdings and China Railway Engineering Corp did not meet key conditions in the agreement signed in December 2015 to acquire a 60% interest in Bandar Malaysia for RM7.4 billion.
The visit by the Chinese delegation to Malaysia this week is part of a quick follow-up on the infrastructure initiatives Najib and Chinese President Xi Jinping discussed two weeks ago on the sidelines of the high-profile One Belt, One Road conference in Beijing.
Malaysian government officials noted that both countries are aiming to formalise these infrastructure deals when Xi visits Kuala Lumpur later this year.
The upcoming meetings underscore the deepening economic and security courtship between the two countries.
China is funding a RM55 billion rail link that will stretch from Tumpat town in Kelantan — near Malaysia's north-eastern border with Thailand — down the coast to Kuantan Port, before cutting through the mountainous central region to Port Klang, Malaysia's biggest port in the Strait of Malacca.
The 620km rail link is being touted in Malaysia as a game changer in regional trade because it could significantly alter trades that currently feature Singapore as the crucial link.
This growing economic integration with China is stirring debate in Malaysia.
Proponents argue that the closer economic links will firmly graft Malaysia to China's growing supply chain in Asean and afford it access to Chinese markets and technology. They also note that the port, rail and pipeline projects will be utilised primarily by Chinese concerns that will take up capacity and ensure that the projects are economically feasible.
But critics worry about the potential adverse impact these big-ticket projects will have on Malaysia's finances.
The plans to build the two new ports in Melaka and Selangor, the energy port in Perak along with an oil pipeline to Kelantan, as well as the East Coast Rail Link, have had many economists wondering whether they would be able to generate the economic returns to cover the new debts that Malaysia will take on.