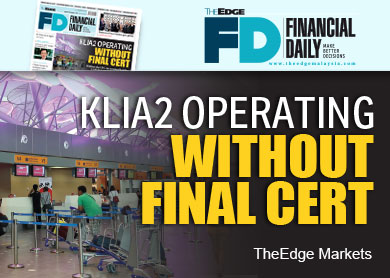 KUALA LUMPUR (Nov 4): Malaysia Airports Holdings Bhd (MAHB) admitted today that it had yet to issue the certificate of practical completion (CPC) for klia2.
In a statement today, MAHB said there were material contractual obligations which the contractor had not satisfied in klia2. The new low-cost carrier terminal, opened on May 2 this year, is located in Sepang, Selangor.
Airport operator MAHB explained that the CPC was a certificate issued contractually by MAHB, when it work has been completed to its satisfaction and met all contract requirements.
"Prior to the issuance of the CPC, the contractor is under an obligation to complete all works to the satisfaction of MAHB," MAHB said.
MAHB also said it had notified the contractor of the former's intention to impose liquidated damages (LAD). MAHB said the LAD would continue to apply in accordance with the terms of the contract.
MAHB's statement on the CPC for klia2 confirmed a report by The Edge Financial Daily yesterday.
Quoting sources, The Edge Financial Daily had reported klia2 was operating without the CPC, as MAHB had yet to issue the certificate for the main terminal building of the RM4 billion terminal.
The source had said without the CPC, the terminal building was still under the responsibility of the main contractor, formed under the UEM Construction Sdn Bhd and Bina Puri Sdn Bhd joint venture.
Today, MAHB said klia2 has received the certificate of completion and compliance (CCC) prior to its opening on May 2.
The CCC, which is a statutory certificate issued under the Street, Drainage and Building Act 1974, certified that the terminal was safe and fit for occupation.
"It was obtained on April 17, 2014, and its issuance is restricted to technical issues concerning health, safety and essential services as required by local authorities such as Jabatan Bomba dan Penyelamat Malaysia, Majlis Perbandaran Sepang and Indah Water Konsortium Sdn Bhd," said MAHB.