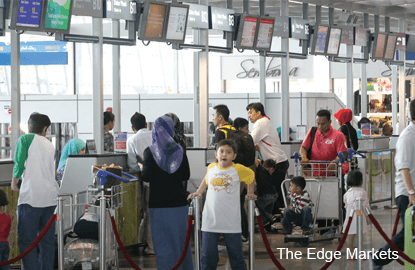 KUALA LUMPUR: As the country's two major carriers make capacity cuts, deploy smaller planes and postpone the delivery of new aircraft with a view to cut costs amid intense competition from rivals in the region, analysts expect Malaysian airports to handle a lower number of passengers this year.
National carrier Malaysia Airlines (MAS) is starting over as a smaller airline to better compete with low-cost carriers and rivals from the Middle East. Its efforts include laying off about one-third of its workforce, cutting its capacity to a number of regional routes and using smaller jets on some overcapacity routes.
CIMB Research, for one, has lowered its international passenger traffic growth forecast for 2015 at the 39 airports Malaysia Airports Holdings Bhd (MAHB) manages from 4.3% to 2.6%.
The research firm estimates that the full-year impact of MAS' capacity cuts on regional routes in Greater China, Southeast Asia, Australia and South Asia, coming in August, to remove 4.6% of MAHB's 2014 international passengers, assuming a 70% load factor.
MAS already embarked on its first round of capacity cuts on Kunming (effective April 30), Krabi (May 6), Frankfurt (May 29) and Kochi (June 1).
"AirAsia X Bhd is [also] seeing weaker demand from South Korea and Japan, and some of its newer flights are not doing too well and could also face the axe or see capacity reductions. The Sabah earthquake earlier this month (June) may also dissuade international travel," said CIMB Research in a report last Thursday.
CIMB Research is also of the view that MAHB's passenger service charge (PSC) collection is likely to drop 1.3% year-on-year for the first five months of 2015, as the fall in its international PSC collection slightly outweighed the rise in domestic PSC revenue.
Still, MAHB managing director Datuk Badlisham Ghazali is convinced that other international airlines will step in to add capacity to fill the gap left by MAS.
He cited Japan's ANA Holdings Inc, which will return to Kuala Lumpur in September, after a 13-year absence. ANA ended its unprofitable flights from Osaka to Kuala Lumpur on April 18, 2002.
On May 27, 2015, British Airways (BA) resumed direct flights from Heathrow to Kuala Lumpur, after a 14-year absence.
However, some quarters said North American airlines had been reluctant to fly to Kuala Lumpur due to poor yields, and Singapore and Bangkok had more connections to other places in the region.
On this, Badlisham conceded that it is unlikely that North American airlines will operate flights to Kuala Lumpur, but rather will depend on their code-sharing partners or alliances.
"ANA will be able to fly passengers daily from Kuala Lumpur via Tokyo's Narita to North America, while BA will carry Americans to the United Kingdom and Southeast Asia," he told The Edge Financial Daily in a recent interview.
"This would be the same with Emirates Airline and MAS, which is a member of the Oneworld alliance. So, there are ways to fly Americans (here) without bringing in the airlines.
"To the airport, it does not matter whether you arrive on Airline A or Airline B. You are still a customer to the airport," added Badlisham.
Meanwhile, Badlisham sees that passenger traffic growth in Southeast Asia will likely remain high for the rest of the year, benefiting from a cheaper ringgit.
Badlisham was recently quoted as saying that the airport operator will revise upwards its passenger traffic forecast of 3% to 85.8 million for 2015 before year end, as it expects the healthy growth trend from across the Asia-Pacific region to continue.
Last year, the airport operator saw a 4.7% rise in passenger traffic to 83.3 million from 2013. For the first five months of this year, however, MAHB saw a marginal 0.7% increase in passengers passing through its 39 airports to 34.33 million from 34.08 million in the year-ago period.
International traffic fell 1.8% to 16.37 million from 16.66 million a year ago, while domestic traffic saw growth of 3.2% to 17.97 million from 17.41 million in the January to May 2014 period.
Nevertheless, Badlisham believes that there is still room for further optimism in 2015, with the opening of its Mitsui Outlet Park near the Kuala Lumpur International Airport.
In its sector report last Friday, Kenanga Research, on the other hand, opined that passenger traffic growth will likely remain subdued for the rest of the year, due to previous air travel tragedies in 2014, coupled with the lack of near-term catalysts for the aviation sector except low jet fuel prices. 
MAHB (fundamental: 1; valuation: 1.4) shares closed up 0.15% at RM6.56 last Friday, with a market capitalisation of RM10.87 billion.
This article first appeared in The Edge Financial Daily, on July 6, 2015.