This article first appeared in The Edge Financial Daily, on April 10, 2019.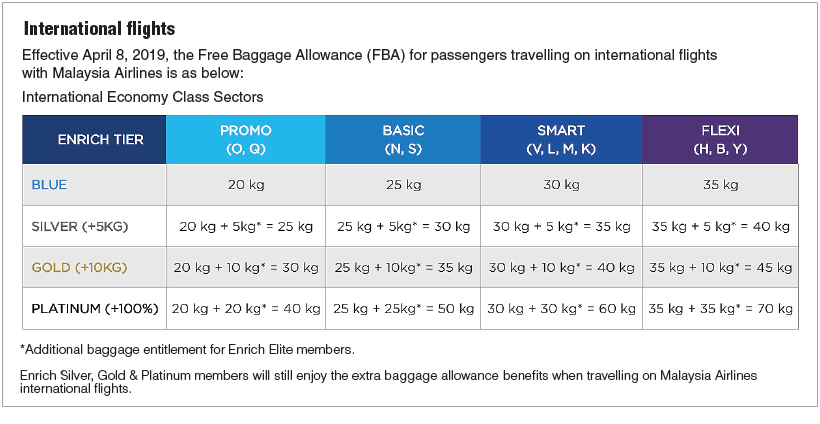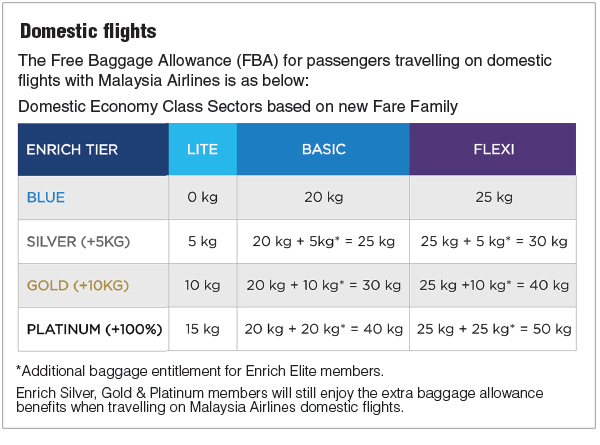 KUALA LUMPUR: Malaysia Airlines has revised its economy class free check-in baggage allowance on both its domestic and international flights, effective April 8.
With the revision, passengers who purchase tickets at the lowest domestic fare category called Lite will now be given only a 7kg hand-carry baggage allowance. They will no longer get the free check-in baggage allowance.
This is the second adjustment in 10 months by the national airline for domestic passengers travelling in economy class. This came after the airline had, on Aug 1 last year, cut its baggage allowance to 20kg from 30kg.
For international travellers, the steepest drop in luggage allowance is seen on its Promo tickets, which has been reduced to just 20kg from 30kg previously. Passengers who buy the Basic, Smart and Flex category tickets, meanwhile, will get 25kg, 30kg and 35kg of free luggage allowance, respectively.
However, for flights to Medina and Jeddah, the free baggage allowance remains at 30kg for all economy class fares.
Moreover, the airline loyalty members holding Enrich Silver, Gold and Platinum will enjoy an additional baggage allowance of 5kg, 10kg and 20kg respectively, on top of extra baggage allowance benefits given in accordance to their level of membership.
All Oneworld alliance members holding a membership loyalty status equivalent to that of an Enrich Silver, Gold or Platinum will also be able to enjoy the respective additional luggage allowance.
"Malaysia Airlines' new baggage allowance on economy class was done to allow our customers more flexibility and choice. Moving away from a 'one-size-fits-all' fare, the new options will give passengers a more personalised and tailor-made travel experience based on their requirements," Malaysia Airlines said in a statement.
The move appears similar to a recent measure announced by Malindo Airways Sdn Bhd. Citing industry changes and passenger demands, Malindo Airways announced on Feb 15 that it has lowered the baggage allowance by 10kg to 15kg for economy class passengers under its Value fare option. At the same time, it raised the allowance for Flexi fare passengers to 30kg from 25kg.
Subsequently, on March 15, its lowest category fare, Super Saver, removed the free check-in baggage entitlement, leaving only the 7kg hand-carry allowance. It said that check-in luggage can henceforth be purchased in 5kg blocks.
Malindo has also removed the free meals attached to Super Saver tickets. In contrast, Malaysia Airlines continues to provide free meals to travellers on all ticket categories.