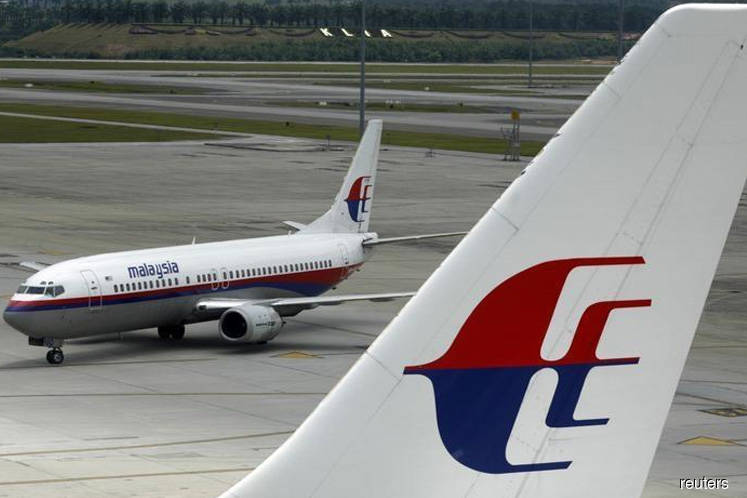 SEPANG (Nov 30): Malaysia Airlines today received the first of its six Airbus A350 XWB on lease from Air Lease Corp (ALC), all of which will be exempted from goods and services tax (GST).
Second Finance Minister Datuk Seri Johari Abdul Ghani, who was present at the welcome ceremony of the aircraft here, announced that the aircraft will be the first big-ticket item in Malaysia to receive the GST exemption as highlighted in Budget 2018.
"We approved it (GST exemption) because commercial planes as such usually involve large investments of approximately US$200-220 million," Johari told reporters.
He added that Malaysia Airlines has been an important contributor to the country's economic development, especially in driving the tourism sector. In 2016, the tourism industry contributed 14.8% (about RM182 billion) to the country's gross domestic product of some RM1.2 trillion.
Malaysia Airlines is leasing the six Airbus A350 XWB aircraft from ALC under a 12-year lease agreement to expand its flight network.
"The A350 XWB is a symbol of a new journey that sees all of us at Malaysian Aviation Group sprinting towards the completion of the Malaysia Airlines Recovery Plan (MRP) which essentially is to re-establish the group as a sustainably profitable and financially self-sufficient entity," said new group chief executive officer of Malaysia Airlines Captain Izham Ismail at the ceremony.
"We are confident that with this new product, we are able to gain consumers, customer confidence, and regain our brand in the market," he added.
He is also hopeful that Malaysia Airlines would soon return to profitability with assistance from the government and stakeholders.
"We are on track in our MRP, no doubt we are not out of the woods and have got lots of work to do. But we are working very hard to turn around this organisation," said the newly appointed CEO.
On an average, Malaysia Airlines operates 295 to 300 flights per day and carries 40,000 customers daily.
The aircraft, bearing the registration number 9M-MAB, will begin operating from Dec 8 starting with endorsement flights to Penang, Bangkok, and Singapore, before servicing its intended Kuala Lumpur-London route from Jan 15, 2018 onwards.
Powered by fuel efficient Rolls-Royce Trent XWB engines, the A350 XWB is the world's largest generation airliner featuring carbon fiber fuselage and wings, and said to provide a 25% reduction in fuel burn and emissions, and lower maintenance costs.
"With its technological advancements, the A350 XWB will help boost our competitiveness on our long haul flights and underlines our commitment to operate a young and modern fleet," said Izham.
He added that the A350-900 would allow for close to 38% reduction in operating costs on its London route.
Configured in a three-class layout, the aircraft features a total of 286 seats — four in the first, 35 in business, and 247 in the economy class.
The remaining five A350-900s on order are scheduled to be handed over to Malaysia Airlines in stages by second quarter next year.