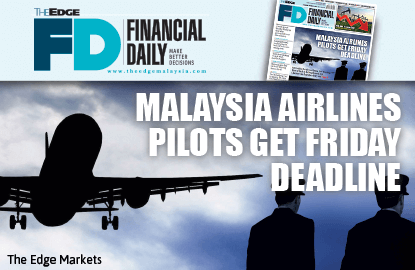 This article first appeared in The Edge Financial Daily, on January 7, 2016.
KUALA LUMPUR: Pilots flying Malaysia Airlines Bhd's (Malaysia Airlines) Boeing 777-200ER (extended range) fleet, which will be phased out by the end of this month, have until tomorrow to accept a mutual separation scheme (MSS) offered by the national airline, according to documents seen by The Edge Financial Daily.
Under the scheme, pilots who choose to take up the offer will be paid gratuity as compensation for cessation of employment. They will also be paid for outstanding pro-rated annual leave and salary in lieu of their notice period.
According to the documents, pilots who are successful in applying to the MSS will be notified by Jan 11, with information on gratuity payment and terms of the separation.
According to the documents, the cessation of employment and exit of the successful applicants will be on Jan 31.
It is understood that the 777 pilots leaving Malaysia Airlines under the MSS can be considered for employment with the airline after a cooling period of two years.
Malaysia Airlines is facing a surplus of pilots as the airline's 777 fleet is being phased out, and as it cuts international seat capacity to leverage on its strong regional position since August 2014. In April last year, it was also reported that the airline had put its entire long-haul fleet of six Airbus A380s up for sale or lease.
At press time, Malaysia Airlines and the Malaysia Airlines Pilots' Association (Mapa) did not respond to the request for comment.
When contacted, aviation consultancy firm Endau Analytics founder Shukor Yusof told The Edge Financial Daily that the MSS is in fact widely expected in the industry.
"It (MSS) did not come as a surprise. Malaysia Airlines staff probably are expecting more layoffs given the speed the airline is shrinking," he said.
"Pilots want to fly, it is what they are trained to do. If they cannot do that with Malaysia Airlines, they will be hired by other airlines as Malaysia Airlines pilots are well regarded in the industry," Shukor added.
Meanwhile, sources said the MSS offer is unlikely to appeal to junior pilots who undertook the Cadet Pilot Training (CPT).
"The MSS is not appealing to junior pilots, especially those who have outstanding CPT costs to pay. This is because they [already] have lower salaries [due to their fewer] years of service," one source told The Edge Financial Daily, adding that the training cost deductions coupled with taxation would make the MSS an unattractive option.
Malaysia Airlines on Dec 28, 2015 denied a report that its pilots were forced to leave the national carrier, after Malay-language tabloid Kosmo published an article saying 250 of its 777-200ER pilots will lose their jobs in 2016.
"The pilots will have a choice of career options, including voluntary secondment to other airlines in Asia or the Middle East, voluntary no-pay long-term leave to pursue other careers or to remain at Malaysia Airlines and await possible long-term vacancies on other aircraft types.
"The opportunities for secondment to another airline are entirely voluntary for the individual pilot and no 777 pilot has been requested to leave the airline," the national carrier told The Malaysian Insider.
With the phasing out of the 777s, Malaysia Airlines will be left with six A380s (of which four will be serving the London route, while two are for charters), 19 A330s, 54 737-800s and four A330-200F freighters.
The series of downsizing measures form part of Malaysia Airlines' ongoing restructuring plan, which saw it inking a codeshare agreement with Dubai-based Emirates on Dec 2, 2015.
The agreement follows Malaysia Airlines' decision to stop flying from Kuala Lumpur to Amsterdam and Paris beginning Jan 27.
The deal gives Malaysia Airlines access to more than 90 locations in the US, Europe, the Middle East and Africa served via Emirates' Gulf hub, while Emirates will be able to access about 300 daily flights by Malaysia Airlines in its Asian network.