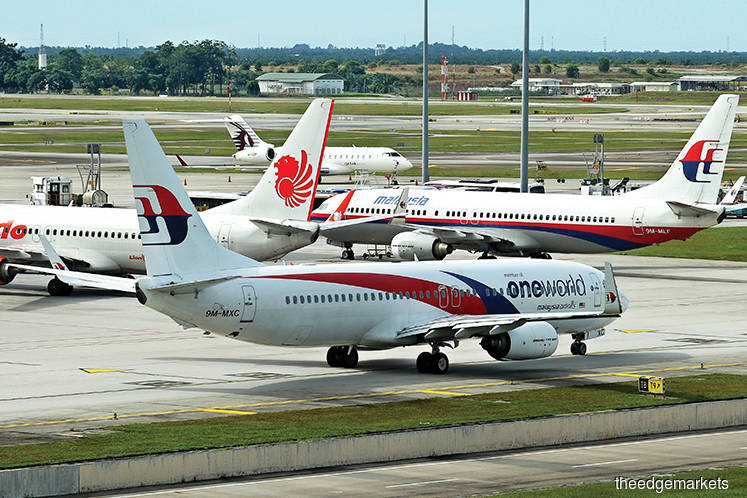 KUALA LUMPUR (June 19): Malaysia Airlines is introducing enhanced economy class flexible fare options across its entire network for all passengers to enjoy, offering unparalleled safety, security, flexibility and a complete hassle-free, premium experience based on the needs of each customer. 
In a statement today, Malaysia Airlines said the options, which were previously limited to domestic, Asean and South Asian destinations, will now see passengers have access to three unique fare options (Lite, Basic and Flex) for all destinations except Malaysia to Japan to Malaysia, Jeddah and Madinah, beginning June 22, 2020. 
Malaysia Airlines group chief executive officer (CEO) Captain Izham Ismail said: "As the first airline in the Asia-Pacific region to fully introduce flexible fare options across our network, these fares will allow greater personalisation for our passengers, balancing a simple and intuitive booking experience, alongside unforgettable Malaysian hospitality on board [and] on the ground, creating a stress-free and seamless travel experience.
"This reaffirms our commitment to putting our passengers first, especially in these uncertain times where passengers may be apprehensive about travel.
The airline said regardless of travel needs, all passengers get to enjoy the privileges and services of its premier full-service carrier across all fares, with cabin baggage up to 7kg, complimentary snacks/meals and beverages as well as access to the specially curated Malaysia Airlines in-flight entertainment system.
Malaysia Airlines said the Flex Fare lays the opportunity of unmatched flexibility and simplicity at fingertips, leaving the little annoyance of travelling behind in favour of absolute convenience. 
"Passengers who arrive early at the airport will also enjoy the flexibility of travelling earlier on the day of travel should the opportunity be available, allowing passengers to have fluid travel plans and not worry about fixed travel times.
"Most importantly, Flex Fare passengers enjoy the opportunity to skip the line, with priority check-in, boarding and baggage privileges as an added bonus, allowing them to skip the waiting line and the hustle and bustle of the crowd," it said.
Meanwhile, the Neighbour Free Seat (NFS) product is now available exclusively for Flex Fare passengers on all flights at 50% off, allowing for extra room to travel in comfort, with physical distance on board in mind. 
It said even after their travel, passengers enjoy the value of booking on the Flex Fare, with a 10% discount on their next Economy Flex purchase.
In addition, the Basic Fare provides the everyday traveller a chance to enjoy the classic full-service carrier experience, with all the hallmarks and benefits that befit a premium travel service, with 20kg of free check-in baggage to provide passengers ample space to pack for their travel adventures. 
"The Basic Fare also acts as a gateway to high life in the sky, with passengers having the chance to enjoy Enrich benefits such as Enrich Miles upgrades, giving them the opportunity to try our business class experience to travel," it said. 
According to Malaysia Airlines, the Lite Fare provides passengers with the most utilitarian option for their needs, perfect for day trippers, commuters and business travellers. 
"With time of the essence and check-in baggage more of a hindrance than a benefit, the Lite Fare comes with the essentials for their travel and provides them with the fastest and most convenient way for these travellers to get to their destinations seamlessly, using their time on board as an opportunity to relax and recharge before the experiences that lay ahead of them," it added. 
It said passengers travelling on the shuttle-eligible routes, namely the Kuala Lumpur-Singapore-Kuala Lumpur route, will alternatively have three fare brands, namely the Lite and Basic fares, in addition to the Shuttle Fare. 
"The Shuttle Fare is specially catered to seasoned and regular passengers who make multiple trips on the route and desire more flexibility in their travel plans.
"Passengers booked on this fare brand will receive all benefits of the Flex brand fare and more, with check-in baggage of up to 35kg as well as priority check-ins at dedicated counters," it said.