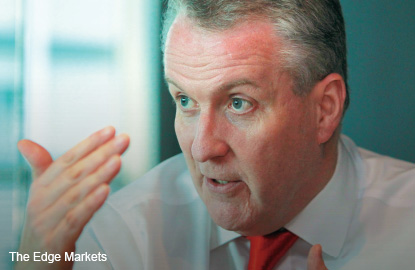 This article first appeared in The Edge Financial Daily, on July 20, 2016.
KUALA LUMPUR: Malaysia Airlines Bhd is changing the way it prices its airfares, which will see the national carrier competing with full-service carriers (FSCs) like Cathay Pacific and Singapore Airlines to fill up the front end of the plane while offering fares that match or beat those offered by low-cost carriers (LCCs) for seats at the back.
According to its group managing director and chief executive officer Peter Bellew, who is 19 days into his new position, the combination of airfares will allow Malaysia Airlines to address all markets within one aircraft.
He said the airline remains an FSC, offering frills on its flights such as in-flight food, baggage allowances, allocated seats and credit-card processing.
"Passengers seated upfront, in business class, will enjoy high levels of service, but they have to pay a premium, while those seeking low value for money products will sit in the back of the plane," he said at his first news conference since taking over from Christoph Mueller on July 1.
Bellew cited British Airways' strategy, whose economy fares in the short-haul market are cheaper than LCCs for passengers who book early. However, passengers pay a premium for its fully flexible first-class and business-class tickets.
"We are going to have that flexibility in our operations. We are going to adjust our pricing policy over the next 12 weeks to address the value for money passengers in the back of the aircraft, as well as tweak our fares in the front end, to address all markets," he said, adding that this is part of plans to improve the load factor of its aircraft from below 70% currently to over 85%.
Asked whether its new pricing policy could dilute its premium brand, Bellew said: "If you are [operating] in Malaysia, [you have to recognise that] it is the lowest fare market in the world. You have Lion Air, AirAsia, Malaysia Airlines and other FSCs [competing], so you can't ignore that. And if you are in the leisure business, you have to be competitive in your pricing."
"If you have an aircraft, you should be trying to get your load factor up over 85% and the only way you are able to do that is by playing with price elasticity."
Plans are also underway for Malaysia Airlines to improve its in-flight meals for business-class passengers.
The airline has also started refurbishing the business-class cabin of its fleet of Airbus A330s since end-March, with completion by the end of the year.
Malaysia Airlines will also introduce premium economy-class seats next year as it retrofits its six A380 fleet and takes delivery of six new A350s.
"We have started retrofitting our existing A380s with premium economy-class seats. One of the six A380s has been retrofitted, but we won't be selling the seats until at least four of the super-jumbos are completed. We expect all to be done by next March," said Bellew, adding that it plans to sell its entire fleet of A380s by 2018 remain intact.
"We will also offer four classes of service including premium economy class on our new A350s, which are scheduled for delivery from October 2017 until April 2018," he said.
Malaysia Airlines plans to mount its new A350s on routes to London and will finalise two more destinations over the next two months.
Bellew also said the airline plans to launch six to eight new destinations in North Asia, Sabah and Sarawak out of klia2 if it were to relocate some of its operations there next year.
"We need to burst out of the cocoon. We need to move forward at this stage. We have started the feasibility study [on the new destnations] and should announce them within six to seven weeks," he said, dismissing criticism that it could lead to Malaysia Airlines losing more money and confusing travellers.
"For international destinations, it is RM33 cheaper to operate from klia2 than it is to operate from the Kuala Lumpur International Airport (KLIA). Most airlines' average profit per airline seat is about US$4 (RM16) to US$5. So, for us to offer new destinations primarily to North Asia from here, we have to be competitive with our cost base," he said. Air travellers departing from KLIA now pay a passenger service charge (PSC) of RM65 for international flights and RM32 from klia2.
"It is just pure basic economics. The facilities at klia2 are well set up. But if the costs are the same at the two terminals, if something changes, then we won't have to operate at klia2," said Bellew.
"Ideally, we would like to have the charges (PSC) to be the same at the two terminals (klia2 and KLIA). There are 55 airlines operating out of KLIA, but only one airline group wishes to keep the price differentials," said Bellew.
Malaysia Airlines also plans to buy narrow-body aircraft and medium-range jets to add to its fleet of 54 737-800s, 15 A330-300s, six A380s and the upcoming six A350-900s.
"We will announce the news on that relatively soon. [On funding,] we may use a mix of a sale-leaseback arrangement and we may finance some from the capital markets. It will depend on what is the cheapest solution at that time," said Bellew.