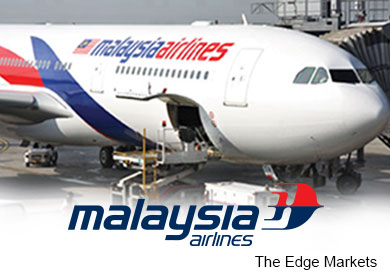 (Oct 15): Malaysian Airline System Bhd., the carrier reeling from the crash of two planes this year, said small shareholders should accept a buyout offer from the carrier's majority owner as it called the proposal fair.
The airline's directors recommended the plan after the audit committee found parent Khazanah Nasional Bhd.'s offer fair and reasonable, the Subang, Malaysia-based company said in a statement to the stock exchange today. In August, the sovereign wealth fund proposed 27 sen per share, totaling 1.38 billion ringgit ($421 million), to buy the remaining 30.6 percent stake it doesn't own in the company.
Khazanah is delisting the airline by buying out minority shareholders in the first stage of restructuring aimed at reviving the flag carrier. Malaysia Airlines is eliminating 6,000 jobs and has embarked on a search for a new chief executive officer as part of a 6 billion ringgit plan to return the carrier to profit in three years.
Malaysia Airlines lost two aircraft this year. MH370 vanished from radar screens en route to Beijing from Kuala Lumpur March 8 without any warning, while MH17 was shot down in Ukraine in July. The two accidents killed a combined 537 people and caused a drop in ticket bookings. No debris of MH370 has been found in what's the world's longest search for a missing passenger jet.
The company has scheduled an extraordinary general meeting Nov. 6 to consider the proposal. The carrier's shares were unchanged at 25 sen at the afternoon trading break in Kuala Lumpur today. It has declined 19 percent this year.