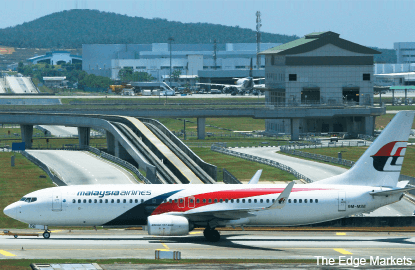 KUALA LUMPUR (March 4): Malaysia Airlines Bhd (MAB)'s revenue per available seat kilometre (ASK) for its second financial quarter ended Feb 29, 2016 (2QFY16) has improved by 10% year-on-year on the back of the route optimisation exercise, the group said in a statement today.
In an update on its restructuring progress, MAB shared that its seat load factor is also showing improvements with over 350,000 passengers travelling with Malaysia Airlines over the Chinese New Year holidays.
"Improving punctuality and on-time performance (OTP) is a core goal for the operations team. Malaysia Airlines needs to win on customer service and this is being benchmarked against our competitors, who are operating at 85% OTP at the highest end and 57% OTP at the lowest," said MAB.
It added that numerous initiatives were put in place in the last quarter, which led to a marked improvement in OTP.
"After a dip in December, due to adverse weather conditions and constraints in availability of aircraft, punctuality reached 85% in February 2016. On Feb 17, 2016, the airline hit a record 95% punctuality across all flights with 100% on domestic operations," said MAB.
Over the next quarter, MAB said that new initiatives will be introduced to improve service quality and to shorten waiting times for passengers.
Other improvements include refreshed aesthetics in the lounges showcasing Malaysian creative talent, new Business Class seats on its A330s, and new on-board cuisine.
MAB said its codeshare partnership with Emirates Airlines will contribute to its fleet consolidation and has enabled the airline to retire the B777-200s completely.
The consolidation will drive down complexity in maintenance, engineering and flight operations
The codeshare also forms an integral part of the airline's future network plan as it focuses on getting customers connected globally, opening up a host of new destinations by providing unprecedented access to Emirates' network.
The first phase of the agreement will see 11 destinations introduced, including Rome, Paris, Madrid and Frankfurt, with the rest being added progressively over the next few months subject to regulatory approvals. Once complete, Malaysians will have access to over 30 destinations in Europe, the Middle East, Canada, and Africa.
The national carrier also shared that it has ordered four brand new Airbus A350-900s aircraft.
"The aircraft will deliver great performance and is able to operate non-stop from Kuala Lumpur to London and throughout Asia. Deliveries will start in October 2017 but major work has already been completed with the seats, layout and technical specification all now finalised," said MAB.
The manufacturing of major parts of the new aircraft has already commenced at Airbus plants globally. Beyond this, the airline is evaluating additional A350s in order to reach a critical fleet size, allowing standby aircraft for any scheduled maintenance and enabling future network expansion.
"Malaysia Airlines actively assesses new route opportunities on an ongoing basis and is currently evaluating the possibility of serving unique and new destinations that would require new equipment.
"[Our] A380s are due for scheduled maintenance at the beginning of the second quarter this year, which will mean an average of one A380 aircraft being out of commission for the remainder of 2016. In anticipation of this, the airline is exploring reinstating a former flagship aircraft to ensure minimal interruptions on the London route," said MAB.
The quarter also saw the successful renegotiation of contracts with a majority of operating lessors with revised lease rates that are significantly lower and on economically feasible terms.
The revised lease rate, now at market rate and at levels consistent with Malaysia Airlines' business plan, has enabled the airline to enter into letters of intent with lessors to take on the underlying aircraft.
"The overall review and renegotiation of supply contracts with key vendors, crucial towards setting the airline on the right path to recovery and sustained profitability, also continued in the quarter.
"Malaysia Airlines will also be investing in new ground service equipment that will improve on-time performances and turnaround times," it said.
To ensure convenience and improved connectivity for passengers, Malaysia Airlines is also planning a move to concentrate most of its operations in Kuala Lumpur International Airport (KLIA)'s main terminal.
The plan will mean quicker connections for Asean passengers between international and domestic flights. This will improve flight connection times, provide faster and more reliable baggage transfer, and ultimately ensure better customer satisfaction.
"With a successful trial conducted earlier this year, [we] are working closely with Malaysia Airports Holdings Bhd to realise the consolidation," said MAB.
MAB group chief executive officer Christoph Mueller said that the airline is focused on building momentum with its restructuring in 2016.
"We have seen a challenging quarter, but I am pleased to see continued progress made in all key areas such as on-time performance and costs. MAB has been operating for six months now, and although we have a long way to go and areas for improvement, we are making steady progress in the restructuring.
"Diligent execution on efficiency and tighter cost controls has already produced results which have seen us emerging leaner and more focused. There is still plenty to be done but the group is working hard to ensure that Malaysia Airlines succeeds and prospers for the years to come," said Mueller.