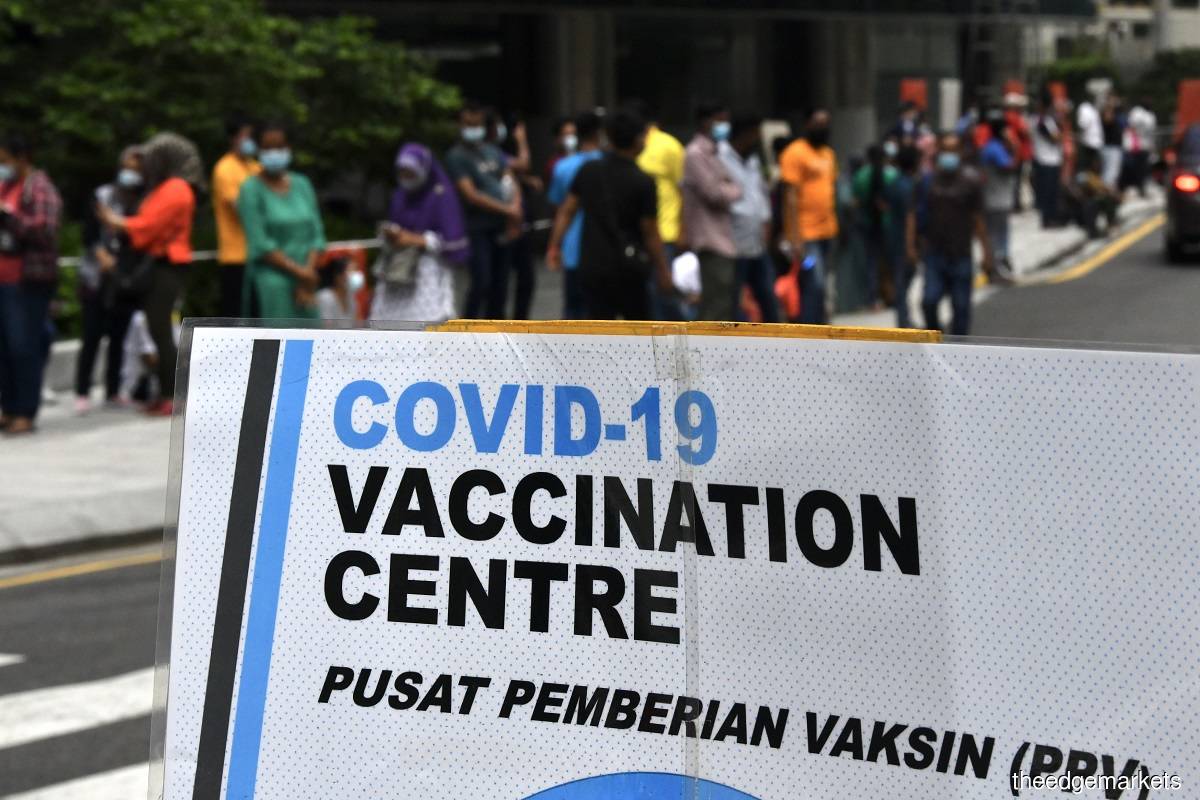 *This story has been updated with the latest data from JKJAV
KUALA LUMPUR (Aug 1): Malaysia gave out a total of 12.47 million doses of Covid-19 vaccines in July, according to data from the Special Committee on Ensuring Access to Covid-19 Vaccine Supply (JKJAV) today — more than double the 5.08 million doses given out in June and nearly eight times the 1.56 million doses the country administered in May.
The pace of daily dose administered jumped to an average of 398,843 vaccine doses a day as of Saturday (July 31), JKJAV tweeted today. This is up about 18 times from the average of 22,238 shots a day seen in March, as Malaysia ramped up its vaccination rate in the last few months with the aim of fully vaccinating all its adult population by October. 
The country administered over 500,000 doses of vaccines daily for the past six days (July 26 until July 31). At the current pace of 500,000 shots a day, another 30.5 million doses could be administered by end-October.
Since the vaccination campaign began in late-February, 20.53 million doses had been administered across the country as at July 31, according to the Covid-19 Vaccine Supply Access Guarantee Special Committee (JKJAV). These went to 13.82 million or 42.3% of the total population who had received at least their first Covid-19 vaccine dose, including 6.72 million people or 20.6% who had completed the two-dose regime.
Also as at July 31, 28.7% of the country's adult population had been fully vaccinated, while 59% of them had received at least one dose.
Follow our Covid-19 vaccination tracker to see where we are in the race to herd immunity.
Klang Valley — comprising Selangor, Kuala Lumpur and Putrajaya — saw more than one-third or 35.7% having received both doses, including 92.7% who had received one dose.
The country reported 17,786 Covid-19 cases yesterday, a new daily high figure, pushing active cases that carry high transmission risk to a new high of 189,609. The country's cumulative confirmed Covid-19 infections stood at 1.11 million as of July 31.
On a month-on-month basis, following the detection of the highly transmissible Delta variant in almost every state in the country, new cases more than doubled to 361,293 in July (from July 1 to July 31), from 179,622 in June, which were up 9.76% over 163,644 cases in May.
The increase in new cases came as testing being ramped up to 3.6 million tests in July, with an average positive rate of 9.86%. Comparatively, 2.39 million tests were conducted in June, with an average positive rate of 7.26%.