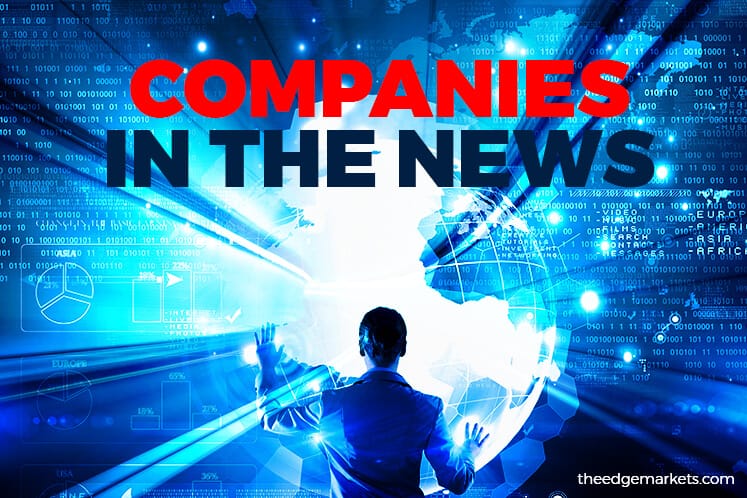 KUALA LUMPUR (Aug 30): Based on corporate announcements on Bursa Malaysia and news flow today, companies that will be in focus on Tuesday (Sept 5) when the market resumes trading after the long break may include: Malayan Banking, Felda Global Ventures Holdings, Boustead Holdings, Kossan Rubber Industries, Axiata Group, Malton, Bonia Corporation, Ekovest, Bison Consolidated, Brahim's Holdings, Titijaya Land, Voir Holdings.
Malayan Banking Bhd reported a 43% increase in net profit to RM1.66 billion in 2QFY17 from RM 1.16 billion a year ago, on higher net interest income and Islamic banking income.
Total income growth for 2QFY17 came in flat at RM10.92 billion compared with RM10.94 billion previously.
In the first six months ended June 30, 2017 (1HFY17), Maybank reported a 30% increase in net profit to RM3.36 billion from RM2.59 billion a year ago, on an increase in net interest income and Islamic banking income and lower impairments.
Total income growth for 1HFY17 was flat at RM22.2 billion from RM22.12 billion in 1HFY16.
Maybank expects its financial performance for 2017 to be satisfactory given the ongoing challenging global environment.
Felda Global Ventures Holdings Bhd's (FGV) net profit shrank 64.8% to RM25.91 million in 2QFY17 from RM73.69 million a year ago, dragged by losses incurred by its sugar business unit.
Quarterly revenue, however, managed to increase by a marginal 1.9% to RM4.22 billion in 2QFY17 from RM4.14 billion previously.
For the cumulative six months ended June 30, 2017 (1HFY17), FGV posted a net profit of RM28.38 million against a net loss of RM7.39 million a year ago,  
Revenue grew 8.2% to RM8.55 billion in 1HFY17 from RM7.9 billion in the previous corresponding period.
FGV is confident its sugar business will perform better in the second half of the financial year from lower raw sugar price, as it depletes stocks previously bought at a higher price.
Boustead Holdings Bhd's net profit slumped 73.7% to RM59.3 million or 2.93 sen per share in its second quarter ended June 30, 2017 (2QFY17) from RM225.8 million or 13.52 sen per share last year.
Quarterly revenue, however, grew 15.3% to RM2.4 billion from RM2.1 billion a year ago.
For the six-month period ended June 30 (6MFY17), Boustead posted a lower net profit of 69% at RM63.5 million or 3.13 sen per share from RM204.3 million or 12.34 sen per share a year ago.
Revenue for the period climbed 21.3% to RM4.8 billion from RM3.9 billion last year.
Moving forward, it said despite the tough global economic conditions, the diversified nature of Boustead in six core areas of the Malaysian economy augurs well for the group.
Kossan Rubber Industries Bhd has proposed to buy a piece of vacant industrial land in Banting, Selangor, from Andalas Development Sdn Bhd for RM95.99 million, or at RM22.50 per sq ft.
The land is proposed to be developed for the group's manufacturing activities.
Kossan said it will create greater economic value and increase the earnings potential for the company over the medium and longer term.
Axiata Group Bhd's 62.4%-owned subsidiary edotco Group Sdn Bhd announced its biggest expansion plan to date with the proposed acquisition of 13,000 towers in Pakistan for US$940 million.
edotco said it, together with Pakistan-listed Dawood Hercules Corp Ltd (DH Corp), is acquiring the towers from Pakistan Mobile Communications Ltd (PMCL).
The proposed acquisition will be funded through a combination of external local debt and an equity split by edotco and by DH Corp for their respective stakes.
The acquisition is scheduled to be completed in the 4Q of 2017.
Malton Bhd registered higher pre-tax profit for FY2017 at RM111.77 million, compared with the RM71.2 million recorded last year.
Revenue expanded by 29.2% to RM817.08 million from RM632.21 million previously.
Malton said its ongoing development projects, which include The Park Sky Residence and The Park 2 Residence in Bukit Jalil, will contribute to earnings in FY18.
Bonia Corp Bhd's net profit more than doubled to RM7.68 million for 4QFY17 compared with RM3.78 million a year ago on improvements in gross profit margin and lower fair value adjustments on investment properties.
Quarterly revenue dropped 4% to RM153.39 million, from RM159.83 million.
Bonia posted a net profit of RM31.73 million versus RM24.37 million for the financial year ended June 30, 2017 (FY17), while revenue is lower by 8%, from RM665.44 million to RM613.16 million.
Bonia expects the coming financial year to be challenging with the continuous increase in imported merchandise costs due to the weakened ringgit.
Ekovest Bhd has reported an 86.5% lower net profit for the fourth quarter ended June 30, 2017 (4QFY17), which stood at RM18.42 million, compared with RM136.17 last year on lower recognition of fair value adjustment for investment properties.
Its quarterly revenue was, however, up 9.41% to RM318.45 million from RM291.07 million last year.
For the full year ended June 30, 2017 (FY17), its net profit fell 28.8% to RM110.6 million or 5.17 sen a share from RM155.41 million or 7.27 sen a share, in the previous year. Its revenue grew 37.2% to RM1.09 billion from RM793.58 million last year.
Ekovest expects SPE, River of Life, DUKE Phase-2's toll revenue, and unbilled sales from property development activities to contribute positively to the group's future results.
Bison Consolidated Bhd is proposing a private placement of up to 31.01 million new shares in the company at RM2.50 apiece to raise RM77.52 million.
Some RM50 million of the proceeds raised will be used to acquire a piece of leasehold land with an office block in Kota Damansara, from Leno Marketing (M) Sdn Bhd, to be used as a corporate office.
Another RM24.39 million will be used as working capital, while the balance is for proposal-related expenses.
Bison also proposed a one-for-one bonus issue to be issued after the private placement, which entails the listing of up to another 341.77 million shares in the counter.
Brahim's Holdings Bhd's net loss more than halved year-on-year to RM2.02 million in 2QFY17 from RM5.8 million a year ago.
Quarterly revenue grew 13% to RM69.54 million from RM61.47 million a year ago.
In the first six months ended June 30, 2017 (1HFY17), cumulative net loss shrank to RM3.87 million, from RM10.82 million in the previous corresponding period.
Cumulative revenue came in at RM140.88 million, 15.54% up from RM121.93 million in 1HFY16.
Moving forward, Brahim's said the performance of its in-flight catering and related services is expected to remain positive.
Titijaya Land Bhd recorded a net profit of RM17.01 million in 4QFY17, up 14% from RM14.9 million last year, thanks to contribution from its completed projects.
Quarterly revenue stood at RM122.05 million, increasing by 14.5% from RM106.62 million in 4QFY16.
For the financial year ended June 30, 2017 (FY17), Titijaya registered net profit of RM76.74 million, representing an 11.7% increase from RM68.34 million last year, despite a 4.8% drop in revenue to RM380.75 million from RM400 million.
Titijaya has in its pipeline a slew of projects with total GDV of RM1.75 billion to be launched in FY18.
Voir Holdings Bhd is planning to take up a 13.2% stake in Consortium Zenith Sdn Bhd to venture into construction, property and infrastructure development, as well as toll concession.
Voir said it plans to take up the stake in Consortium Zenith for RM9.86 million, to be funded internally, which the latter will use for general corporate and working capital purposes.