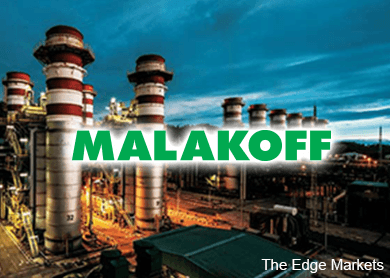 KUALA LUMPUR (Jan 9): Malakoff Corp Bhd is proposing an initial public offering of up to 1.52 billion ordinary shares of 10 sen each, comprising an offer for sale of up to 521.74 million existing shares and a public issue of 1 billion new shares.
In its draft prospectus lodged with the Securities Commission today, Malakoff said there would be an institutional offering of 1.28 billion IPO shares to Malaysian and foreign institutional and selected investors, and a retail offering of 242.5 million issue shares to the directors and eligible employees of Malakoff and its subsidiaries, directors and eligible employees of MMC Corp Bhd and the Malaysian public. 
Although the issue price was not disclosed, Malakoff said 90% of the gross proceeds from the public issue would be used for the redemption of the junior sukuk musharakah, while the remainder would go towards business expansion, working capital and IPO and listing expenses. 
"Our company will not receive any proceeds from the offer for sale. The gross proceeds will accrue entirely to the selling shareholders," it said. 
The junior sukuk musharakah of RM1.8 billion was issued by the group in September 2012, of which RM1 ,700 million was utilised to refinance the junior sukuk which was used to partly refinance the acquisition by MMC of Malakoff's assets, completed in 2007.
Malakoff, which was delisted in 2007 for RM9.3 billion, is 51% controlled by MMC, which has a 28.8% direct stake in the independent power producer (IPP) and the remaining 22.2% through its wholly-owned subsidiary Anglo Oriental (Annuities) Sdn Bhd.
Among other substantial shareholders are the Employees Provident Fund with, Kumpulan Wang Persaraan (Diperbadankan), Seasaf Power Sdn Bhd and Standard Chartered IL&FS Asia Infrastructure Growth Fund (SCI Asia). 
For the financial year ended Dec 31, 2013 (FY13), Malakoff posted a net profit of RM161.53 million, from RM467.85 million a year before. Revenue decreased to RM4.72 billion compared with RM5.59 billion in FY12. 
The group's cash and cash equivalents stood at RM2.36 billion as at Sept 30, 2014, while its total current liabilities was 1.86 billion. Non-current liabilities was RM23.39 billion. 
The group said it was targeting a dividend payout ratio of not less than 70% of its consolidated net profit beginning Jan 1, 2015.
Malakoff is the country's biggest IPP, with a power generation capacity of about 5,020MW, representing 22.5% of Peninsular Malaysia's total installed capacity. Malakoff also has the largest effective generation capacity installed in Southeast Asia.
The group is also involved in independent water production and power generation in the Middle East and North Africa (MENA) with an effective water output capacity of 358,550 cu m of water per day and a power generation capacity of 480MW.