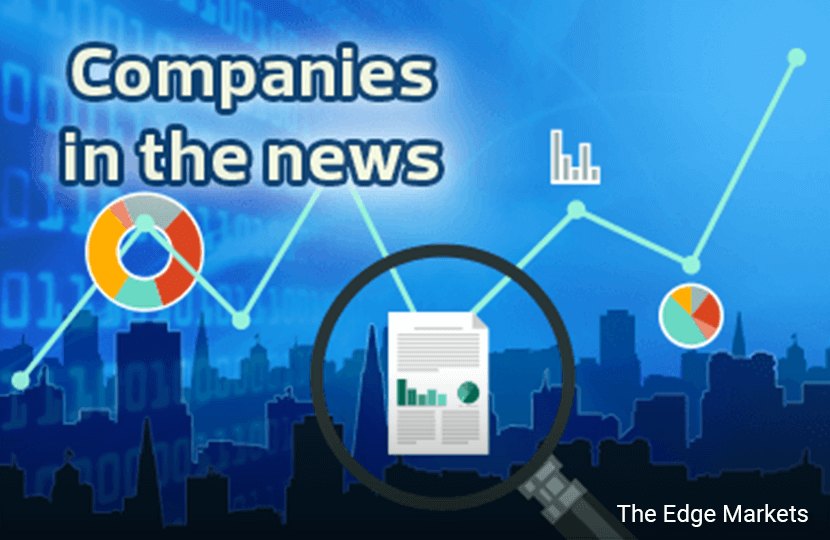 KUALA LUMPUR (Nov 23): Based on corporate announcements and news flow today, companies that may be in focus tomorrow (Thursday, Nov 24) could include: Malakoff, Bumi Armada, Ekovest, MMC Corp, AppAsia, Mercury Industries, Titijaya, MBM Resources, Parkson and Genting Plantations.
Malakoff Corp Bhd has launched arbitration proceedings against Japan's Sumitomo Corp, Zelan Holdings (M) Sdn Bhd and Sumi-Power Malaysia Sdn Bhd seeking RM785 million for breach of contract.
Malakoff took the step via its subsidiary Tanjung Bin Power Sdn Bhd (TBP), which owns the Tanjung Bin Power plant in Johor.
Malakoff said the Sumitomo Zelan Consortium was engaged to provide TBP engineering, design, procurement, construction, commissioning (EPCC) and related services in respect of the plant and its related facilities.
"The arbitration is in respect of loss and damage suffered by TBP as a consequence of the respondents' and/or their agent(s)' negligence and/or breaches of duties and/or obligations under the EPCC contract. At present, the loss and damage suffered by TBP is estimated to be approximately RM785 million," it added.
Malakoff said the arbitration is not expected to have any material impact on the earnings and net assets of the group for the financial year ending Dec 31, 2016.
In July 2003, a consortium of Sumitomo, Zelan and Sumi-Power Malaysia had beat three other giants — Japan's Mitsubishi, German's Siemens and France's Alstom — to win a RM6 billion contract to build the 2,100-megawatt (MW) coal-fired plant to supply electricity to state utility company Tenaga Nasional Bhd.
The Tanjung Bin power station comprises three plants of 700 MW each.
Bumi Armada Bhd reported a third quarter net loss of RM96.71 million versus a net profit of RM70 million a year earlier as the oil and gas support services provider registered lower revenue.
Bumi Armada said revenue fell to RM377.51 million in the third quarter ended Sept 30, 2016 (3QFY16) from RM559.46 million, on lower income from floating gas solutions (FGS) and floating production, storage and offloading (FPSO) operations.
"The decline in revenue was mainly due to a 68.2% fall in FPSO and FGS revenue on the back of completion of conversion activities on the Eni 1506 and Kraken FPSO projects and reduced contributions from Armada Claire, Armada Perdana and Armada Perkasa," Bumi Armada said.
Ekovest Bhd said it is close to securing approximately RM400 million more construction contracts for its 2017 financial year, which will boost its order book to over RM7 billion.
According to its managing director Datuk Seri Lim Keng Cheng, its current order book of RM6.6 billion will keep the group busy over the next three to four years.
"We are targeting to add about RM800 million more to our order book, (of which) about RM400 million comprises the recent Kuala Lumpur City Hall DBKL awards," Lim said after the Ekovest's annual general meeting today.
The balance includes the 1Malaysia Civil Servants Housing Programme (PPA1M) units and other contracts from DBKL, for which Lim said Ekovest has received the letter of intent from the government, but has yet to obtain final approval.
MMC Corp Bhd's net profit climbed 121% to RM105.89 million in the third quarter ended Sept 30, 2016 (3QFY16) from RM47.81 million a year ago, mainly due to the consolidation of NCB Holdings Bhd's earnings and a one-off land sale gain.
The one-off gain was from the sale of land at the Senai Airport Free Industrial Zone. The absence of provision for impairment on claims recovery of a discontinued Middle East project also boosted earnings.
Revenue grew 32% to RM888.77 million from RM674.54 million, the utilities and infrastructure group's quarterly report to Bursa Malaysia showed.
For the nine-month period (9MFY16), MMC's net profit fell 81% to RM282.25 million from RM1.49 billion last year, while revenue dropped 32% in the same period to RM2.78 billion from RM4.1 billion.
AppAsia Bhd's unit, Extol International Sdn Bhd (EISB), has been appointed as Alibaba Cloud's non-exclusive reseller to drive the sale of certain cloud and computing and technology products and services for the latter.
Under a reseller service agreement inked between EISB and Alibaba Cloud, EISB will recruit, invite or solicit companies and individuals to purchase or subscribe for such cloud computing and technology products and services.
Separately, the company said it is planning to list four e-commerce and mobile applications subsidiaries on the Australian Stock Exchange (ASX) via an investment holding company to be incorporated in Australia.
The subsidiaries to be listed are: AppAsia Studio Sdn Bhd, AppAsia Mall Sdn Bhd, AppAsia International Sdn Bhd and AppAsia International Pty Ltd.
Mercury Industries Bhd is exiting the auto refinish business due to increasing challenges in the segment from the slowing domestic economy, uncertainties in the global economies and the weaker ringgit.
"Pursuant to the proposed disposal, the construction business will be the sole business of the Mercury Group," it told Bursa Malaysia. The group has a remaining order book of around RM144 million as at Sept 30, 2016.
The company will thus be disposing of all its equity stake in Silverlight Prospects Sdn Bhd to Interglobal Dynasty Sdn Bhd for RM50.5 million, and record a gain of disposal of about RM11.29 million.
It was deemed a related party transaction as its executive director and substantial shareholder Datuk Tiong Kwing Hee is also a director in Interglobal Dynasty.
Titijaya Land Bhd plans to enter the affordable housing segment with a proposed development worth RM2.4 billion in gross development value in Bukit Raja, Selangor, in the second quarter of 2017.
The group's acquisition of NPO Builders Sdn Bhd, which owns two tracts of land measuring a total of 18.7 hectares (ha) in September, would see the land developed into commercial units, serviced apartments and affordable units.
"The affordable units will range between RM300,000 to RM450,000," its managing director Tan Sri Lim Soon Peng said in a statement.
Moving forward, Lim said Titijaya and the Education Ministry would be swapping 1.09-ha land in Bukit Bintang, where Titijaya would build schools.
Favourable market response to Perodua's Bezza lifted MBM Resources Bhd's net profit for the third quarter ended Sept 30, 2016 (3QFY16), which grew 147% to RM21.3 million from RM8.62 million a year ago.
In a filing with Bursa Malaysia, it said the group's share of associates' results recorded a 120.1% rise to RM29.02 million as the Bezza, launched in July, was well received. It also registered improved sales volumes from Hino Motors Sales (M) Sdn Bhd.
MBM holds a 20% stake in Perodua, or Perusahaan Otomobil Kedua Sdn Bhd, and a 42% stake in Hino Motors.
Revenue also climbed 5.05% to RM431.94 million in 3QFY16 from RM411.18 million a year ago on a better product mix.
However, its net profit for the cumulative nine-month period (9MFY16) was down 20% to RM58.5 million against RM72.99 million in the same period last year. Revenue was down 10% to RM1.23 billion from RM1.38 billion previously.
Parkson Holdings Bhd posted its fourth straight quarterly loss in its first financial quarter ended Sept 30, 2016 (1QFY17) amid weak consumer sentiment, with a net loss of RM62.57 million or 5.93 sen loss per share compared with a net profit of RM63.29 million or 5.8 sen per share a year ago.
Revenue fell 5.9% to RM878.24 million in 1QFY17 from RM933.39 million in 1QFY16.
In a bourse filing, Parkson said its retailing division reported a higher operating loss of RM68.05 million in 1QFY17 from RM25.27 million a year ago, as revenue fell to RM868.25 million from RM905.94 million in 1QFY16.
Genting Plantations Bhd (GenP)'s net profit for the third quarter ended Sept 30, 2016 climbed 160% year-on-year (y-o-y) to RM97.78 million from RM37.67 million, as it saw stronger palm product selling prices.
The better prices more than compensated for an overall decline in production of fresh fruit bunch and lower property sales during the quarter. Revenue grew 24% y-o-y to RM396.67 million from RM320.4 million.
For the cumulative nine months ended Sept 30, 2016 (9MFY16), its net profit rose 27% to RM165.6 million from RM130.35 million, though revenue only gained 1.7% to RM966.67 million from RM950.53 million.