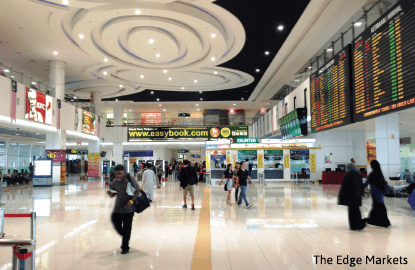 This article first appeared in The Edge Malaysia Weekly, on February 22-28, 2016
The government is understood to have held an open tender for the operation and management of the integrated transport terminal in Bandar Tasik Selatan, Kuala Lumpur, sources say. Commercially known as Terminal Bersepadu Selatan (TBS), it handles all the southbound, eastbound and northbound express buses.
Currently, the terminal — which handles 2,000 buses a day — is operated by Maju TMAS Sdn Bhd, a wholly-owned subsidiary of Maju Holdings Sdn Bhd, which is the flagship company of businessman Tan Sri Abu Sahid Mohamed.
While much of the details, such as when a decision will be made on the winner, is unclear, the open tender period is understood to have ended last month, on Jan 19.
From the 23 companies that expressed interest, the shortlisted candidates are Lubuk Laris Sdn Bhd, Ventechnologist Engineering Sdn Bhd, I-Setia Sdn Bhd, Stagno Tech Sdn Bhd and Jangka Prestasi Sdn Bhd.
How serious these companies are about their bids is unclear.
Based on a search on the website of the Companies Commission of Malaysia (CCM), Lubuk Laris, which is almost entirely controlled by Zubaidah Mohd Zin, appears to be a small company with negative reserves of RM13,701. It reported an after-tax loss of RM2,750 and revenue of RM226,115 for the financial year ended June 2012. As at end-June 2012, the company had current assets of RM621,577 and current liabilities of RM135,278.
Ventechnologist Engineering is 60% controlled by Isfaliza Ibrahim, 25% by Muhammad Khairul Aizad Zarudin and 15% by Zainon Juri. For the financial year ended April 2014, the company suffered an after-tax loss of RM34,055 on the back of RM3.74 million in revenue. As at end-April 2014, it had current assets of RM2.15 million, non-current assets of RM28,996 and total liabilities of RM1.7 million.
Terengganu-based I-Setia's shareholders are Che Ku Setia Tuan Ismail (50%), Che Ku Amirul Arif Che Ku Setia (20%), Mohd Firdaus Mustafar (20%) and Rossimah Ibrahim (10%). I-Setia is an exempt private company, so its financials were not available on CCM's website.
Jangka Prestasi is 93.71% controlled by Adry Aiman Adly and 6.29% by Mohd Rizaki Toogiman. For the year ended December 2013, the company saw an after-tax loss of RM28,617 and revenue of RM25.25 million. As at end-2013, Jangka Prestasi had current assets of RM8.12 million, non-current assets of RM909,808, current liabilities of RM2.01 million and non-current liabilities of RM2 million.
Stagno Tech, which is involved in facilities management, is equally owned by Muzzafar Mohd Anas, Mohd Said Maarof and Jumat Yusof. For the financial year ended March 2014, the company registered an after-tax profit of RM1.32 million and revenue of RM39.96 million. As at end-March 2014, it had current assets of RM13.42 million, non-current assets of RM1.94 million, current liabilities of RM6.8 million and long-term borrowings of RM297,984.
Strangely enough, Lubuk Laris, Ventechnologist Engineering and Jangka Prestasi have the same company secretary — Mohd Khairul Amini A Ramli.
The current operator, Maju TMAS, was dropped due to a cut-off pricing mechanism used by the Ministry of Works. Nevertheless, it is understood that the mechanism is more often used in construction and not services, such as for a bus terminal.
It is also a wonder how the wining shortlisted bidder will operate the bus terminal.
Maju TMAS had spent RM570 million on constructing the facility, and about RM50 million on the software for the centralised ticketing system, terminal operating system, parking system and equipment, fibre-optic cables, terminal operations room, closed-circuit cameras as well as finishing equipment such as benches, seats in the common area, trolleys and other accessories.
While the government reimbursed Maju Holdings the RM570 million, Abu Sahid had sought a 15-year concession to recover the RM50 odd million. He was, however, given a yearly expiring concession.
According to those familiar with Abu Sahid, he is unlikely to transfer the operating systems he built to the new operator.
Both Abu Sahid and Mohamed Roslan Mohamed Shariff, who is the managing director of the bus terminal, declined to comment when contacted for this article.
"He owns the intellectual property for them [the operating systems] … they were custom-built for the terminal," a source familiar with Abu Sahid says.
It is not known why the government has decided to invite tenders for the bus terminal, especially as things have been running well there under Abu Sahid over the past five years — the bus terminal was opened to the public in January 2011.
But this is not the first attempt to wrest control of the bus terminal from Maju TMAS. In 2014, a closed tender involving six companies was held, and Maju TMAS and KFM Holdings Sdn Bhd were shortlisted. However, for reasons unknown, the closed tender was scrapped.
According to sources, Maju TMAS was only allowed to be part of the closed bid at the tail end of the whole process, which angered Abu Sahid who has much larger businesses to run, such as Maju Expressway Sdn Bhd, and billion-dollar property development projects. He only took up the running of the bus terminal as he was requested by the government to do so and, having built the terminal, was seen as the best candidate to operate it.
Why the government has had a change of heart is anybody's guess.
What has motivated this interest in operating the bus terminal is also not known — it is not a cash cow and does not generate hefty returns.
For the financial year ended December 2014, Maju TMAS posted an after-tax loss of RM4.78 million on the back of RM35.1 million in revenue.
As at end-December 2014, Maju TMAS had non-current assets of RM30.1 million and current assets of RM7.99 million. Short and long-term debts stood at RM6.07 million and RM2.34 million respectively.
Initially, TBS was supposed to handle only southbound buses, such as those to Melaka, Singapore, Johor Baru and Mersing, but it ended up handling buses to and from the other destinations.
Last November, the operation of 545 of the 635 northbound express buses — including those to Perak, Penang, Kedah and Perlis — were shifted to TBS from Pudu Sentral to reduce congestion in the city centre.
Since the Putra Bus Terminal ceased operations in December 2014, TBS has taken over the operation of eastbound buses to the likes of Kota Bharu, Kuala Terengganu, Jerteh and Kuala Besut.
Despite taking on more than it was designed for, TBS has maintained its efficiency levels and late last year, it won the Best Terminal Operator award for land transport from the Land Public Transport Commission or Suruhanjaya Pengangkutan Awam Darat (SPAD).
Abu Sahid was also invited by the government of Sri Lanka in 2014 to replicate the bus terminal there, and reduce the congestion in the city centre.