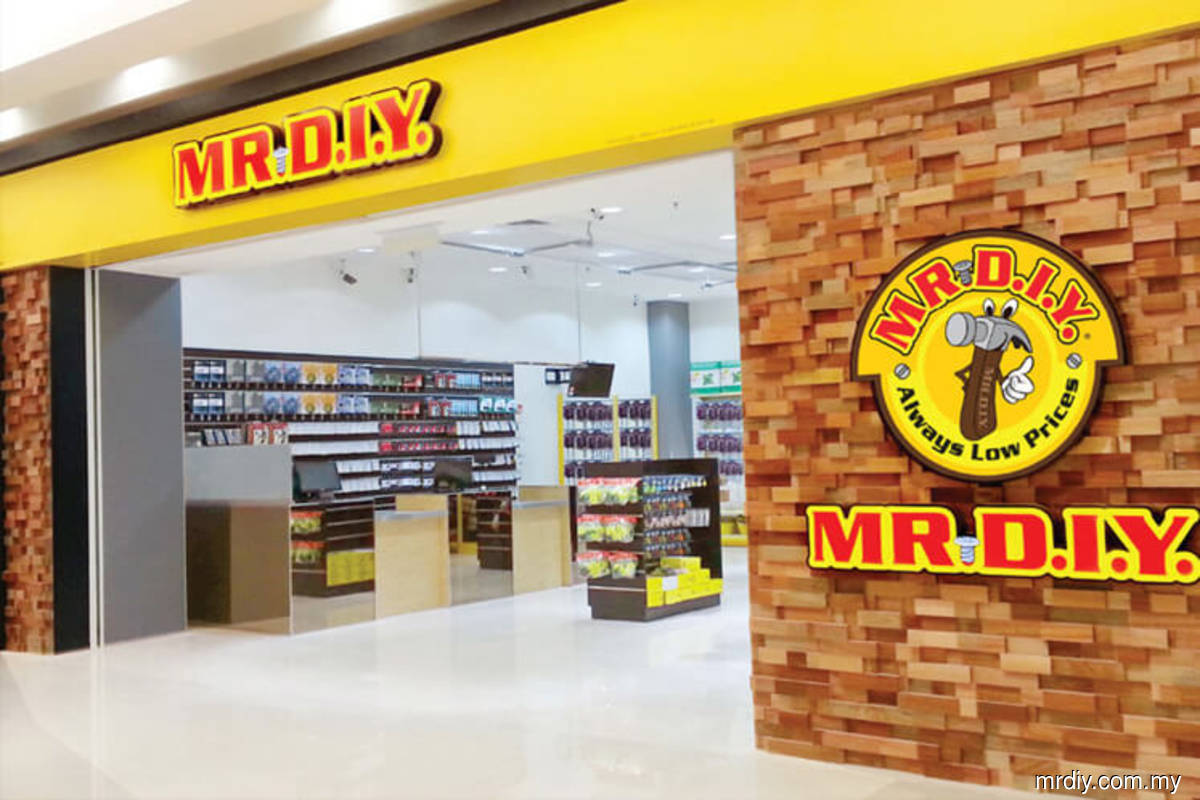 KUALA LUMPUR (Sept 24): Mr DIY Group (M) Bhd, which plans to list on the Main Market of Bursa Malaysia, will issue 941.49 million new and existing ordinary shares as part of its initial public offering (IPO), it said in a statement today.
The retailer will be offering 470.75 million IPO shares to bumiputera investors approved by the Ministry of International Trade and Industry, and 309.21 million existing ordinary shares to Malaysian institutional and selected investors, foreign institutional and selected investors outside the US, and qualified institutional buyers in the US.
Meanwhile, its retail offering comprises 36 million new ordinary shares to directors and employees of the company as well as eligible individuals who have "contributed to Mr DIY's success", and 125.53 million new ordinary shares to the public.
"This event is a major milestone for Mr DIY and brings us one step closer to becoming a publicly-listed company. Although markets have been severely impacted by the Covid-19 pandemic over the past few months, we have persevered as a group and are pleased to have this opportunity to embark on our next phase of growth," said Mr DIY's chief executive officer Adrian Ong.
"Tapping into the capital markets will help accelerate our growth plans, as we continue to scale our store network to capitalise on the under-penetrated home improvement retail sector in Malaysia. This should further entrench Mr DIY's position as Malaysia's largest home improvement retailer," he added.
Sources have told The Edge that the listing could take place as soon as in the fourth quarter of this year, thanks to its V-shaped recovery from the pandemic-induced Movement Control Order (MCO) that had hit retailers.
According to Bloomberg, the IPO aims to raise about US$500 million (RM2.1 billion). It was postponed twice — late last year and in the first half of this year, due to the MCO.
According to Mr DIY, it operates 640 stores across Malaysia and four stores in Brunei under the Mr DIY brand as at Sept 6. It also operates the Mr Toy chain of stores offering affordable toys and products for children and babies, and Mr Dollar, which sells F&B and household goods at either RM2 or RM5.
The group has signed an underwriting agreement with CIMB Investment Bank, Maybank Investment Bank, RHB Investment Bank, AmInvestment Bank, Hong Leong Investment Bank  and Kenanga Investment Bank.
CIMB IB, Maybank IB and RHB IB are the joint managing underwriters and joint underwriters while AmInvestment, Hong Leong IB and Kenanga IB are the joint underwriters for this IPO exercise.
CIMB IB and Maybank IB are also the joint principal advisers, joint global coordinators and joint bookrunners, while RHB IB is also the joint global coordinator and joint bookrunner.
Meanwhile, Credit Suisse Securities (Malaysia) Sdn Bhd, Credit Suisse (Singapore) Ltd, J.P. Morgan Securities plc and JPMorgan Securities (Malaysia) Sdn Bhd are the joint global coordinators and joint bookrunners, and UBS Securities Malaysia Sdn Bhd and UBS AG, Singapore Branch are the joint bookrunners.
Read also:
Newsbreak: Mr DIY's listing moved to 2020
Mr DIY's on-again listing set to enliven IPO scene