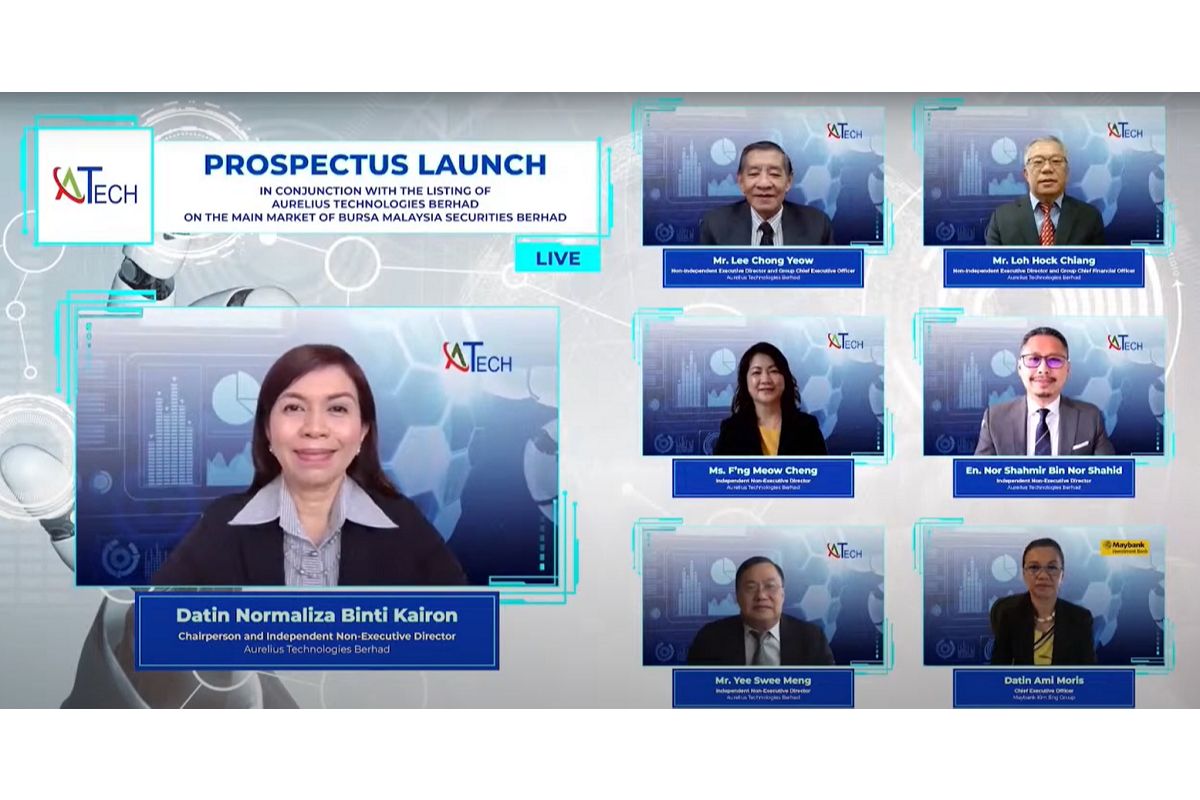 KUALA LUMPUR (Nov 29): Aurelius Technologies Bhd (ATech), en route to the Main Market on Dec 16, is seeking to raise RM104.73 million from its initial public offering (IPO) exercise mainly to fund its expansion plans.
The listing exercise entails the issuance of up to 103.87 million new shares, at an issue price of RM1.36 apiece, according to the company's prospectus that was launched on Monday morning.
Of this, ATech is offering 77.01 million new shares and an offer for sale of 26.86 million shares. Atech said the institutional offering of 80.96 million shares represented 22.6% of its enlarged issued share capital, while the retail offering of 22.91 million shares represented 6.4% of its enlarged issued shares.
ATech is an electronics manufacturing services (EMS) player which offers a comprehensive range of EMS to multinational corporations across 11 countries covering Asia Pacific, Americas and Europe.
These services include engineering support services, prototyping, board assembly, mechanical assembly and test for communications devices, Internet of Things (IoT) devices, electronic devices and semiconductor component modules used by the telecommunications, transportation, power management and IoT industries.
Speaking at the group' prospectus launch, ATech executive director and chief executive officer (CEO) Lee Chong Yeow said the group's IPO listing exercise will enable it to speed up the execution plan to grow, strengthen and leverage its core competency of providing EMS for industrial electronics products as well as continue its expansion into the production of IoT modules that the company started offering in early 2020.
"We are also expanding our production facilities with the construction of a new factory adjacent to our existing plant in Kulim Hi-Tech Park. The new factory will enable us to add floor space to grow the semiconductor component modules production, to cater for lithium-ion battery pack production and our existing EMS operations.
"We will have a total of 15 SMT lines by the end of 2023 from both the new factory and additions to the current factory. These new SMT lines will increase our annual capacity by 198.7% for the financial year ending Jan 31, 2024 (FY24) from FY21 to meet the expected increase in demand from our customers," Lee added.  
ATech has earmarked RM40 million from the proceeds of the IPO for the purchase of new machinery and equipment.
From the proceeds, it has allocated RM29.52 million for repayment of borrowings, another RM28.13 million for working capital and the remaining RM7.08 million for defraying estimated listing expenses.
Based on an issue price of RM1.36 sen per share, ATech is expected to have a market capitalisation of RM487.12 million. Based on a market cap of RM487.12 million, ATech is valued at 36 times price-earnings (P/E) ratio. 
ATech posted a profit after tax (PAT) of RM13.2 million for the cumulative seven months ended Aug 31, 2021 on the back of a revenue of RM200.04 million.
Maybank Investment Bank Bhd is the principal adviser, sole bookrunner and sole underwriter of the exercise.
Maybank Investment Bank head of equity capital markets Raymond Chooi said the premium valuation is justifiable due to the group's growth prospect. 
According to Chooi, back on the envelope calculations show that based on annualised earnings, the group is expected to post a PAT RM22 million for FY22.  
"So comparing on that basis for the calendar year 2021, across the peers of ATech, namely the EMS players in Malaysia, you will find that the valuation multiple here is actually in line with the peers.
"Not forgetting also the most important aspect would be the growth potential of the company. As the company has shared, [its] expansion plans are currently already underway. Upon completion of that expansion, the financial year 2023 would benefit from that expansion" he explained. 
As of Nov 1, 2021, ATech has an unbilled order book of RM482.7 million.