This article first appeared in The Edge Financial Daily, on September 12, 2019.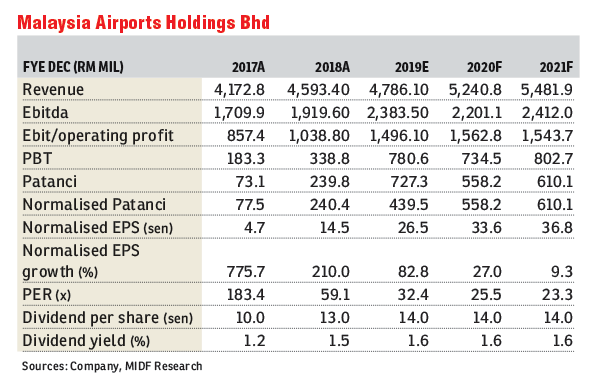 Malaysia Airports Holdings Bhd
(Sept 11, RM8.50)
Maintain buy with an unchanged target price (TP) of RM9.43: August 2019 passenger traffic of Malaysia Airports Holdings Bhd's (MAHB) airports (excluding Istanbul Sabiha Gokcen International Airport [ISGA]) increased by 9.2% year-on-year (y-o-y) to 9.2 million passengers. This is the highest passenger traffic recorded thus far in 2019 and marks the third consecutive month in which traffic was above nine million passengers. On a cumulative basis, passenger traffic of airports in Malaysia in the first eight months of 2019 (8M19) increased by 5.6% y-o-y to reach 69.6 million, making up 68% of our financial year 2019 (FY19) passenger traffic growth estimate of 102.5 million.
For the ISGA, international passenger traffic soared 17.5% y-o-y to reach 1.4 million in the same month, outweighing the 5.4% y-o-y decline to two million in domestic passenger traffic. This brought the ISGA's overall passenger growth in 8M19 to 2.9% y-o-y after hitting 23.5 million in passenger traffic. The catalyst for the international sector was the geographical location of ISGA situated near the Istanbul city. Overall, MAHB's total cumulative passenger traffic (including ISGA) grew by 4.9% y-o-y to 93.1 million in 8M19.
Domestic traffic of airports in Malaysia in August continued its upward trend, increasing by 14.8% y-o-y to 4.7 million passengers, surpassing the peak reached in December 2018. We note that year-on-year growth has been registered for domestic traffic for the 10th consecutive month. The bulk of the growth in August was attributable to a 18.8% y-o-y jump in domestic traffic of Kuala Lumpur International Airport's Main Terminal. We attribute the growth in the shift in airlines' capacity from the international sector to the domestic, in addition to the Hari Raya Aidiladha festivities.
International passenger traffic of Malaysian operations increased by 4% y-o-y to reach 4.6 million passengers in August, the highest since December 2018 and followed a similar trend for domestic passengers. This increase was partly contributed by haj movements and new routes operated by Malindo Air which include Kuala Lumpur-Denpasar-Sydney started in mid-August.
The latest news indicate that MAHB was fined by the Malaysian Aviation Commission with an amount of RM1.2 million due to its failure to meet several quality of service requirements. This was, however, not due to the system disruption in late-August but related to toilet cleanliness for staff and passengers in respect of the first quarter of calendar year 2019. Nevertheless, even if we were to add the said fine to potential charges related to the system disruption, the total estimated amount would still be less than 1% of projected earnings of MAHB for FY19.
We maintain our TP at RM9.43 per share.
We opine that the current passenger traffic momentum will continue to provide a strong base for incremental revenue generation, supported by accommodative visa policies in Malaysia for tourists from China and India that temper the pressure from the impending international departure levy. Other growth factors include direct connectivity seen from international airlines flying straight to locations such as Langkawi. As such, we strongly believe MAHB's passenger numbers can surpass the 100 million mark in 2019, while maintaining a relatively conservative growth rate of 3.5% which translates into 102.5 million passengers. Even if there is no growth in the last four months of 2019, we are confident that passenger traffic will be in excess of 100 million passengers. Risks to our call include: i) an adverse revision of the user fee paid to the government; and ii) lower-than-expected returns under the new Regulated Asset Base framework. — MIDF Research, Sept 11