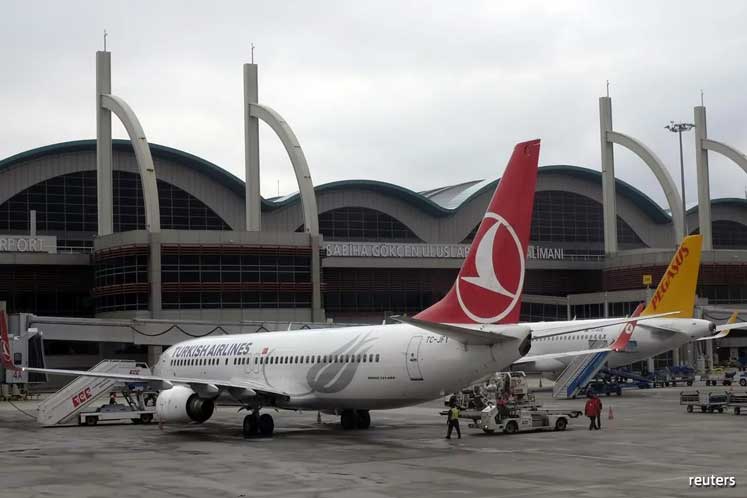 KUALA LUMPUR (March 10): The ongoing Covid-19 outbreak is expected to negatively impact Malaysia Airports Holdings Bhd (MAHB)'s operations, with the airport operator's wholly-owned Istanbul Sabiha Gokcen Airport (ISGA) expected to post a loss in the financial year ending Dec 31, 2020 (FY20) as a result of reduced passenger traffic.
In a note to investors this morning, Hong Leong Investment Bank (HLIB) said that given ISGA's reliance on international traffic from Europe and the Middle East — which accounts for 73% and 25% respectively in 2018 — the airport could slide back into the red.
"Potentially, ISGA will reverse back into the red again after achieving €24.8 million profit for the first time in 2019, driven by a jump of 20.4% year-on-year (y-o-y) in international traffic. We have cut assumption for ISGA's traffic forecast for FY20 to -4.0% y-o-y (from +4.6% y-o-y), but raised FY21 to +9.3% y-o-y (from +6.4% y-o-y) for a recovery," it noted.
The Turkish Ministry of Health had issued a travel ban on foreigners who have visited China, South Korea, Iran, Iraq and Italy within 14 days — with all passenger flights to and from these countries being cancelled.
In all, the research house is forecasting a 1.3% y-o-y contraction in traffic for FY20, from 0.6% y-o-y contraction previously.
It said FY21 is expected to see a slower traffic recovery, with a 6.6% y-o-y growth versus the 7% y-o-y growth initially forecasted.
As a result of lower passenger traffic, lower airport traffic and lower non-aeronautical spending per passenger, HLIB is also cutting its earnings assumptions by 32.3% in FY20 and by 15.7% in FY21.
While it is maintaining its "hold" call on the stock, HLIB has cut its target price (TP) on MAHB to RM5.75, from RM6.75. Today's lower TP represents a 10% discount to its discounted cash flow value of RM6.40.