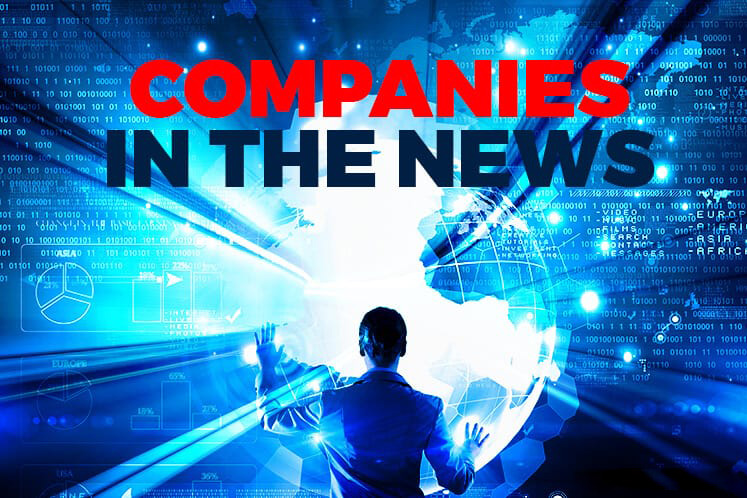 KUALA LUMPUR (Sep 21): Based on corporate announcements and news flow today, stocks in focus for Monday (Sep 24) may include the following: Malaysia Airports Holdings Bhd, United Plantations Bhd, Utusan Melayu (Malaysia) Bhd, Telekom Malaysia Bhd, Binasat Communications Bhd, KESM Industries Bhd, NTPM Holdings Bhd, Country Heights Holdings Bhd and MNRB Holdings Bhd.  
Malaysia Airports Holdings Bhd (MAHB) is setting up a dedicated processing centre for the Customs Immigration and Quarantine (CIQ) clearance of departing airline crew at klia2.
The airport operator will spend RM2.7 million on the facility that is expected to be completed by mid-2019, its acting group chief executive officer Raja Azmi Raja Nazuddin said. The facility will be accessible to all airline partners operating at klia2.
Azmi said the option had yet to be considered for KLIA.
United Plantations Bhd is acquiring seven pieces of agricultural land totalling 8,999.13 acres in Daerah Hilir Perak, together with a palm oil mill, workers' living quarters and a site office, from Pinehill Pacific Bhd's group of companies for RM413.57 million cash.
The proposed acquisition is consistent with its growth plan to continue expanding its land bank.
"The proposed acquisitions are expected to increase the Group's Malaysian plantation land bank by almost 10%, from approximately 40,821 ha to 44,463 ha, thereby increasing the total land bank of UP Group (including the Group's land bank in Indonesia of 18,663 ha) to 63,126 ha, from the current 59,484 ha," United Plantations said.
UP had entered into three conditional sale and purchase agreements (SPA) for the acquisition of the lands with Pinehill Pacific group of companies, namely Pinehill Plantations (Malaysia) Sdn Bhd, Syarikat Kaum Melayu Hilir Perak Sdn Bhd, and Tahir, Rozlan and Tasariff Sdn Bhd.
The group expects the proposed acquisition — expected to be completed by the first quarter of 2019 — to contribute positively to its future earnings and earnings per share in the medium to long term.
Umno-controlled media group Utusan Melayu (Malaysia) Bhd is offering a voluntary separation scheme (VSS) to more than half of its 1,500 workers as part of its restructuring exercise to reduce overall costs due to the company's financial constraints.
theedgemarkets.com has learned that the decision came following a closed-door briefing between the group's executive chairman Datuk Abd Aziz Sheikh Fadzir and  Utusan staff at its headquarters.
Details on the offer are yet to be known.
Telekom Malaysia Bhd (TM) has initiated discussions with major stakeholders as it works on a definitive solution to deliver a better broadband experience nationwide.
TM said in a statement today that it is exploring various fit-for-purpose technologies.
Binasat Communications Bhd's chief operating officer, Zulamran Hamat, has been appointed its new chief executive officer.
Zulamran, 47, will also remain as an executive director. He has 19 years of working experience in the satellite and telecommunications industry.
KESM Industries Bhd saw its net profit fall 15.6% to RM11.32 million in the fourth financial quarter ended July 31, 2018 from RM13.4 million a year ago, mainly due to lower demand for burn-in, testing and electronic manufacturing services.
Earnings per share declined to 26.3 sen against 31.2 sen in 4QFY17.
Revenue was 5% lower to RM85.27 million from RM89.77 million before.
The group proposed a final dividend of 6 sen per share amounting to RM2.6 million for FY18.
For the full year, net profit declined 10.6% to RM39.34 million from RM43.99 million in the previous year, on higher taxes and supply issues.
However, revenue improved by a marginal 3.5% to RM349.78 million from RM337.99 million in FY17 on higher demand for burn-in and testing services.
Higher raw material costs continued to weigh on NTPM Holdings Bhd's net profit, which in the first financial quarter ended July 31, 2018 slumped 45.7% to RM6.58 million from RM12.12 million a year ago.
Earnings per share slipped to 0.6 sen from 1.1 sen in the same period last year.
Revenue dipped 2.1% to RM172.4 million from RM176.15 million before, due to the decrease in sales of tissue and personal care products, especially domestic sales.
Country Heights Holdings Bhd wants to embark on an initial coin offering (ICO) to issue its own cryptocurrency, tentatively called "Horse Currency".
The company is seeking endorsement from its shareholders for the venture at its upcoming extraordinary general meeting on Nov 8.
The main and defining difference of the Horse Currency and all the other cryptocurrencies available in the Malaysian market is that this currency is backed by the company's assets, and in short is an ABC (asset-backed cryptocurrency).
When launched, the Horse Currency will mainly be used as a utility token, a reward token and royalty programme for the company including stays at the Palace of the Golden Horses, restaurants, golf memberships, medical treatments and checks at the Golden Horses Health Sanctuary.
MNRB Holdings Bhd has extended the repayment date of a RM320 million credit facility obtained from AmBank (M) Bhd by six months to March 22, 2019.
MNRB Holdings Bhd has entered into a supplemental agreement with AmBank to defer the repayment date, but all other terms and conditions of the facility remain unchanged.
Apex Equity Holdings Bhd is proposing a merger with Mercury Securities Sdn Bhd by acquiring the latter's stockbroking, corporate advisory and other related businesses for RM140 million, to be paid in RM48 million cash and RM92 million new issuance of Apex shares.
If the merger materialises, Apex will pay RM22 million cash within three market days, followed by the issue to Mercury of 100 million new shares at an issue price of 92 sen per share within 10 market days.
The final tranche of payment will be RM26 million cash within 10 market days after fulfilling all pre-requisite conditions.
Both parties have entered into a Heads of Agreement for the proposed merger.
Subsequent to the proposed merger and placement shares, Apex said Mercury will hold approximately 31% stake in the listed entity.