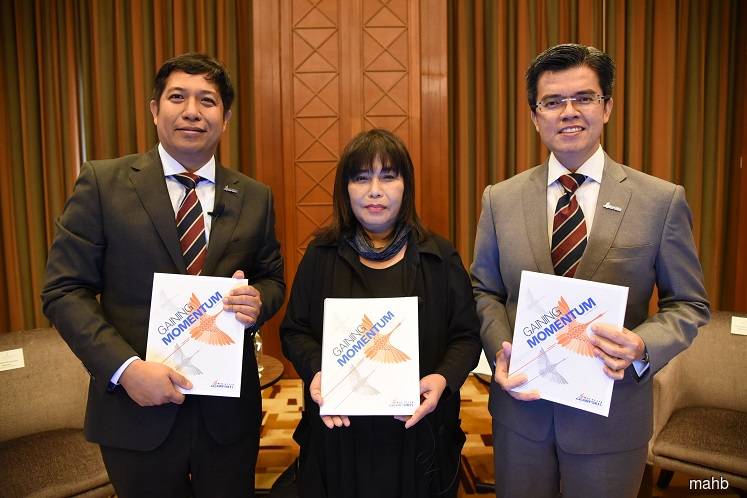 SEPANG (June 30): Malaysia Airports Holdings Bhd (MAHB) has slashed its planned RM1.8 billion capital expenditure (capex) for 2020 by 82.22% to RM320 million, as the airport operator embarks on an aggressive cost-optimisation plan amid the ongoing Covid-19 pandemic.
MAHB group chief executive officer Datuk Mohd Shukrie Mohd Salleh said the bulk of the original capex allocation comprised funds for airport expansion and other projects under the regulated asset base (RAB) framework, which have been put on hold in light of the Covid-19 outbreak.
"This allows us to just focus on six critical areas that need spending such as end-to-end baggage handling system upgrade, replacement of aerotrains and commercial reset," Mohd Shukrie told a press briefing here today after MAHB's first ever virtual annual general meeting.
Commercial reset refers to transformation work aimed at changing the travel-retail landscape at MAHB's airports. Mohd Shukrie said the initiative involves injection of new brands, high-end fashion retailers and a refreshed shopping experience.
The remaining three areas identified under the reduced capex are refurbishment of washrooms, runway upgrades and the single-token initiative which utilises facial recognition technology through the entire airport touchpoints, Shukrie said.
According to him, MAHB has also reduced its operating cost by 20%, thanks to its cost optimisation plan, which will tentatively run for 18 months.
Going forward, Shukrie said MAHB is weighing several options to improve the company's liquidity after it reported a net loss of RM20.39 million in the first quarter ended March 31, 2020 (1QFY20) versus a net profit of RM149.58 million a year earlier as the pandemic forced nations around the world into lockdowns.
To improve liquidity, Shukrie said the company's options include an untapped sukuk facility of RM1.5 billion and an additional credit facility of RM1.7 billion.
"These give us a total of RM3.2 billion in credit options to help us improve our cash position. This money will be kept for contingencies should anything happen during these challenging times," he said.
MAHB group chief financial officer Mohamed Rastam Shahrom, who was also at the press conference, said the company expects its net loss to widen in 2QFY20 in view of global travel restrictions to curb the Covid-19 outbreak.
"We slipped into losses in the 1QFY20 although only one month was affected by travel restrictions. The peak of the loss will be the 2QFY20 because all three months in the period were impacted by movement curbs.
"Things are expected to pick up from July onwards. The 3QFY20 is expected to unwind the position and hopefully by the 4QFY20, we can try to make a dash to the finish line. But all this depends on the reopening of borders and passenger traffic," he said.
At Bursa Malaysia today, MAHB's share price settled 12 sen or 2.15% lower at RM5.45 for a market capitalisation of RM9.04 billion. The stock saw 3.27 million units traded.