This article first appeared in The Edge Malaysia Weekly, on September 24, 2018 - September 30, 2018.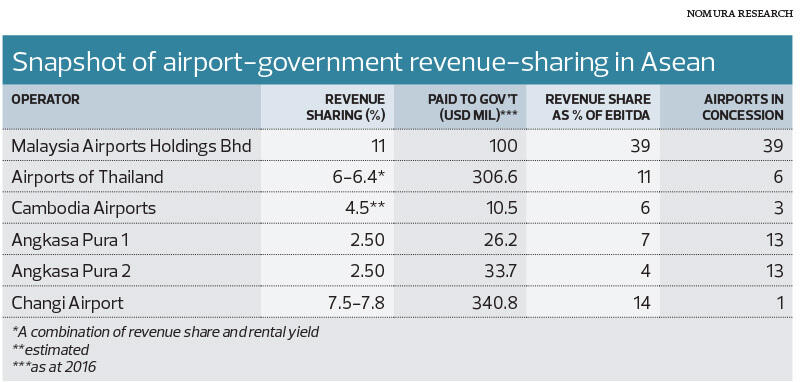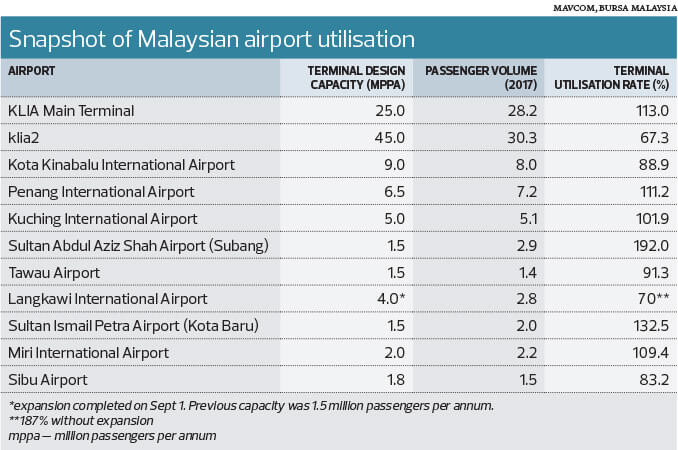 AS the structural ground shifts beneath the domestic airport sector, Malaysia Airports Holdings Bhd (MAHB) is seeking a firmer financial footing on which to chart its way forward.
From Sept 1, it has had to contend with the spectre of financial penalties for subpar services, based on the Quality of Service (QoS) framework rolled out in May.
It also hopes to conclude negotiations on its operating agreement (OA) with the federal government — the finalised terms will shape its financial prospects and ease long-overdue airport expansions.
These two domestic challenges are now front and centre for the airport operator, says acting group CEO Raja Azmi Raja Nazuddin.
"I would say that the OA negotiation will intensify a lot in the last quarter of the year. Hopefully, we can close it quickly," he tells The Edge in an interview.
Part of the urgency is driven by looming changes on how airport taxes — called the passenger service charge (PSC) — will be calculated.
The Malaysian Aviation Commission (Mavcom) is currently working out a regulatory asset-based (RAB) framework that will peg PSC rates to the costs of building and expanding an airport.
It is understood that the initial roll-out is expected by the second half of next year. Mavcom's next consultation report, due in October, may provide more clarity.
In a nutshell, the RAB will use an airport's construction costs and projected passenger volumes to calculate a PSC level that will provide the airport operator with a regulated rate of return based on the capital expenditure.
Note that currently, capex for any of the 39 airports operated by MAHB is the responsibility of the federal government.
Thus, the RAB may eventually see MAHB take over the responsibility for expansion funding since it will be reaping the returns of the capex.
That also solves another problem: the big-ticket nature of such works is a headache given Putrajaya's increasingly tight finances and competing development priorities.
As for MAHB, it is keen to take that burden off the government. The RAB will provide a mechanism that provides certainty of returns in exchange for procuring capex financing.
"That's why we are in talks with the government to review some of the terms that will make it bankable for MAHB to undertake some of the capex," Raja Azmi says.
Of the 39 airports that MAHB manages, 18 are loss-making short take-off and landing (STOL) airfields that are little more than landing strips in rural areas.
The rest comprise five international airports and 16 domestic airports, of which only eight are profitable, cross-subsidising the rest.
User fee poser
Another critical undercurrent in the OA negotiations will be the revenue-sharing proportion between MAHB and the government.
In a nutshell, MAHB is looking for a more manageable arrangement as it grapples with a changing business landscape.
Called the user fee, the current rate is set at about 11% — the highest in Asean, according to Nomura Research. The share is taken out of overall revenues, meaning both aeronautical and non-aeronautical incomes are affected.
Aeronautical income is derived from operating, managing and maintaining airports, such as collecting PSC and other fees charged to airlines. Non-aeronautical income comes from commercial activities such as rental and duty-free trading.
There is also a step-up mechanism that increases the user fee percentage by 0.25% annually. The current ceiling is 33%.
"If it continues escalating to 33% as provided, it will not be feasible for us. So we are looking to cap that increase trajectory at a certain ceiling, though I don't have a magic wish-list figure yet," says Raja Azmi.
"Another thing we might also be seeking is a differentiation of the revenue between aeronautical and non-aeronautical sources (for user fee calculations)," the acting CEO adds.
This is also why taking over the capex burden from the government will improve MAHB's financial prospects while removing a complication in the pressing expansion needs across many domestic airports.
The current OA terms stipulate that the government may further increase the user fee by 0.3% for every RM100 million in capex spent.
That means that even if the government is financially able to fund multiple much-needed airport expansions, the resulting user fee increase may in turn cripple MAHB's finances.
For perspective, had the government forked out RM4 billion for the construction of klia2, that would have resulted in an additional 12% revenue share.
MAHB had funded the construction via a sukuk issuance in a one-off capex arrangement. "Because we undertook the financing for klia2, we did not have to pay the extra user fee," says Raja Azmi.
In 2017, MAHB's user fee commitment came to RM391.78 million, its annual report shows. For the financial year ended Dec 31, 2017 (FY2017), MAHB reported RM236.5 million net profit from RM4.65 billion revenue.
Nomura Research notes in a November report  that MAHB's user fee proportion accounted for a whopping 39% of earnings before interest, taxation, depreciation and amortisation (Ebitda).
Note that Malaysia's PSC levels remain among the lowest in Asean despite Mavcom's equalisation drive that increased the rates in the past few years.
"Our analysis on PSC comparisons across the Asean space, along with the implied revenue share fee to the government, seems to suggest that MAHB has the most lopsided concession agreement," Nomura Research writes.
Finalising expansion plans
While it seeks to conclude the OA negotiations, MAHB is not standing still. It is already preparing for the airport expansion phase even as the mechanisms that will govern the process are being firmed up.
"In these few remaining months until year-end, we'll be working closely with the government on this aspect, meaning to finalise which airports require [urgent] expansion and if possible, finalise the capex estimates," says Raja Azmi.
If MAHB ends up taking responsibility to fund airport expansion works, it may remove a critical speed bump. Under the status quo, critical upgrades are slower than desirable.
For example, on Sept 1, Langkawi International Airport completed a year-long, RM80 million expansion that boosted its capacity from 1.5 million to four million passengers per annum.
However, another planned expansion to relieve congestion at the Kota Baru International Airport remains in limbo.
"The Kota Baru airport expansion will be carried out by the government. However, there is no clear decision on the project status by the government," Raja Azmi says when asked.
However, the funding responsibility shift raises another question: Will expanding profitable airports take priority over loss-making ones?
Raja Azmi responds in the negative. "We are the operator of all 39 airports; they are equally important. We want to take care of our network," he says.
That said, the looming big-ticket expansion will be at the Kuala Lumpur International Airport (KLIA) given growth pressures and its positioning as the gateway into Malaysia.
Other airports with pressing expansion needs include those in Penang, Kuching and Subang, Raja Azmi says.
In 2017, KLIA saw passenger volume hit 28 million, just shy of its 30-million capacity. The MAHB acting CEO says further optimisation can bump that up to 33 million but eventually, substantial expansion is on the cards.
That will tie into its five-year plan, Runway to Success 2020, which includes an aspiration to further grow KLIA into a regional hub.
A key disadvantage that a future upgrade to KLIA will seek to address is the lack of airside connectivity between its main terminal and the klia2 terminal.
That means connecting passengers need to exit one terminal and re-enter the other via the landside, which means a much longer process that could take a couple of hours at least.
This hurts its minimum connecting time (MCT), which is among the key indicators of a good aviation hub according to the International Civil Aviation Organisation.
"I would really want KLIA to be a true hub, but obviously we are not there yet because we don't have that true airside connectivity in terms of both the passengers and the baggage aspect," Raja Azmi says.
Save by subscribing to us for your print and/or digital copy.
P/S: The Edge is also available on Apple's AppStore and Androids' Google Play.