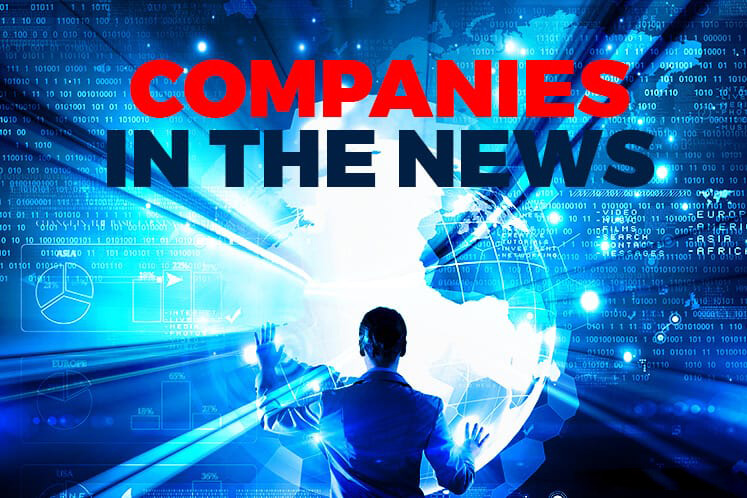 KUALA LUMPUR (June 29): Based on corporate announcements and news flow today, stocks in focus for Monday (July 2) may include the following: Malaysia Airports Holdings Bhd, Sapura Energy Bhd, MBM Resources Bhd, Parkson Holdings Bhd and Green Packet Bhd.   
The government has given its "approval in principle" to revenue sharing terms in managing airports under the new operating agreement (OA) with Malaysia Airports Holdings Bhd (MAHB), according to the airport operator's acting managing director Raja Azmi Raja Nazuddin.
Raja Azmi said MAHB and the government are still working on finalising the terms under the new OA, and he will engage with the Ministry of Transport to facilitate the progress.
"At the moment, the operating agreement stated revenue sharing increases a quarter basis point or 0.25% per year. It is still applicable until such time when we finalise the terms of the new operating agreement, which at the moment we got the approval in principle, so we are still working on it," he said, adding that the current revenue sharing rate is at about "11% plus".
Sapura Energy Bhd's unit Sapura Exploration and Production (Sapura E&P) and its joint venture consortium partners, DEA Deutsche Erdoel Mexico and Premier Oil, have signed a production sharing contract (PSC) for Block 30 with Comision Nacional De Hidrocarburos of Mexico (CNH).
Sapura Energy said the PSC was signed on June 27.
It described Block 30, within the Sureste Basin, as a proven and prolific hydrocarbon province in the Gulf of Mexico.
Meanwhile, Sapura Energy recorded its third consecutive quarter in the red today, after the group announced a net loss of RM135.73 million in the three months ended April 30, 2018 (1QFY19), mainly as its drilling business incurred losses as it experienced slower-than-anticipated recovery.
In contrast, Sapura recorded a net profit of RM27.53 million in the same quarter last year.
While its engineering and construction (E&C) and exploration and production (E&P) segments made positive contributions to the latest quarterly results, both their profits before tax (PBT) were down significantly. E&C's PBT was down 80% year-on-year to RM36.5 million, while E&P's were down 63% y-o-y to RM9 million.
Drilling recorded a loss before tax of RM68.7 million, compared with a PBT of RM20.8 million a year ago, the group's stock exchange filing today showed.
Revenue shrank 40% year-on-year to RM1.05 billion from RM1.77 billion, as drilling and E&C's contributions fell.
Automotive parts maker MBM Resources Bhd has appointed its 51.5%-owned subsidiary Daihatsu (Malaysia) Sdn Bhd's managing director Dr Muhammad Iqbal Shaharom as the group's president and chief executive officer.
The appointment will take effect next Monday (July 2).
Muhammad replaces 63-year-old Nor Hadi Daud who retires tomorrow after holding the post since March 1, 2017, MBM said in a filing with Bursa Malaysia today.
Muhammad, 60, was appointed as MBM trading vice-president on Jan 16 this year, and has previously served in various capacities in top management positions in DRB-Hicom Bhd, Chery Automobile and Naza Group, the group added.
Parkson Holdings Bhd's 67.96%-owned subsidiary Parkson Retail Asia Limited, which is listed on the Singapore Exchange, has appointed Chang Chae Young as the chief executive officer (CEO) for its newly formed Indochina Operations.  
Parkson said Chang has extensive experience in brand management and retail operations, having worked in South Korea, New York, Hong Kong and China for over 20 years.  
Following his appointment, Parkson said Loh Chai Hoon, who is currently CEO of Vietnam, Cambodia and Myanmar operations, will be redesignated as CEO of Vietnam Operations.  
Green Packet Bhd has proposed to undertake a capital reduction exercise to reduce its share capital by RM455.52 million to offset accumulated losses as at Dec 31, 2017 (FY17).
In a filing with Bursa Malaysia, Green Packet said as at June 11 this year, its issued share capital was RM155.88 million comprising 758.72 million shares, while share premium stood at RM412.8 million.
The accumulated losses of the company as at Dec 31, 2017 stood at RM455.52 million.
Green Packet said the capital reduction is meant to rationalise the group's statement of financial position by eliminating the entire accumulated losses via the cancellation of issued share capital, which is in line with the group's strategies to turn around its business.
The group also said this will enable it to pay dividends out of its retained earnings in future, when Green Packet returns to profitability.
Green Packet said the issued share capital to be reduced and cancelled will predominantly be made up by the group's share premium.