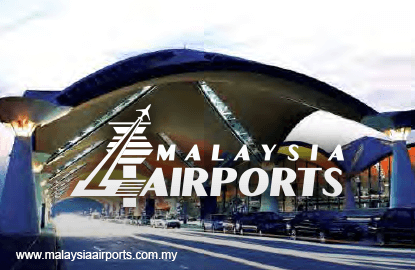 KUALA LUMPUR (Sept 13): Malaysia Airports Holdings Bhd (MAHB) posted a 2% overall growth in passenger movement at 10.5 million passengers in its Malaysian airports and Istanbul's Sabiha Gokcen International Airport (SGIA) in August 2016 from 10.28 million passengers last year.
MAHB said the traffic growth was driven by its Malaysian operations, which saw a 5% increase in passengers, while SGIA continued to decline year-on-year after unforeseen events in Turkey.
"The unforeseen recent events in Turkey [have] a dampening impact on passenger traffic performance at SGIA. Malaysia's MAHB airports' 5% growth in traffic for August could be considered impressive despite significant reduction in international seat capacity by Malaysia Airlines Bhd.
"The cuts have been more than replaced by other airlines though the replacement has not been on a route by route basis," it said.
According to its passenger snapshot for August, year-to-date traffic growth, including SGIA, was recorded as 4.2% at 77.38 million compared to 74.26 million a year ago.
In a filing with Bursa Malaysia today, MAHB said international passengers stood at 4.7 million or a 1.9% increase, while domestic passengers rose 2.1% to 5.8 million.
In Malaysia, MAHB registered an overall 7.5 million passengers, a 5% year-on-year growth in August 2016, with the international sector recording 3.7 million passengers, up 5.2%, and the domestic sector at 3.8 million passengers or a 4.9% growth.
Kuala Lumpur International Airport (KLIA) rose 7.2% to 4.5 million passengers compared to 4.2 million in August 2015 with KLIA main terminal growing 25.3% to 2.36 million from 1.9 million a year ago.
This is due to Malaysia Airlines's domestic traffic improvement, Malindo Air's movements after transferring to KLIA main terminal and other airlines' international traffic contribution, it said.
However, klia2's passenger traffic dropped 7.4% to 2.1 million from 2.3 million in August 2015, said MAHB.
"Year to date, passenger traffic for KLIA main terminal recorded 16.1 million passengers, an increase of 3.4% over the same corresponding period last year, while klia2 recorded 17.9 million, an increase of 6.1% over the same period last year.
"SGIA passengers declined by 5% in August 2016 (year to date) over the same period last year. The international sector declined by 8.7% while the domestic sector declined by 2.9%," MAHB said.
Meanwhile, overall aircraft traffic movements declined by 0.3% to 89.5 million in August 2016 compared to 89.8 million last year, it said.
MAHB said international aircraft movements fell 0.5% year-on-year to 32.6 million in August 2016 from 32.8 million, while domestic aircraft movements dipped 0.2% to 56.8 million from 56.9 million.
"For August 2016, apart from the local AirAsia X and Malindo Air, 24 other international carriers recorded double-digit growth over August 2015.
"These airlines experienced passenger traffic increases in the range of 12% to 90% compared to August 2015.
"The traffic was further supported by eight new foreign carriers that were not operating in 2015," it said.
MAHB added that highest increases in traffic were recorded to China, South Asia, Oceania, Taiwan, Japan, Middle East and several South East Asian countries.
Going forward, MAHB remained optimistic with its Malaysian operations as 26 airlines register double-digit growth in international movements.
MAHB closed unchanged at RM6.45 for a market capitalisation of RM10.7 billion.