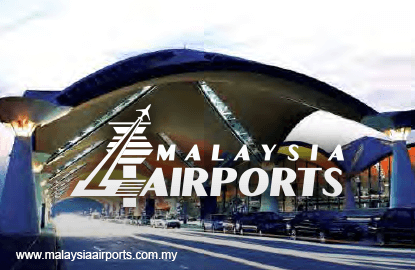 KUALA LUMPUR (July 12): Malaysia Airports Holdings Bhd (MAHB) said passenger movements at its airports, including Istanbul's Sabiha Gocken International Airport (SGIA), fell 4.2% to 9.05 million in June, compared with 9.45 million a year ago.
This, it said, was due mainly to the seasonally-lesser travelling during the Ramadhan period, which affected both Malaysia and Turkey.
However, the group still registered a 4.2% growth for the first half of 2016 as both local and foreign carriers filled the void left by a restructured Malaysia Airlines Bhd.
In its monthly passenger traffic snapshot to Bursa Malaysia, MAHB disclosed that total passengers in June, excluding SGIA, was 4.9% lower at 6.65 million compared with 7 million last year.
International passengers dropped 1.5% to 3.24 million, while domestic passengers declined 7.9% to 3.42 million.
Overall aircraft movements decreased 6.7% with a reduction in international and domestic movements by 1.7% and 9.6% respectively compared to June 2015.
MAHB said compared to the previous Ramadhan period, there was an increase in passenger movements by 2.5% for the first 25 days of the current Ramadhan period, which were in June.
SGIA's passenger traffic was negatively affected by the bombing at neighbouring Ataturk Airport, visa restrictions as well as lesser travel during Ramadhan month, said MAHB.
Meanwhile, Malaysia Airlines registered a double-digit decline in international passenger movements and a single-digit decline in domestic passenger movements. The vacuum, however, has largely been filled by AirAsia group, Malindo and other airlines, all of which registered double-digit growth.
On year-to-date basis, international passengers grew 4.5% to 20.54 million, but domestic passengers declined 0.6% to 21.56 million, as regional international airports like Penang and Kota Kinabalu continue to gain critical mass.
Going forward, due to security and macro-economic uncertainties in the second half of 2016, MAHB is cautiously optimistic its final passenger numbers for Malaysia airports would at least meet the originally estimated 2.5% growth in 2016.
"The international growth will likely outpace the domestic growth. This is based on the premise that the current unfavourable conditions would not worsen.
"The travel warnings to Turkey and visa requirements may hinder Istanbul SGIA's growth in the range of over 10% experienced previously," it said.
MAHB's share price closed eight sen or 1.32% higher at RM6.14 today, valuing the company at RM10.17 billion.
The counter has been declining since March 18, when it traded at RM6.92, its highest level this year. Year-to-date, the counter is still up by 9.45%.