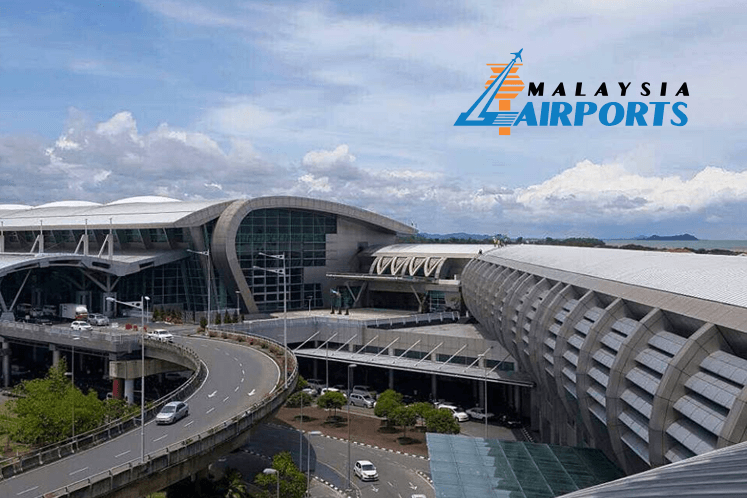 KUALA LUMPUR (May 27): Affin Hwang Capital Research has maintained its "sell" call on Malaysia Airports Holdings Bhd (MAHB), with a lower target price (TP) of RM3.75 from RM4 previously, in view of low earnings visibility and a tough medium-term business outlook due to the Covid-19 outbreak. 
In a note today, the research house said the group's core net loss of RM21 million for the first quarter ended March 31, 2020 (1QFY20) was disappointing as it was below both its and the consensus expectations. The weaker-than-expected results were mainly due to lower passenger growth (-28% year-on-year [y-o-y]) and lower retail sales (-41% y-o-y) following the outbreak of the Covid-19 pandemic and travel restrictions, as well as a higher doubtful debt provision of RM88.9 million (+263% y-o-y).
Last Friday, MAHB reported that it slipped into the red after posting a net loss of RM20.39 million for 1QFY20, compared to a net profit of RM149.58 million a year earlier. Revenue for 1QFY20 was down 25.43% to RM933.84 million from RM1.25 billion. 
Going forward, Affin Hwang Capital said it expects MAHB's losses to widen in 2QFY20 on the back of lower passenger movement and lower retail sales at MAHB's Malaysian airports as the travel restriction and movement control order (MCO) period is longer in 2QFY20. 
"We expect a core net loss of RM316.4 million for 2020 (the financial year ending Dec 31, 2020 [FY20]), and we cut our 2021-22E (estimated) core net profit by 4-12% mainly to account for lower passenger movement for both its Malaysian and Turkey operations, [as well as] lower retail sales and rental income at MAHB's airports," it said. 
The research house added that the lower core net profit would be mitigated by lower staff, maintenance and utilities costs driven by MAHB's cost savings initiatives and lower depreciation and amortisation costs, in line with lower passenger volume.
The research house expects MAHB to return to the black by generating a net profit of RM377.2 million for FY21 and grow further to earnings of RM530 million for FY22. This translates into earnings per share (EPS) forecasts of 22.7 sen for FY21 and 31.9 sen for FY22.
Elsewhere, at this juncture, the research house said that MAHB's management has clarified that the group is in no position to provide rebates on rental for premises at the airports, as well as landing and parking charges. However, the management is offering a longer credit period (more than 99 days) and extension of contracts to its clients.
Meanwhile, it said that MAHB's management is positive on discussions with the government (the Ministry of Finance and Ministry of Transport) on the operating agreements (OAs) and expects them to be finalised in mid-June 2020. 
"However, the management noted that the Regulated Asset Based (RAB) framework would not be used to govern the return on its future expansion at this juncture given the uncertainties in passenger traffic movement. That said, a provision would be included in the OAs specifying the method of capital recovery," it noted.
MAHB's shares price fell as much as 2.22% or 11 sen to RM4.83 shortly after opening bell. As at 10.15am, the stock had pared some losses and traded at RM4.87, still lower by 1.42% or seven sen.
Year to date, the counter has fallen 36% from RM7.60 on Dec 31, 2019.