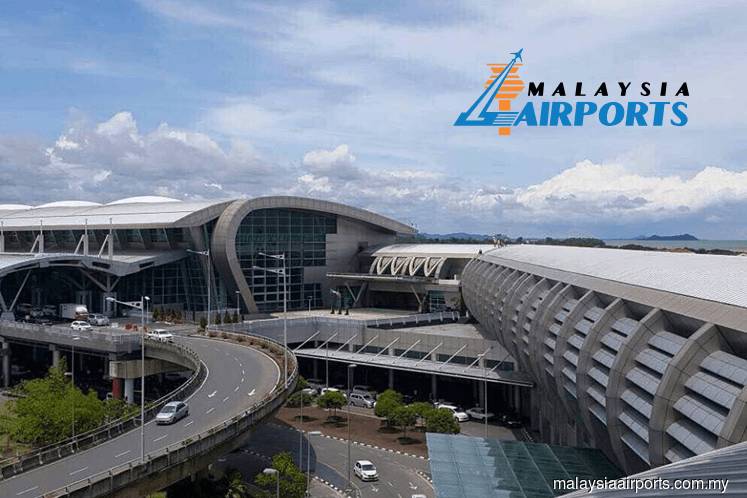 KUALA LUMPUR (June 19): Malaysia Airports Holdings Bhd was the biggest gainer as at 4.07pm today, trading at RM8.59, up 65 sen or 8.2%, with 4.08 million shares done.
The counter rose as much as 73 sen or 9.2% to an intraday high of RM8.66 earlier today, the highest in the past eight months since Oct 3, 2018 when it closed at RM8.78.
Investors optimism towards the group came after Malaysia Aviation Commission (Mavcom) yesterday published a consultation paper on aeronautical charges framework, which proposes a nominal pre-tax weighted average cost of capital (WACC) of 10.88% for MAHB to be applied under the Regulatory Asset Base (RAB) framework.
This is within the 9-11% rate of return proposed in the first consultation paper in October last year, but lower than the 12.7% to 14% range submitted by MAHB itself.
RHB Research analyst Alan Lim pointed out that the proposed WACC rate is at the higher end of the 9-11% range.
"Although the proposed regulated WACC of 10.88% is lower than MAHB's suggestion of 12.7-14%, it is at the higher end of MAVCOM's initial range of 9-11% in the first consultation paper. Note that the WACC represents the fair return on capital for the amount of capex that MAHB will spend — as such, the higher value is better for MAHB," he said.
The paper also proposes a Passenger Services Charges (PSC) on transfer passengers.
In his research note today, MIDF Research analyst Adam Mohamed Rahim said the new transfer PSC of RM3 for domestic passenger and RM17 for international passenger, could give MAHB an additional RM2.2 million revenue.
"Although RM2.2m only makes up less than 5% of MAHB's PSC revenue in FY18, we opine that this additional source of PSC revenue could buffer any potential downside risks from a lower-than-expected return from the RAB framework," he said.
Adam reiterated a Buy call on MAHB today, with an unchanged target price of RM8.80.
The consultation paper yesterday also discloses three models of PSC rate proposed by MAHB.
RHB's Lim said his firm is positive on Mavcom's proposals, as it removed a large amount of uncertainty for the RAB Framework.
"We expect MAHB's valuation to re-rate further. Recently, MAHB also delivered a positive earnings surprise for 1QFY19. We note the ongoing concerns over the impact of the departure levy, court cases with AirAsia and AirAsia X, as well as Turkish Lira depreciation costs — this has been factored into our target price, which conservatively implies -1.2 standard deviation versus its mean," he noted.
Lim has a Buy call on MAHB, and increased his target price to RM9.20 in his note today.
MAHB 1-day price chart
Date
Last Price
18/06/2019
09:13
7.95
18/06/2019
09:14
7.95
18/06/2019
09:17
7.96
18/06/2019
09:30
7.96
18/06/2019
09:34
7.94
18/06/2019
09:35
7.95
18/06/2019
09:37
7.93
18/06/2019
09:38
7.95
18/06/2019
09:41
7.95
18/06/2019
09:44
7.95
18/06/2019
09:45
7.96
18/06/2019
09:46
7.96
18/06/2019
09:48
7.96
18/06/2019
09:49
7.95
18/06/2019
09:54
7.95
18/06/2019
09:58
7.95
18/06/2019
09:59
7.95
18/06/2019
10:01
7.96
18/06/2019
10:06
7.95
18/06/2019
10:09
7.95
18/06/2019
10:11
7.95
18/06/2019
10:14
7.95
18/06/2019
10:15
7.95
18/06/2019
10:16
7.95
18/06/2019
10:17
7.95
18/06/2019
10:19
7.95
18/06/2019
10:20
7.95
18/06/2019
10:22
7.95
18/06/2019
10:23
7.95
18/06/2019
10:24
7.95
18/06/2019
10:26
7.95
18/06/2019
10:27
7.95
18/06/2019
10:28
7.95
18/06/2019
10:29
7.95
18/06/2019
10:30
7.95
18/06/2019
10:31
7.95
18/06/2019
10:33
7.95
18/06/2019
10:34
7.95
18/06/2019
10:35
7.95
18/06/2019
10:36
7.95
18/06/2019
10:37
7.95
18/06/2019
10:38
7.96
18/06/2019
10:42
7.96
18/06/2019
10:44
7.96
18/06/2019
10:46
7.96
18/06/2019
10:47
7.96
18/06/2019
10:49
7.96
18/06/2019
10:52
7.95
18/06/2019
10:55
7.95
18/06/2019
10:56
7.95
18/06/2019
10:58
7.96
18/06/2019
10:59
7.95
18/06/2019
11:00
7.95
18/06/2019
11:01
7.95
18/06/2019
11:02
7.95
18/06/2019
11:03
7.95
18/06/2019
11:06
7.95
18/06/2019
11:09
7.95
18/06/2019
11:10
7.95
18/06/2019
11:11
7.95
18/06/2019
11:12
7.95
18/06/2019
11:13
7.95
18/06/2019
11:14
7.95
18/06/2019
11:15
7.95
18/06/2019
11:16
7.95
18/06/2019
11:17
7.97
18/06/2019
11:20
7.96
18/06/2019
11:23
7.96
18/06/2019
11:24
7.96
18/06/2019
11:25
7.96
18/06/2019
11:26
7.96
18/06/2019
11:27
7.96
18/06/2019
11:28
7.96
18/06/2019
11:29
7.95
18/06/2019
11:30
7.95
18/06/2019
11:31
7.95
18/06/2019
11:33
7.95
18/06/2019
11:34
7.95
18/06/2019
11:35
7.95
18/06/2019
11:37
7.95
18/06/2019
11:38
7.95
18/06/2019
11:39
7.95
18/06/2019
11:41
7.95
18/06/2019
11:42
7.95
18/06/2019
11:43
7.96
18/06/2019
11:46
7.96
18/06/2019
11:49
7.96
18/06/2019
11:50
7.96
18/06/2019
11:51
7.96
18/06/2019
11:53
7.97
18/06/2019
11:54
7.96
18/06/2019
11:55
7.96
18/06/2019
11:58
7.96
18/06/2019
11:59
7.96
18/06/2019
12:00
7.96
18/06/2019
12:02
7.96
18/06/2019
12:03
7.96
18/06/2019
12:04
7.96
18/06/2019
12:06
7.96
18/06/2019
12:07
7.96
18/06/2019
12:08
7.96
18/06/2019
12:09
7.96
18/06/2019
12:10
7.96
18/06/2019
12:14
7.95
18/06/2019
12:17
7.96
18/06/2019
12:18
7.96
18/06/2019
12:19
7.97
18/06/2019
12:20
7.97
18/06/2019
12:21
7.97
18/06/2019
12:22
7.97
18/06/2019
12:23
7.96
18/06/2019
12:25
7.96
18/06/2019
12:26
7.95
18/06/2019
12:27
7.95
18/06/2019
12:28
7.96
18/06/2019
12:29
7.95
18/06/2019
14:30
7.96
18/06/2019
14:31
7.96
18/06/2019
14:34
7.96
18/06/2019
14:35
7.95
18/06/2019
14:36
7.95
18/06/2019
14:37
7.95
18/06/2019
14:38
7.95
18/06/2019
14:39
7.95
18/06/2019
14:40
7.95
18/06/2019
14:41
7.95
18/06/2019
14:42
7.95
18/06/2019
14:43
7.95
18/06/2019
14:44
7.95
18/06/2019
14:45
7.95
18/06/2019
14:46
7.95
18/06/2019
14:47
7.95
18/06/2019
14:48
7.95
18/06/2019
14:49
7.95
18/06/2019
14:50
7.95
18/06/2019
14:52
7.95
18/06/2019
14:53
7.95
18/06/2019
14:54
7.95
18/06/2019
14:55
7.95
18/06/2019
14:56
7.95
18/06/2019
14:57
7.95
18/06/2019
14:58
7.96
18/06/2019
14:59
7.95
18/06/2019
15:00
7.95
18/06/2019
15:02
7.95
18/06/2019
15:03
7.95
18/06/2019
15:04
7.95
18/06/2019
15:05
7.96
18/06/2019
15:06
7.95
18/06/2019
15:07
7.96
18/06/2019
15:08
7.96
18/06/2019
15:09
7.96
18/06/2019
15:11
7.96
18/06/2019
15:12
7.96
18/06/2019
15:13
7.96
18/06/2019
15:14
7.96
18/06/2019
15:16
7.96
18/06/2019
15:18
7.96
18/06/2019
15:19
7.95
18/06/2019
15:20
7.95
18/06/2019
15:21
7.95
18/06/2019
15:22
7.95
18/06/2019
15:23
7.95
18/06/2019
15:24
7.95
18/06/2019
15:25
7.95
18/06/2019
15:26
7.96
18/06/2019
15:27
7.96
18/06/2019
15:28
7.95
18/06/2019
15:29
7.95
18/06/2019
15:30
7.95
18/06/2019
15:32
7.95
18/06/2019
15:33
7.95
18/06/2019
15:34
7.95
18/06/2019
15:35
7.95
18/06/2019
15:36
7.96
18/06/2019
15:37
7.95
18/06/2019
15:38
7.95
18/06/2019
15:39
7.95
18/06/2019
15:40
7.95
18/06/2019
15:41
7.95
18/06/2019
15:42
7.95
18/06/2019
15:43
7.96
18/06/2019
15:44
7.95
18/06/2019
15:45
7.95
18/06/2019
15:46
7.95
18/06/2019
15:47
7.95
18/06/2019
15:48
7.95
18/06/2019
15:49
7.95
18/06/2019
15:50
7.95
18/06/2019
15:51
7.95
18/06/2019
15:52
7.93
18/06/2019
15:53
7.93
18/06/2019
15:55
7.93
18/06/2019
15:56
7.93
18/06/2019
15:57
7.93
18/06/2019
15:59
7.93
18/06/2019
16:00
7.93
18/06/2019
16:01
7.93
18/06/2019
16:02
7.93
18/06/2019
16:03
7.93
18/06/2019
16:04
7.92
18/06/2019
16:06
7.92
18/06/2019
16:07
7.92
18/06/2019
16:08
7.92
18/06/2019
16:09
7.92
18/06/2019
16:10
7.92
18/06/2019
16:11
7.92
18/06/2019
16:12
7.91
18/06/2019
16:13
7.91
18/06/2019
16:14
7.92
18/06/2019
16:15
7.92
18/06/2019
16:18
7.92
18/06/2019
16:19
7.92
18/06/2019
16:20
7.93
18/06/2019
16:21
7.92
18/06/2019
16:22
7.92
18/06/2019
16:23
7.92
18/06/2019
16:24
7.93
18/06/2019
16:25
7.92
18/06/2019
16:26
7.92
18/06/2019
16:27
7.93
18/06/2019
16:28
7.92
18/06/2019
16:29
7.93
18/06/2019
16:30
7.92
18/06/2019
16:31
7.92
18/06/2019
16:32
7.92
18/06/2019
16:33
7.93
18/06/2019
16:34
7.92
18/06/2019
16:35
7.92
18/06/2019
16:36
7.92
18/06/2019
16:37
7.92
18/06/2019
16:38
7.92
18/06/2019
16:39
7.92
18/06/2019
16:40
7.92
18/06/2019
16:41
7.92
18/06/2019
16:42
7.92
18/06/2019
16:43
7.92
18/06/2019
16:44
7.91
18/06/2019
16:50
7.93
19/06/2019
09:00
8.09
19/06/2019
09:03
8.08
19/06/2019
09:05
8.09
19/06/2019
09:06
8.09
19/06/2019
09:07
8.14
19/06/2019
09:08
8.14
19/06/2019
09:09
8.13
19/06/2019
09:10
8.09
19/06/2019
09:11
8.13
19/06/2019
09:12
8.1
19/06/2019
09:13
8.13
19/06/2019
09:14
8.1
19/06/2019
09:15
8.13
19/06/2019
09:16
8.13
19/06/2019
09:17
8.13
19/06/2019
09:18
8.1
19/06/2019
09:20
8.1
19/06/2019
09:21
8.13
19/06/2019
09:22
8.13
19/06/2019
09:23
8.15
19/06/2019
09:24
8.17
19/06/2019
09:25
8.16
19/06/2019
09:28
8.18
19/06/2019
09:29
8.2
19/06/2019
09:31
8.23
19/06/2019
09:32
8.26
19/06/2019
09:33
8.32
19/06/2019
09:34
8.3
19/06/2019
09:35
8.3
19/06/2019
09:36
8.3
19/06/2019
09:37
8.26
19/06/2019
09:38
8.27
19/06/2019
09:39
8.26
19/06/2019
09:40
8.27
19/06/2019
09:41
8.26
19/06/2019
09:42
8.26
19/06/2019
09:43
8.26
19/06/2019
09:45
8.28
19/06/2019
09:46
8.32
19/06/2019
09:47
8.33
19/06/2019
09:48
8.34
19/06/2019
09:49
8.3
19/06/2019
09:50
8.3
19/06/2019
09:51
8.3
19/06/2019
09:52
8.29
19/06/2019
09:53
8.28
19/06/2019
09:54
8.25
19/06/2019
09:55
8.29
19/06/2019
09:56
8.27
19/06/2019
09:57
8.25
19/06/2019
09:59
8.25
19/06/2019
10:00
8.25
19/06/2019
10:01
8.28
19/06/2019
10:02
8.28
19/06/2019
10:03
8.29
19/06/2019
10:04
8.32
19/06/2019
10:06
8.32
19/06/2019
10:07
8.33
19/06/2019
10:08
8.33
19/06/2019
10:09
8.33
19/06/2019
10:10
8.32
19/06/2019
10:11
8.32
19/06/2019
10:12
8.32
19/06/2019
10:13
8.34
19/06/2019
10:14
8.35
19/06/2019
10:15
8.36
19/06/2019
10:16
8.38
19/06/2019
10:17
8.43
19/06/2019
10:18
8.4
19/06/2019
10:19
8.4
19/06/2019
10:20
8.39
19/06/2019
10:21
8.4
19/06/2019
10:22
8.41
19/06/2019
10:23
8.41
19/06/2019
10:24
8.4
19/06/2019
10:25
8.43
19/06/2019
10:26
8.46
19/06/2019
10:27
8.46
19/06/2019
10:28
8.45
19/06/2019
10:29
8.43
19/06/2019
10:30
8.43
19/06/2019
10:31
8.42
19/06/2019
10:32
8.46
19/06/2019
10:33
8.45
19/06/2019
10:34
8.46
19/06/2019
10:35
8.46
19/06/2019
10:36
8.46
19/06/2019
10:37
8.46
19/06/2019
10:38
8.47
19/06/2019
10:39
8.48
19/06/2019
10:40
8.48
19/06/2019
10:41
8.47
19/06/2019
10:42
8.47
19/06/2019
10:43
8.47
19/06/2019
10:44
8.47
19/06/2019
10:45
8.46
19/06/2019
10:46
8.47
19/06/2019
10:47
8.46
19/06/2019
10:48
8.45
19/06/2019
10:49
8.45
19/06/2019
10:50
8.46
19/06/2019
10:51
8.47
19/06/2019
10:52
8.46
19/06/2019
10:54
8.46
19/06/2019
10:55
8.43
19/06/2019
10:57
8.46
19/06/2019
10:58
8.45
19/06/2019
10:59
8.45
19/06/2019
11:00
8.45
19/06/2019
11:01
8.45
19/06/2019
11:02
8.45
19/06/2019
11:03
8.45
19/06/2019
11:04
8.44
19/06/2019
11:06
8.46
19/06/2019
11:08
8.46
19/06/2019
11:09
8.46
19/06/2019
11:11
8.46
19/06/2019
11:12
8.45
19/06/2019
11:13
8.45
19/06/2019
11:14
8.45
19/06/2019
11:17
8.46
19/06/2019
11:18
8.45
19/06/2019
11:19
8.45
19/06/2019
11:20
8.44
19/06/2019
11:21
8.45
19/06/2019
11:22
8.44
19/06/2019
11:23
8.45
19/06/2019
11:24
8.45
19/06/2019
11:25
8.44
19/06/2019
11:26
8.45
19/06/2019
11:27
8.44
19/06/2019
11:28
8.45
19/06/2019
11:29
8.44
19/06/2019
11:30
8.45
19/06/2019
11:31
8.44
19/06/2019
11:33
8.44
19/06/2019
11:34
8.44
19/06/2019
11:36
8.44
19/06/2019
11:37
8.44
19/06/2019
11:38
8.44
19/06/2019
11:39
8.44
19/06/2019
11:40
8.44
19/06/2019
11:41
8.44
19/06/2019
11:42
8.44
19/06/2019
11:43
8.44
19/06/2019
11:44
8.45
19/06/2019
11:45
8.45
19/06/2019
11:46
8.45
19/06/2019
11:48
8.45
19/06/2019
11:49
8.45
19/06/2019
11:51
8.45
19/06/2019
11:52
8.44
19/06/2019
11:53
8.45
19/06/2019
11:54
8.45
19/06/2019
11:55
8.47
19/06/2019
11:57
8.47
19/06/2019
11:58
8.46
19/06/2019
11:59
8.46
19/06/2019
12:01
8.46
19/06/2019
12:02
8.46
19/06/2019
12:03
8.45
19/06/2019
12:04
8.45
19/06/2019
12:05
8.46
19/06/2019
12:06
8.46
19/06/2019
12:07
8.47
19/06/2019
12:08
8.46
19/06/2019
12:09
8.46
19/06/2019
12:12
8.45
19/06/2019
12:13
8.46
19/06/2019
12:14
8.46
19/06/2019
12:15
8.46
19/06/2019
12:16
8.46
19/06/2019
12:17
8.46
19/06/2019
12:18
8.45
19/06/2019
12:19
8.46
19/06/2019
12:20
8.46
19/06/2019
12:22
8.46
19/06/2019
12:23
8.46
19/06/2019
12:24
8.45
19/06/2019
12:25
8.45
19/06/2019
12:26
8.48
19/06/2019
12:27
8.47
19/06/2019
12:28
8.47
19/06/2019
12:29
8.47
19/06/2019
14:30
8.47
19/06/2019
14:31
8.49
19/06/2019
14:32
8.49
19/06/2019
14:33
8.48
19/06/2019
14:34
8.48
19/06/2019
14:35
8.48
19/06/2019
14:36
8.55
19/06/2019
14:37
8.55
19/06/2019
14:38
8.6
19/06/2019
14:39
8.62
19/06/2019
14:40
8.6
19/06/2019
14:41
8.6
19/06/2019
14:42
8.59
19/06/2019
14:43
8.6
19/06/2019
14:44
8.62
19/06/2019
14:45
8.59
19/06/2019
14:46
8.59
19/06/2019
14:47
8.6
19/06/2019
14:49
8.51
19/06/2019
14:50
8.52
19/06/2019
14:51
8.49
19/06/2019
14:52
8.51
19/06/2019
14:53
8.52
19/06/2019
14:54
8.51
19/06/2019
14:55
8.51
19/06/2019
14:56
8.51
19/06/2019
14:57
8.52
19/06/2019
14:58
8.52
19/06/2019
14:59
8.52
19/06/2019
15:00
8.52
19/06/2019
15:01
8.53
19/06/2019
15:02
8.53
19/06/2019
15:04
8.54
19/06/2019
15:05
8.54
19/06/2019
15:06
8.53
19/06/2019
15:07
8.54
19/06/2019
15:08
8.54
19/06/2019
15:11
8.55
19/06/2019
15:12
8.54
19/06/2019
15:13
8.54
19/06/2019
15:14
8.55
19/06/2019
15:15
8.56
19/06/2019
15:16
8.53
19/06/2019
15:17
8.54
19/06/2019
15:18
8.56
19/06/2019
15:19
8.56
19/06/2019
15:20
8.56
19/06/2019
15:21
8.56
19/06/2019
15:22
8.57
19/06/2019
15:23
8.59
19/06/2019
15:24
8.57
19/06/2019
15:25
8.61
19/06/2019
15:26
8.59
19/06/2019
15:27
8.59
19/06/2019
15:28
8.59
19/06/2019
15:29
8.59
19/06/2019
15:30
8.59
19/06/2019
15:31
8.59
19/06/2019
15:32
8.59
19/06/2019
15:33
8.59
19/06/2019
15:34
8.62
19/06/2019
15:35
8.61
19/06/2019
15:36
8.61
19/06/2019
15:37
8.6
19/06/2019
15:38
8.6
19/06/2019
15:39
8.6
19/06/2019
15:40
8.6
19/06/2019
15:41
8.62
19/06/2019
15:42
8.6
19/06/2019
15:43
8.61
19/06/2019
15:44
8.62
19/06/2019
15:45
8.61
19/06/2019
15:46
8.6
19/06/2019
15:47
8.6
19/06/2019
15:48
8.61
19/06/2019
15:49
8.61
19/06/2019
15:50
8.61
19/06/2019
15:51
8.62
19/06/2019
15:52
8.61
19/06/2019
15:53
8.63
19/06/2019
15:54
8.62
19/06/2019
15:55
8.61
19/06/2019
15:56
8.61
19/06/2019
15:57
8.6
19/06/2019
15:58
8.59
19/06/2019
15:59
8.59
19/06/2019
16:00
8.59
19/06/2019
16:01
8.6
19/06/2019
16:02
8.59
19/06/2019
16:03
8.6
19/06/2019
16:04
8.6
19/06/2019
16:05
8.6
19/06/2019
16:06
8.59
19/06/2019
16:07
8.59
19/06/2019
16:08
8.58
19/06/2019
16:09
8.57
19/06/2019
16:10
8.58
19/06/2019
16:12
8.58
19/06/2019
16:13
8.57
19/06/2019
16:14
8.56
19/06/2019
16:15
8.56
19/06/2019
16:16
8.56
19/06/2019
16:17
8.52
19/06/2019
16:18
8.52
19/06/2019
16:19
8.51
19/06/2019
16:20
8.51
19/06/2019
16:21
8.5
19/06/2019
16:22
8.5
19/06/2019
16:23
8.49
19/06/2019
16:24
8.5
19/06/2019
16:25
8.5
19/06/2019
16:26
8.51
19/06/2019
16:27
8.51
19/06/2019
16:28
8.5
19/06/2019
16:29
8.5
19/06/2019
16:30
8.5
19/06/2019
16:31
8.47
19/06/2019
16:32
8.48
19/06/2019
16:33
8.49
19/06/2019
16:34
8.49
19/06/2019
16:35
8.48
19/06/2019
16:36
8.5
19/06/2019
16:37
8.48
19/06/2019
16:38
8.49
19/06/2019
16:39
8.5
19/06/2019
16:40
8.51
19/06/2019
16:41
8.51
19/06/2019
16:42
8.51
19/06/2019
16:43
8.49
19/06/2019
16:44
8.51
19/06/2019
16:50
8.51
19/06/2019
16:51
8.51
19/06/2019
16:52
8.51
19/06/2019
16:53
8.51
19/06/2019
16:56
8.51
19/06/2019
16:57
8.51
MAHB 1-year price chart
Date
Last Price
Date
Last Price
25/05/2018
8.3
28/05/2018
8.46
30/05/2018
8.3
31/05/2018
8.33
01/06/2018
8.55
04/06/2018
8.64
05/06/2018
8.7
06/06/2018
8.77
07/06/2018
8.76
08/06/2018
8.85
11/06/2018
8.8
12/06/2018
8.84
13/06/2018
8.82
14/06/2018
8.85
18/06/2018
8.8
19/06/2018
8.62
20/06/2018
8.81
21/06/2018
8.79
22/06/2018
8.75
25/06/2018
8.75
26/06/2018
8.77
27/06/2018
8.8
28/06/2018
8.7
29/06/2018
8.8
02/07/2018
8.76
03/07/2018
8.78
04/07/2018
8.8
05/07/2018
8.76
06/07/2018
8.77
09/07/2018
8.77
10/07/2018
8.78
11/07/2018
8.8
12/07/2018
8.8
13/07/2018
8.88
16/07/2018
8.85
17/07/2018
8.84
18/07/2018
8.9
19/07/2018
9.09
20/07/2018
9.04
23/07/2018
8.95
24/07/2018
9
25/07/2018
9.1
26/07/2018
9.03
27/07/2018
9.1
30/07/2018
9.07
31/07/2018
9.25
01/08/2018
9.48
02/08/2018
9.56
03/08/2018
9.8
06/08/2018
9.8
07/08/2018
9.35
08/08/2018
9.51
09/08/2018
9.58
10/08/2018
9.86
13/08/2018
9.33
14/08/2018
9.35
15/08/2018
9.14
16/08/2018
9.35
17/08/2018
9.37
20/08/2018
9.35
21/08/2018
9.3
23/08/2018
9.1
24/08/2018
9.1
27/08/2018
9.13
28/08/2018
9.3
29/08/2018
9.33
30/08/2018
9.35
03/09/2018
9.27
04/09/2018
9.27
05/09/2018
9.24
06/09/2018
9.24
07/09/2018
9.13
12/09/2018
9.3
13/09/2018
9.04
14/09/2018
9
18/09/2018
9.07
19/09/2018
9.07
20/09/2018
8.95
21/09/2018
8.96
24/09/2018
8.9
25/09/2018
8.92
26/09/2018
8.92
27/09/2018
8.92
28/09/2018
8.9
01/10/2018
8.85
02/10/2018
8.8
03/10/2018
8.78
04/10/2018
8.6
05/10/2018
8.58
08/10/2018
8.57
09/10/2018
8.58
10/10/2018
8.55
11/10/2018
8.35
12/10/2018
8.4
15/10/2018
8.55
16/10/2018
8.52
17/10/2018
8.55
18/10/2018
8.5
19/10/2018
8.61
22/10/2018
8.5
23/10/2018
8.45
24/10/2018
8.29
25/10/2018
8.26
26/10/2018
8.34
29/10/2018
8.32
30/10/2018
8.29
31/10/2018
8.3
01/11/2018
8.29
02/11/2018
8.25
05/11/2018
7.61
07/11/2018
8.16
08/11/2018
8.14
09/11/2018
8.03
12/11/2018
8.1
13/11/2018
8.08
14/11/2018
7.99
15/11/2018
8.2
16/11/2018
8.16
19/11/2018
7.98
21/11/2018
7.8
22/11/2018
7.85
23/11/2018
7.77
26/11/2018
7.71
27/11/2018
7.67
28/11/2018
7.64
29/11/2018
7.8
30/11/2018
7.67
03/12/2018
7.77
04/12/2018
7.77
05/12/2018
7.81
06/12/2018
7.6
07/12/2018
7.81
10/12/2018
7.73
11/12/2018
7.67
12/12/2018
7.83
13/12/2018
8.03
14/12/2018
7.87
17/12/2018
7.8
18/12/2018
8
19/12/2018
8.17
20/12/2018
8.18
21/12/2018
8.2
24/12/2018
8.2
26/12/2018
8.18
27/12/2018
8.44
28/12/2018
8.3
31/12/2018
8.38
02/01/2019
8.33
03/01/2019
8.25
04/01/2019
8.02
07/01/2019
8
08/01/2019
7.94
09/01/2019
8.16
10/01/2019
8.2
11/01/2019
7.99
14/01/2019
8
15/01/2019
7.97
16/01/2019
8.08
17/01/2019
8.05
18/01/2019
8.1
22/01/2019
8.1
23/01/2019
8.12
24/01/2019
8.15
25/01/2019
8.2
28/01/2019
8.05
29/01/2019
8.04
30/01/2019
8
31/01/2019
8.04
04/02/2019
8
07/02/2019
7.94
08/02/2019
7.9
11/02/2019
7.93
12/02/2019
7.99
13/02/2019
7.94
14/02/2019
7.88
15/02/2019
7.94
18/02/2019
7.94
19/02/2019
8.02
20/02/2019
8.1
21/02/2019
8.15
22/02/2019
8.2
25/02/2019
8.46
26/02/2019
8.37
27/02/2019
8.19
28/02/2019
8.17
01/03/2019
8.12
04/03/2019
8.03
05/03/2019
7.99
06/03/2019
7.87
07/03/2019
7.79
08/03/2019
7.75
11/03/2019
7.66
12/03/2019
7.74
13/03/2019
7.74
14/03/2019
7.8
15/03/2019
7.76
18/03/2019
7.71
19/03/2019
7.71
20/03/2019
7.7
21/03/2019
7.65
22/03/2019
7.69
25/03/2019
7.33
26/03/2019
7.34
27/03/2019
7.29
28/03/2019
7.27
29/03/2019
7.24
01/04/2019
7.19
02/04/2019
7.16
03/04/2019
7.09
04/04/2019
7.09
05/04/2019
7.11
08/04/2019
7.08
09/04/2019
6.94
10/04/2019
6.75
11/04/2019
6.61
12/04/2019
6.82
15/04/2019
6.9
16/04/2019
6.75
17/04/2019
6.81
18/04/2019
6.8
19/04/2019
6.77
22/04/2019
7.11
23/04/2019
7.4
24/04/2019
7.4
25/04/2019
7.42
26/04/2019
7.49
29/04/2019
7.56
30/04/2019
7.63
02/05/2019
7.6
03/05/2019
7.6
06/05/2019
7.54
07/05/2019
7.56
08/05/2019
7.3
09/05/2019
7.2
10/05/2019
7.15
13/05/2019
7.37
14/05/2019
7.4
15/05/2019
7.38
16/05/2019
7.09
17/05/2019
7.23
21/05/2019
7.03
23/05/2019
7.04
24/05/2019
7
27/05/2019
7
28/05/2019
7.05
29/05/2019
7
30/05/2019
7.12
31/05/2019
7.34
03/06/2019
7.7
04/06/2019
7.72
07/06/2019
7.62
10/06/2019
7.86
11/06/2019
7.91
12/06/2019
7.92
13/06/2019
7.92
14/06/2019
8.17
17/06/2019
7.98
18/06/2019
7.93
19/06/2019
8.51