This article first appeared in The Edge Financial Daily, on November 13, 2017.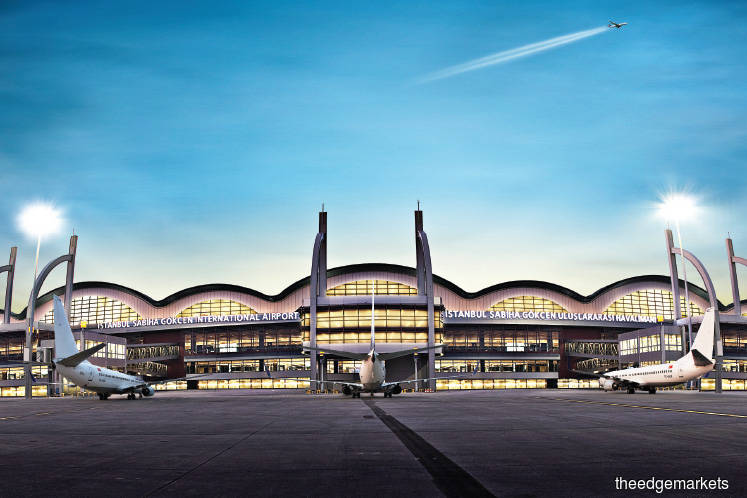 KUALA LUMPUR: Malaysia Airports Holdings Bhd (MAHB) is unfazed by potentially stiffer competition affecting its Istanbul operations amid the ongoing construction of a third airport in the Turkish capital.
The new Istanbul airport, designed for over 150 million passengers when fully completed by 2028, will see its first phase completed and open by end-October 2018, according to local Turkish media.
It will gradually replace the existing Istanbul Ataturk Airport, whose operating concession expires in 2020. The Ataturk Airport is the country's busiest airport with 60.25 million passengers served in 2016, making it the world's 14th busiest airport.
Some analysts believe that MAHB's wholly-owned Istanbul Sabiha Gokcen International Airport (ISG) has benefited from the current Ataturk Airport's space constraints as the latter is surrounded by urban areas, constraining cost-effective expansion.
As such, the upcoming new airport may draw passenger traffic from ISG once it begins operations.
In an emailed reply, MAHB said travellers have "strong preference" for ISG compared to the Ataturk Airport. It said ISG's location on the Asian side of Istanbul also bodes well as economic development is increasingly shifting towards that direction.
"We believe that both the new airport and ISG have two different markets to serve, especially considering that ISG is ideally located on the Asian side of Istanbul," MAHB told The Edge Financial Daily. "It is strategically positioned not only as the airport serving the Asian side of Istanbul, but also as a de facto city airport, serving the whole of Istanbul.
"Aside from that, ISG's resilience compared to Istanbul Ataturk Airport during the geopolitical tensions in 2016 proved that travellers had a strong preference for our airport," the airport group added.
The geopolitical tensions refer to security concerns which hurt travel in Turkey owing to the failed coup d'état staged against President Recep Tayyip Erdogan in July 2016.
That occurred alongside multiple terror attacks in Istanbul, including multiple bombings throughout 2016, as well as an attack at the Ataturk Airport in June last year which killed 45 victims.
Security concerns had hurt passenger growth at ISG. After double-digit year-on-year (y-o-y) monthly volume growth throughout 2015 and up to May 2016, the airport saw monthly volume decline y-o-y in five out of the seven remaining months of that year.
In 2015, overall passenger volume growth was 4.8% y-o-y compared with 19.7% in 2014. Year to date in 2017, ISG's cumulative passenger volume growth had come in at 4.3%, according to MAHB's October data released last Friday.
In 2016, ISG handled 29.65 million passengers, compared with 28.27 million in 2015.
"We are seeing an encouraging rebound in passenger growth at ISG and this validates our current focus to expand ISG's capacity from 33 million passengers per annum (mppa) to 41 mppa over the next 12 months," MAHB said.
In the financial year ended Dec 31, 2016 (FY16), ISG contributed RM1.03 billion in turnover but saw RM123 million in net loss. That was a deeper loss than the RM3.8 million it recorded in FY15, despite revenue growing from RM985.8 million.
At the group level, MAHB recorded RM4.17 billion revenue in FY16, up 7.8% y-o-y with RM73.17 million net profit, nearly double the RM40.12 million recorded in FY15.
Divestment in the air
There have been some expectations that MAHB would eventually divest part of its stake in ISG. When asked, MAHB did not rule out the possibility.
"We are … not averse to explore other avenues, including new partners who can add value and enhance our business and operations at ISG," it said.
Local Turkish media had reported that a tender exercise for bids could be held this month for a minority stake of up to 49%.
"As it is known that Malaysians have given a mandate to a global investment bank for the stake sale, we project the deal to be completed by the end of 2017," Turkish research house IS Investment said in July.
MAHB declined to comment on the possible exercise and what proportion it intends to keep, though it previously said it intended to retain a majority shareholding.
One interested party eyeing a potential stake is TAV Havalimanlari Holding AS, the operator of the existing Ataturk Airport. Its concession for the airport ends in 2020.
"We are interested in [the] stake sale of Sabiha Gokcen Airport, [which] is important to us in terms of staying in our hometown of Istanbul," a TAV spokesperson told The Edge Financial Daily via email. "But our general strategy of 'avoiding overpayment' applies in every new deal."
Several analysts The Edge Financial Daily has spoken to agree that an ISG stake divestment would be good for MAHB. Among others, a strong local partner would be helpful, especially in terms of managing competition from the new airport and potentially pursuing an extension of the current concession which expires in 2028.
It may also help MAHB reduce its exposure to lingering risks in Turkey while returning to its original intention of being a partner of ISG instead of fully owning it, they said.
MAHB paid €285 million to increase its stake from 60% to 100% in ISG back in January 2015. The acquisition was sparked by the right of first refusal to the 40% stake held by Limak Holding AS at the time, which had wanted to sell to TAV.
It was initially a 20% partner in the consortium that won a tender exercise for the ISG concession in 2007. In 2014, MAHB acquired 40% from Indian partner GMR Infrastructure Ltd for €225 million.
In a previous note, Nomura Securities estimated that MAHB's total investment cost in ISG came to RM2.3 billion. At the break-even level, MAHB would need to price ISG at 9.6 times enterprise value over earnings before interest, taxes, depreciation and amortisation, which comes to €201.6 million (RM985.7 million) for a 49% stake, it estimated.
"We think [that] is a valuation multiple TAV could likely afford since it is not far off from what it wanted to pay back then, at 9.2 times, when Limak disposed of its 40% stake, which was eventually blocked by MAHB exercising its right of first refusal," Nomura said.