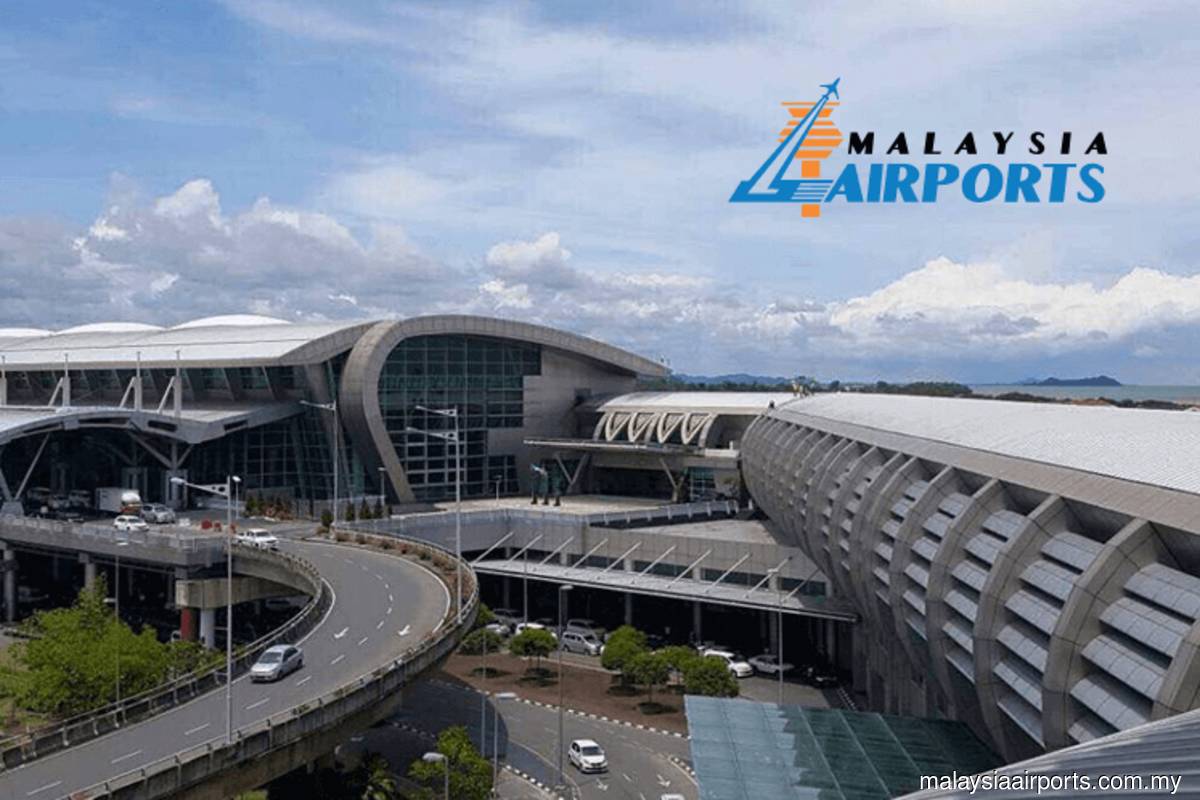 KUALA LUMPUR (Nov 30): Malaysia Airports Holdings Bhd (MAHB) posted a wider net loss of RM319.7 million for the third financial quarter ended Sept 30, 2020 (3QFY20), versus RM91.07 million for the immediate preceding quarter of 2QFY20, despite higher revenue, as it registered higher depreciation and additional provision for doubtful debts against a reversal previously.
The higher depreciation was in line with pax growth, with accelerated depreciation of certain assets, its quarterly results filing today showed. The group also recorded higher losses from joint ventures (JVs) and associates for the latest reporting quarter, while other income contracted on lower recoupment of utility expenses and lower investment income.
Revenue for 3QFY20 grew 45.7% to RM396.7 million, from RM272.2 million, following an improvement in passenger movements upon the resumption of domestic flights from June 1 and international flights from June 11 at the Istanbul Sabiha Gokcen International Airport (ISGIA) in Turkey.
Year-on-year (y-o-y), MAHB, which manages 39 airports in Malaysia and the ISGIA overseas, fell into the red from a net profit position of RM197.9 million a year earlier as revenue sank 70.7% to RM396.7 million from RM1.36 billion amid the pandemic and its resultant movement restrictions that caused a significant 74.8% contraction in passenger movements.
MAHB said its airport operations saw a 72.6% y-o-y fall in revenue due to border closures, while revenue from the aeronautical segment declined 68% y-o-y.
Passenger traffic for its Malaysian operations dropped 83.2% y-o-y to 4.5 million passengers from 26.8 million passengers previously, while passenger traffic for its Turkey ops contracted 52.5% y-o-y to 4.8 million passengers from 10.1 million passengers. At the same time, revenue from its non-aeronautical segment saw a 78.3% y-o-y decline.
"Overall, Its Malaysian and Turkey operations recorded a decrease in revenue by 73% to RM253.6 million and 68% to RM121.2 million respectively. The Qatar operations recorded a decrease in revenue from RM40.2 million to RM21.9 million," the group said.
Meanwhile, its share of results from associates recorded a loss of RM6.1 million, versus a profit of RM1.4 million a year earlier, due to losses from Kuala Lumpur Aviation Fuelling System Sdn Bhd and Cainiao KLIA Aeropolis Sdn Bhd, while its share of results from JVs saw losses totalling RM4.1 million versus a profit of RM4.1 million previously.
The y-o-y loss was mitigated by a 31.9% reduction in cost due to lower operating cost driven by cost containment initiatives, it noted.
For the nine months ended Sept 30, 2020 (9MFY20), MAHB's reported a net loss of RM688.8 million, compared to a net profit of RM507.5 million it made a year earlier, as revenue declined 59% to RM1.6 billion from RM3.87 billion.
"MAHB's network of airports recorded 36.2 million passengers in the period under review from Jan 1, 2020 to Sept 30, 2020, a contraction of 65.5% over the corresponding period of the prior year.
"During the same period, the group's traffic for international and domestic passengers contracted by 73.6% and 58.2% respectively. Correspondingly, the group's aircraft movements decreased by 54.1% with both international and domestic aircraft movements decreasing by 64.6% and 47% respectively," it said.
Looking ahead, MAHB expects global air travel to show continued resilience, as it has done over the last few months with a traffic recovery in the near term, depending on effective measures and standard operating procedures (SOPs) reinforced by airports and airlines, and measures and actions to ensure safety and security of passengers travelling by air.
While international borders remain closed, it said 35 airlines are currently operating from Malaysia to 31 destinations in 23 countries.
"The resumption of British Airways and Oman Air in the first week of October brought optimism about international air travel demand in a constrained environment.
"Meanwhile, the group's operations in Turkey continued to show strong momentum in a recovery trajectory. The Istanbul Sabiha Gokcen International Airport was recognised as Europe's fifth busiest airport in October with almost 500 daily flights," added MAHB.
The commencement of operations of the e-fulfilment hub of the Cainiao Aeropolis Electronic World Trade Platform Hub in early November, it noted, is also expected to further improve airline connectivity at the Kuala Lumpur International Airport (KLIA) with an increase in flight frequency and capacity.
The facility is anticipated to increase cargo volume by 700,000 metric tonnes, doubling KLIA's current volume to 1.4 million metric tonnes per year by 2029, it added.
The airport operator did not declare any dividends along with the latest set of financial results.
At the time of writing today, MAHB's share price was nine sen or 1.6% lower at RM5.45, giving the group a market capitalisation of RM9.04 billion.