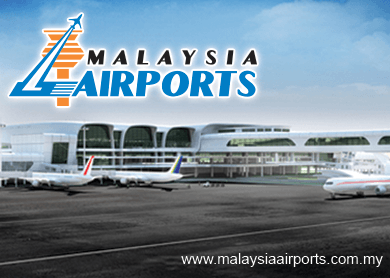 KUALA LUMPUR (Jan 12): Passenger traffic at the 39 airports Malaysia Airports Holdings Bhd (MAHB) manages climbed 4.7% to 83.32 million last year from 79.59 million in 2013, crossing the 80 million mark for the first time.
However, the airport operator said the passenger growth for 2014 was lower than what was expected as the performance has been affected by the negative sentiment from the two Malaysia Airlines (MH370 and MH17) incidents.
International passenger traffic increased by 4.9% to 40.14 million, while domestic movements increased by 4.5% to 43.19 million.
"December 2014 continued to register highest passenger movements as in previous years. December 2014's performance with 8.2 million passengers translating into a positive growth of 0.3% over December 2013 was better than expected," said MAHB in a statement today.
It added that December's average load factor of 76.5% was the highest recorded in a month in 2014, while aircraft traffic movements grew by 9.1% over December 2013.
Of the 83.32 million passengers handled last year, nearly 80% came from AirAsia Group and MAS and about 15% from foreign carriers. 
MAHB said MH370 had a significant impact on passenger flows from China, as closure in the form of official incident findings currently seem to be elusive.
China traffic deteriorated to an average of double-digit contraction in the last nine months, the peak of the contraction being a decline of nearly 20% in August.
"China sector traffic is important to airports in Malaysia as it remains the single-fastest growing sector in global traffic flows. Without official closure, it remains to be seen what the long-term implications may be, despite the historically strong bilateral relationship of the two countries," said MAHB. 
MH17, meanwhile, impacted Europe sector traffic, deteriorating to an average decline of 1.9% in the last five months, the highest decline being 6.1%.
Cargo movements for 2014 grew by 8% to 61.01 million tonnes – the highest cargo volume handled by the Malaysia Airports system since 2006. 
Meanwhile, the Kuala Lumpur International Airport in Sepang (KLIA) saw 3% more passengers using the airport last year, reaching 48.92 million passengers from 47.5 million in 2013.
However, KLIA's December passenger traffic increased by a marginal 0.3% to 4.84 million. International movements increased by 5.4%, but domestic movements registered a decline of 10.4% compared with December 2013.
Additionally, passenger traffic at KLIA Main declined by 3.0%, while klia2 increased by 10.1%.
MAHB said the growth of KLIA Main had been impacted by the shift in airlines' domestic operations for direct flights between the domestic airports compared with previously, where connections to domestic airports were mainly through KLIA. 
"The decline registered for KLIA Main was cemented by the expected transfer of Lion Air and Malindo Air operations to klia2," it added. 
Looking ahead, MAHB expects 2015 passenger traffic to record 85.8 million movements, or 3% above 2014,  based on the assumptions that the country's gross domestic product growth of 5% to 6% will hold, fuel prices remain stable at the current lower levels and that airlines' seat capacity supply remains in line with its estimates. 
"We also foresee another major carrier returning to Malaysia in 2015 underlying the strong fundamentals of KLIA and the airport system in Malaysia, despite the unprecedented triple airline incidents in 2014," it said. 
"It is also hoped that the restructured MAS will bring about positive growth to the industry," it added.