This article first appeared in The Edge Malaysia Weekly, on May 28, 2018 - June 03, 2018.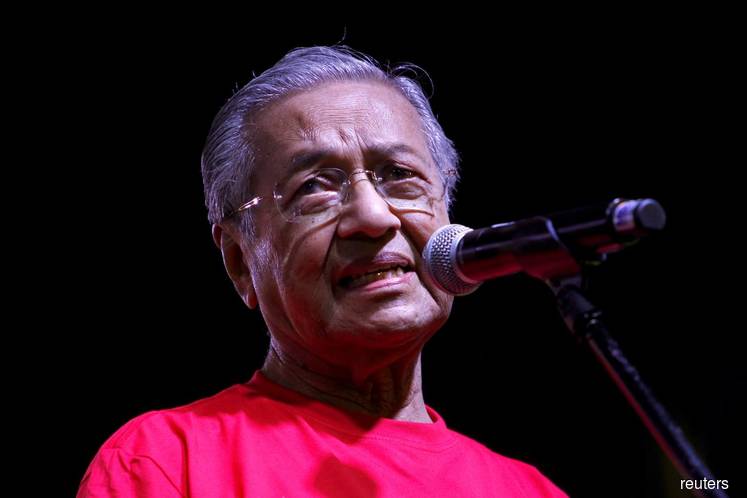 Money from the RM55 billion loan given out by a Chinese bank for Malaysia to build the East Coast Railway Line (ECRL) is being kept abroad, paid to the Chinese construction company in China.
This is not the normal way it is done,  whereby the loan would have been drawn down in Malaysia and paid to the foreign company's local subsidiary since the project is in Malaysia.
This unusual arrangement was disclosed by Prime Minister Tun Dr Mahathir Mohamad during an interview with The Edge (see Cover Story on Pages 70 to 73).
"That [ECRL] contract is strange," says Mahathir. "The contractor must be from China and the lending is from China. And the money is not supposed to come here but [kept abroad] to pay the contractor in China."
The contractor for the ECRL is state-owned China Communications Construction Co Ltd (CCCC) and the loan is from the Export and Import Bank of China (Exim).
Mahathir added that the payments to CCCC are not on the basis of work done but according to a pre-determined timetable, which is also not normal.
He confirmed that there are suspicions that some money paid for the ECRL was to be used to retire 1Malaysia Development Bhd's debts and to buy certain companies, and that his government intends to review and renegotiate the terms of the project with the various Chinese parties.
Sources say the ECRL can be built for under RM40 billion but the contract was inflated to RM60 billion (now expected to cost as much as RM70 billion) when it was signed in 2016.
They allege that the extra RM20 billion was to be used to help 1MDB meet some of its debt obligations and for the purchase of two companies linked to Low Taek Jho, or Jho Low. The companies are Putrajaya Perdana Bhd and Loh & Loh Corp Bhd.
According to a document sighted by The Edge, the RM60 billion contract sum was to be divided into three components:
1.     CCCC's cost and profits
The Chinese contractor's building cost was estimated at RM27 billion and it was to make a profit of RM2.729 billion for a total of RM29.72 billion, which would make up about 49.5% of the contract sum.
2.     The takeover of 1MDB's assets  and liabilities
Under the proposal, CCCC was to appoint a non-related nominee company to acquire some of 1MDB's assets. The assets to be taken over are a piece of land in Ayer Itam, Penang, valued at RM1.3 billion; a 100% stake in Brazen Sky Ltd, which owns Brazen Sky fund units that are supposedly worth US$940 million (RM3.76 billion); US$1.56 billion (RM6.24 billion) of 1MDB Global Investment Ltd fund units; and a 100% stake in 1MDB Energy Holdings Ltd.
The sale of assets would help 1MDB offload US$3.5 billion bonds issued by 1MDB Energy Ltd (1MEL) and 1MDB Energy Langat Ltd (1MELL) to the nominee company. By doing that, the interest expenses of US$1.28 billion for seven years between 2016 and 2022 would be taken care of by the ECRL soft loan.
By 2022, the nominee company would then redeem the two tranches of bond paper with the remaining cash from the Exim bank loan. The debt paper was issued for 1MDB to buy power generation assets between 2012 and 2014, and guaranteed by International Petroleum Investment Co (IPIC).
The total sum of US$4.78 billion, or RM19.12 billion, to be spent for this component would make up nearly one third of the soft loan raised under the ECRL project.
3.     Purchase of stakes in Loh & Loh Corp and Putrajaya Perdana
The document also said the nominee company of CCCC was also to buy a 90% stake in Loh & Loh Corp for US$244 million and a 70% stake in Putrajaya Perdana for US$71 million. A total of US$315 million, or RM1.26 billion, was to be spent on acquiring these two companies.
It is not clear if the drawdown of the RM55 billion Exim Bank loan has happened according to the document sighted and only a thorough review by the new government under Mahathir will shed some light on the matter.
Malaysia Rail Link Sdn Bhd, project owner of ECRL, had RM14.5 billion of debt directly guaranteed by the federal government as at end-2017.
Save by subscribing to us for your print and/or digital copy.
P/S: The Edge is also available on Apple's AppStore and Androids' Google Play.