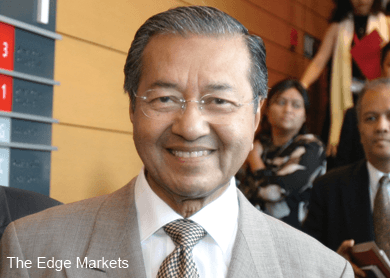 KUALA LUMPUR (Apr 24): In yet another jab at Prime Minister Datuk Seri Najib Abdul Razak, former premier Tun Dr Mahathir Mohamad said he too is not alone in his critical views against Najib's leadership.
"Well he's not alone, but lots of people tell me I'm not alone," Mahathir told reporters today after delivering a talk on nation building through education organised by the Human Life Advancement Foundation.
He also said he does not intend to go on a roadshow to speak about his criticism of Najib's leadership but will talk if people would like to know about his grievances with the current leadership.
"People are asking me why I am doing all these things. If I am invited to talk, I will talk. That's all. I'm not having a roadshow and all that," he said.
"It depends on people. If they are curious, they want to know why I'm asking Najib to step down; I will explain," he added.
Yesterday, in a veiled dig at the former premier, Najib had told investors gathered at the Invest Malaysia 2015 event that he did not feel alone and rather, felt that he was in good company, owing to praise from international bodies, individuals and institutions about Malaysia's successes.
He was alluding to Mahathir's criticism of him in his speech, saying "certain quarters" had expressed loneliness in telling the truth.
"There has been some talk lately in Malaysia about how it can be lonely telling the truth," Najib had said.
"I don't feel lonely at all. In fact, I feel in very good company. And I am equally confident that, given the well-known stability and growth of Malaysia under this government, I will be able to look forward to the pleasure of your company both next year and for years to come," he had said.
Mahathir had said in a post on his blogchedet.cc that he felt as if his were a lone voice seeking answers over various issues he had raised, particularly on the management of funds under 1Malaysian Development Bhd (1MDB).
"I know I am alone. But I feel responsible to the people, is that wrong? When the people's money goes missing and is hidden from them, is it wrong for me to ask?" he had written.
Several Umno members had expressed their agreement with Mahathir, including Deputy Prime Minister Tan Sri Muhyiddin Yassin in an apparent comment during an anti-war forum.
The former premier has been relentless in his criticism of Najib, saying the Prime Minister should step down for failing to answer several issues including 1MDB raking RM42 billion in debts and the murder of Mongolian Altantuya Shaariibuu.
He had also criticised Najib over the cash handouts policy of Bantuan Rakyat 1Malaysia (BR1M).
Mahathir had said that Barisan Nasional risks losing in the next general election should Najib continue to helm the ruling coalition.
He had also gone as far to suggest that Umno had two choices: remove Najib, who is Umno president, in order to stave off losses in the next general election or take its chances that the party will revive if Najib "choses to go".
Najib had in an interview with TV3 earlier this month said that the nixing of the "crooked bridge" or Malaysia-Singapore International Gateway project and BR1M policy could be the source of Mahathir's relentless criticism.
However, Mahathir had said rather than the shelved bridge project, it was the leader's inability to answer about the management of 1MDB funds that rendered Najib incompetent to be Prime Minister.