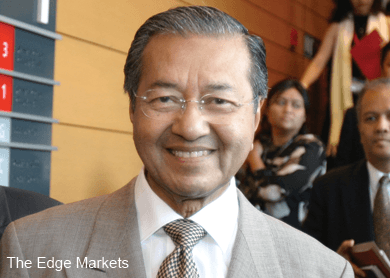 PUTRAJAYA (May 6): Former Prime Minister Tun Dr Mahathir Mohamad today said his criticism of 1 Malaysia Development Bhd (1MDB) is not a factor that contributed to the decreased number of votes clinched by ruling coalition Barisan Nasional (BN) in the Rompin by-election, adding that higher cost of living and the implementation of the goods and services tax (GST) were the main issues.
"The focus there (in Rompin) is the GST, higher cost of living, the increase in prices of goods and at the bottom (of the list) is 1MDB (1 Malaysia Development Bhd)," he told reporters after delivering a talk on Islam here at the Perdana Foundation.
"The kampung people do not understand the 1MDB issue. It is hard for them to imagine RM42 billion (of debts)," he said.
With a lower voter turnout, BN veteran candidate Datuk Hasan Arifin had clinched the Rompin seat with a reduced majority of 8,895 votes compared to 15,114 votes in the 13th general election which was won by the late Tan Sri Jamaluddin Jarjis.
Hasan's total of 23,796 votes were 20.8% or 6,219 lower compared to the votes BN clinched in the 2013 general election.
PAS' candidate Nazri Ahmad garnered 14,901 votes, a drop of only 25 votes.
Voter turnout stood at 73% compared to 85.9% in the 13th general election.
Mahathir said the GST is adding pressure to the people's purchasing power.
"Purchasing power has decreased and they have to pay GST, so this reduces their incomes even more," he said.
"If you want to increase the minimum wage, (their) cost of living will also increase.
"So the government should pay close attention to the grouses and plight of the people," he added.
On the Permatang Pauh by-election, Mahathir said it would be difficult for BN to wrest the seat from the opposition even though there are internal fractures in Pakatan Rakyat.
"The opposition may win, but with a reduced number of votes," he added.
The Permatang Pauh by-election this Thursday sees Datuk Sri Wan Azizah Wan Ismail, PKR president and wife of party de-facto Datuk Seri Anwar Ibrahim, pitted against BN's Suhaimi Sabudin, Parti Rakyat Malaysia Azman Shah Othman and Independent Salleh Isahak.