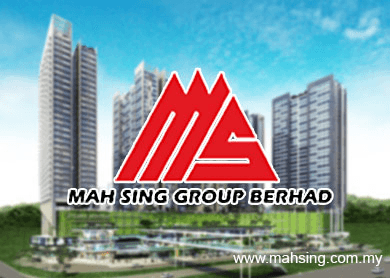 KUALA LUMPUR (Feb 16): Mah Sing Group Bhd net profit for the financial year ended Dec 31, 2014 rose 20.9% year-on-year (y-o-y) to RM339.2 million on the back of a 44.8% jump in revenue y-o-y to RM2.9 billion.
In a statement Monday, Mah Sing said its total sales volume grew 15% last year to a record RM3.43 billion.
The property developer attributed the results to the higher work progress and sales from the group's ongoing development projects such as Icon City in Petaling Jaya, Garden Residence, Clover @ Garden Residence and Garden Plaza in Cyberjaya, M-City in Jalan Ampang and M Residence in Rawang.
Comparatively, Mah Sing's fourth quarter net profit grew 19.6% to RM84.5million on a 48% higher revenue of RM844million, compared with the same quarter in 2013.
It said diluted earnings per share stood at 22.17 sen for 2014, an 11.7% improvement from the corresponding financial year.
Mah Sing has proposed a first and final single-tier dividend of 6.5 sen per share, consistent with its dividend payout policy of a minimum 40% of net profit.
The company said its unbilled sales position continued to advance to approximately RM5.26 billion as at Dec 31, 2014.
It said this was equivalent to approximately 2 times the revenue recognised from the property division in 2014 and assured the group of near-term revenue visibility and steady streams of cash flows and liquidity.
On its prospects, Mah Sing said this year's new phase launches would come from Savanna Executive [email protected] Southville City, M Residence 2, Lakeville Residence, D'Sara Sentral, Ferringhi Residence 2, Meridin [email protected] Perdana and Sutera Avenue.
It said other projects in the pipeline included Bandar Meridin East (Iskandar, JB), M Residence 3 (Rawang) and Icon Residence, Georgetown (Penang).
In addition, the Group will also be preparing new lands in Puchong (Festival Lakecity) and Seremban for preview.
Mah Sing said with healthy gross domestic product and household income growth, young demographic and stable employment conditions, it was confident that property would continue to be the preferred wealth preservation and investment option, and that the right products at right locations will continue to see healthy take-up rates to meet the current supply gap.
"Only 70,000 to 80,000 units of new homes are completed each year, while approximately 200,000 units of new properties are required to meet household formation arising from new marriages.
"With proven strategy and execution capability, a well-established brand name, and right portfolio of products at different stages of project life cycles, the group has the flexibility and is well-positioned to sustain its growth," it said.  
Mah Sing said that against this background, it had set a sales target of at least RM3.43 billion for the financial year 2015, banking on its new phase launches and new project launches in Greater KL, Klang Valley, Penang, Iskandar Malaysia in Johor Bahru and Kota Kinabalu, Sabah.