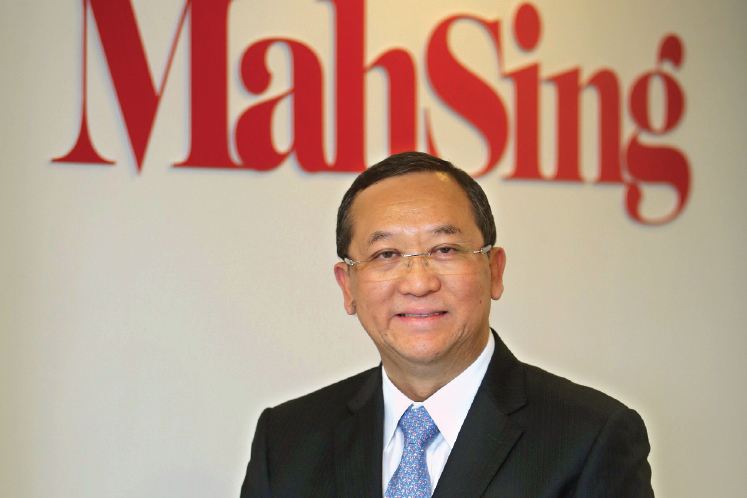 KUALA LUMPUR (Nov 2): Mah Sing Group Bhd sees the initiatives announced in Budget 2019 today and the impending National Housing Policy, will help to continue drive the momentum of the property industry, its group managing director Tan Sri Leong Hoy Kum said today.
The property developer lauds the government's commitment in addressing the needs for affordable homes, for example, the special RM1 billion fund by Bank Negara Malaysia, which can be accessed by purchasers of homes below RM150,000.
"The mortgage guarantee for buyers with household income up to RM5,000 will enable them to enjoy substantial savings of between 7% and 11%," said Leong in a statement.
He is of the view that measures announced in Budget 2019 by Finance Minister Lim Guan Eng today such as stamp duties are also favourable for first-time home buyers of properties below RM500,000 and those looking for homes for immediate occupation below RM1 million.
Guan Eng announced that first-time house buyers who are purchasing properties worth up to RM500,000 will receive a stamp duty exemption of up to the first RM300,000 for property transfer letter and loan agreement for first property worth not more than RM500,000 for two years until December 2020.
"The newly announced measures would be able to empower the young generation to own their first home while propelling steady growth for the industry. Mah Sing is also committed to be an early adopter of the innovative peer-to-peer lending mooted by the government," added Leong.
On Mah Sing's part, the continuation of stamp duty exemption will directly benefit it as 74% of its sales target are in this range, while 70% of its buyers are below 40 years old, likely to be first-time home buyers.
"We foresee minimal impact from the 1% increase of stamp duty for property transfers above RM1 million as our exposure to this range is very low at only 2%," said Leong.
He also said Mah Sing will be working closely with the authorities and its associates to launch more affordably priced developments that cater to the market demands.
On the government's suggestion to exempt the property transfer letter's stamp duty for properties between RM300,001 and RM1 million for first-time home buyers, this will stimulate the property market in the short term and encourage first-time home buyers to look for their ideal home, especially those who are looking for ready-to-move-in homes.
"Following the announcement that Real Estate and Housing Developers' Association Malaysia (Rehda) agrees to reduce house prices as much as 10% for houses which are not subject to price control for new projects, Mah Sing will seek clarity from the association on this.
"We are committed to working together with Rehda and other stakeholders to offer the best for our buyers," said Leong.
On the government's move to allocate RM25 million to Cagamas Bhd for mortgage guarantee to ensure that first-time home buyers with household income of up to RM5,000 can receive higher financing, Leong believes that this would act as a catalyst for the property industry.
Leong said the government's openness to innovative funding options like peer-to-peer lending by the first quarter of 2019, to help buyers own properties is laudable. "Mah Sing is committed to being one of the first adopters/supporters of this programme once more details flow in," he assured.
Mah Sing has 47 projects across Malaysia, with key focus in the Klang Valley and 74% of sales target from properties are below RM500,000.