This article first appeared in City & Country, The Edge Malaysia Weekly, on July 1, 2019 - July 07, 2019.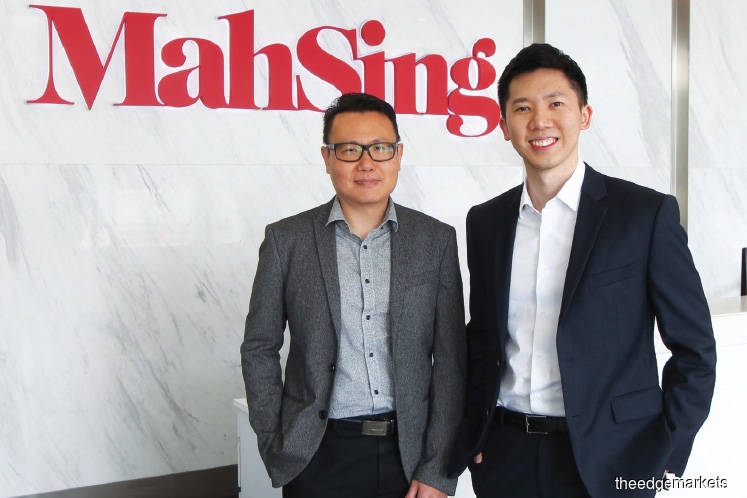 Chen (left) and Leong, who says a unique factor of the development is that it is 100m above sea level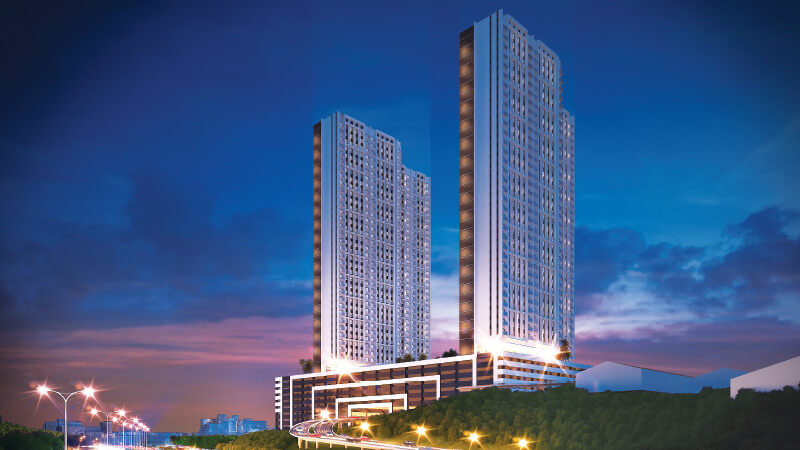 An artist's impression of M Oscarpictures by Mah Sing
Mah Sing Group Bhd aims to launch M Oscar — a niche development on 4.63-acre of freehold land off Kuchai Lama — at the end of the year. The project is accessible via Jalan 2/149, which is also connected to the Kuchai Lama interchange of Maju Expressway (MEX).
The name portrays the aspirations of Mah Sing's intended audience, says director of group strategy and operations Lionel Leong. "The working population and urban dwellers work hard and we want to make them feel rewarded and recognised. Oscar represents the Academy Awards and we are following the values behind it — the celebration of excellence." He adds that the word "Osca" in Latin means "a notch or mark above".
Sales and marketing general manager Chris Chen says the location is central. "This location is unique as it is next to Salak South, Sri Petaling, Kuchai Lama and Happy Garden. We are right in the middle. One can easily travel to Petaling Jaya, Kuala Lumpur and Cheras.
"We don't have an address yet. The land is under Mukim Petaling."
With a gross development value of RM500 million, M Oscar will comprise two towers of serviced apartments. There will be a total of 910 units with built-ups ranging from 705 to 1,206 sq ft.
Three types of layouts — 2-bedroom, 3-bedroom and 4-bedroom — will be available. The largest units, with built-ups of 1,206 sq ft, will be dual-key. Selling prices start from RM428,000 or an average of RM650 psf.
Empathy plays an important role in understanding buyers, says Chen. After doing a series of analysis, Mah Sing discovered that there is a demand for bigger units. "The larger units would be ideal for buyers who are currently living in older homes and want better security and facilities to cater for their young families and children," he says. Thus, the target market comprises owner-occupiers and young families.
Chen says there will not be any commercial component as the whole idea of the project is to give residents a haven in which they can rest and have a sense of belonging.
All units have a north-south orientation, with the North tower facing Kuala Lumpur city centre and the South tower, Sri Petaling. All units will have unobstructed views of the surrounding areas.
The neighbourhood is mature, established and well connected. The New Pantai Expressway and Kajang Dispersal Link Expressway are 1.1km away while Shah Alam Expressway and Kuala Lumpur-Seremban Expressway are 2.8km away. MEX and Stormwater Management and Road Tunnel are within 4.8km.
A mass rapid transit station, Taman Naga Emas, is being built 800m away. The station is part of MRT Line 2, which is slated to be completed 2021 and fully operational the following year. According to Leong, an exclusive shuttle bus service will take residents to and from the MRT station, which is about four minutes' drive away.
A 2.7-acre facility podium will offer facilities such as a swimming pool, gym, children's playground and multipurpose hall. Chen says the company is still finalising the facilities and is unable to provide more details. "But it will be family-oriented and there will be different zonings, according to the activities."
The developer will provide a total of 2,177 parking bays and each unit will come with a minimum of two parking bays.
Elevated perch
A unique factor of the development is that it is 100m above sea level, says Leong. "We are quite proud of the elevation. It is something different as the whole area is quite flat.
"When you are in a neighbourhood that is established already, you will need to differentiate yourself. So, we will be constructing a winding ingress road and residents will be welcomed an ovation of lights," he explains.
Furthermore, the developer has put in place three key concepts — Canyons, Stars and Water — which will be reflected in the drop-off area and podium. The drop-off area will have a double-volume ceiling that has canyon-inspired lines.
There will be a focus on lights. "When people come home, they will feel like they are coming home to a masterpiece. These lights are a big part of this project. But we are also very conscious of electricity consumption. So, we are very careful with the selection of lights," Leong explains.
Lights will also be placed around the podium so that when residents look down at night, it will be like looking at a star-lit sky.
Multiple water levels will create a cascading effect to mimic the "source-to-destination" movement of nature. The source will be the swimming pool while the destination will be meandering streams.
"I believe these concepts will stand the test of time. These are the things that will keep prices high for those who want to resell," says Leong.
Upcoming projects
Mah Sing will continue to launch new phases in its existing projects in the second half of the year. Two launches are scheduled for the third quarter — Tower D of M Vertica in Cheras and 2-storey linked homes in Meridin East, Johor.
Towers A and B of M Vertica were launched in the first quarter of last year while Tower C was unveiled in November. Take-up rates averaged at 80%.
Meanwhile, the 1,313-acre Meridin East, which is Mah Sing's largest township, has received good responses for three phases — Dandelion (take-up rate: 93%), Fern (92%) and Phase 1 of Hazel (70%). They were launched in August 2017, July 2017 and December 2018 respectively.
At the end of the year, the developer will launch another freehold high-rise residential development called M Arisa in Sentul.
Phase 2 of M Aruna, Mah Sing's 96.7-acre township in Rawang, is slated to be launched in the second half of the year.
As at March 31 this year, the developer had 2,099 acres of undeveloped land bank with a total gross development value and unbilled sales of RM25.1 billion.
The developer is focusing on launching RM2.2 billion worth of developments in Greater Kuala Lumpur, Johor and Penang. The breakdown of the total remaining GDV and unbilled sales of these three areas are 67%, 22% and 10% respectively. The remaining 1% is from Sutera Avenue in Kota Kinabalu, Sabah, which has been completed.
This year, Mah Sing aims to obtain minimum sales of RM1.5 billion, mostly from affordable homes in strategic locations.
The developer sees the current market situation as an opportunity to lock in strategic land parcels on better terms. It has identified parcels of land in Greater Kuala Lumpur that fit into its business model.