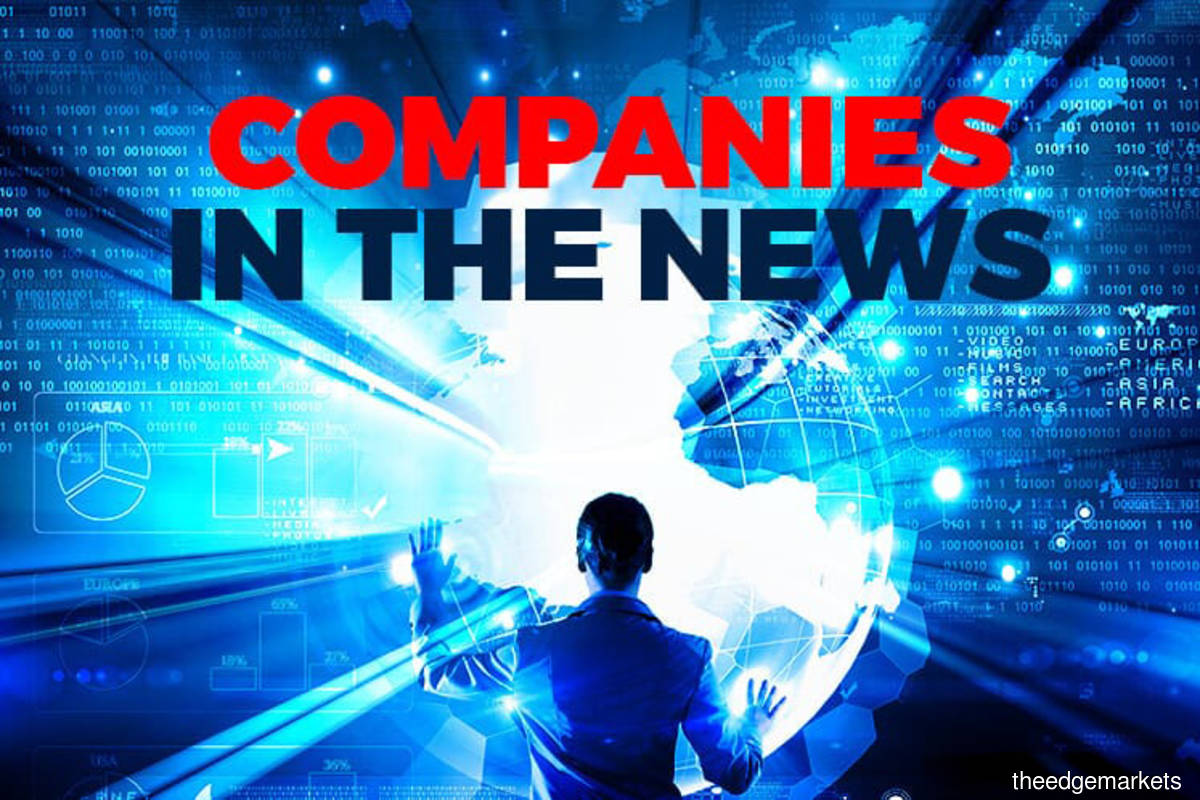 KUALA LUMPUR (Oct 16): Based on corporate announcements and news flow today, companies that may be in focus on Monday (Oct 19) include: Mah Sing Group Bhd, Digi.Com Bhd, Brem Holdings Bhd, FGV Holdings Bhd, Genting Bhd, AirAsia Group Bhd, Parkson Holdings Bhd and AWC Bhd. 
Mah Sing Group Bhd will be spending up to RM150 million in capital expenditure for the first phase of its proposed rubber glove venture, which will be funded via internal funds, bank borrowings and sukuk issuance. It entails the purchase of 12 new glove production lines and other plant and machinery such as boilers, chillers, compressors and wastewater treatment plant, as well as the refurbishment work of a warehouse in Klang. 
Digi.Com Bhd's net profit for the third quarter ended Sept 30, 2020 fell 9.9% to RM320.76 million from RM356.05 million a year earlier, due to margin slowdown compounded by Covid-19, and higher depreciation cost. Revenue rose 1.1% to RM1.58 billion from RM1.56 billion, fueled by proliferated data monetisation opportunities and increased prepaid voice usages to offset softening postpaid revenue. The group declared a 4.1 sen dividend. For the nine-month period, the group's net profit dropped by 13.69% to RM940.79 million, from RM1.09 billion a year ago, while revenue eased by a marginal 0.59% to RM4.59 billion, from RM4.62 billion. 
Brem Holdings Bhd is buying six parcels of leasehold industrial land in Serendah, Selangor for RM68.26 million to replenish its land bank. The vacant plots measure 528,439 square metres in total and are located near the Sungai Buaya interchange and toll plaza on the North-South Expressway. 
FGV Holdings Bhd has expanded its bulking facility by adding six new vegetable oil storage tanks to cater for increasing market demand and to fulfil the government's B20 biodiesel mandate for the transport sector. 
Fitch Ratings has downgraded the long-term issuer default ratings of Genting Bhd and its wholly-owned subsidiaries Genting Overseas Holdings Ltd and Resorts World Las Vegas LLC (RWLV) to 'BBB' from 'BBB+', with a stable outlook. The downgrade reflects Fitch's expectation that recovery from the Covid-19 pandemic will be slower than initially forecast, in particular for Singapore, which relies on international tourism, as borders are likely to remain shut for the rest of 2020 and continued social distancing measures constrain visitor volumes.  
AirAsia Group Bhd is implementing GE Aviation's Network Operations Insights (NOI) platform across the budget airline's operations to help reduce flight disruption impact and save cost. The NOI platform will enable airline operations managers to make data-driven decisions as operations change in real time. 
Parkson Holdings Bhd has entered into an agreement to establish a joint venture to jointly locate suitable land resources within Jiaxing city of Zhejiang province in China for future development and construction of properties on such land resources. Its 54.97%-owned subsidiary Parkson Retail Group Ltd had announced that its indirect wholly-owned subsidiary Shanghai Shengrui Commercial Management Co Ltd had entered into an agreement with Hongxiang Real Estate Co Ltd, a wholly-owned subsidiary of Hongxiang Holding Group Co Ltd, on the formation of the joint venture. 
AWC Bhd has bagged a contract to provide management maintenance and operational services at a commercial office building in Putrajaya called Galleria PJH from Putrajaya Holdings Sdn Bhd. The contract, valued at RM6.51 million, is valid for three years starting Nov 1, with an option to extend for another two years for a sum of RM4.31 million.