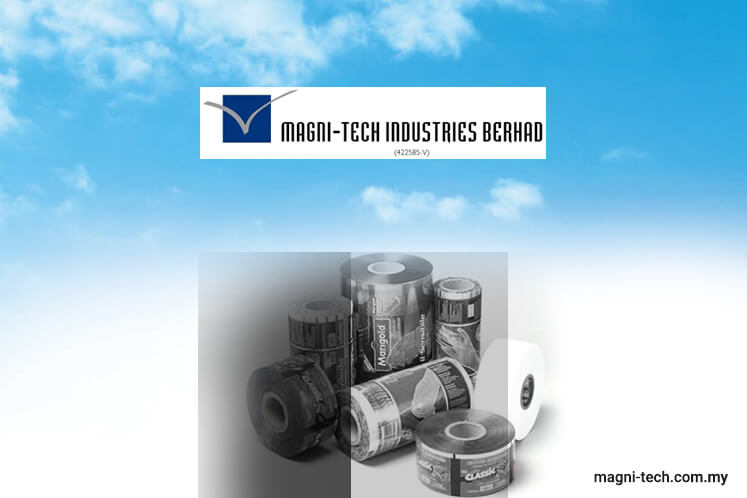 KUALA LUMPUR (Sept 14): Magni-Tech Industries Bhd's net profit fell 17% to RM19.59 million in the first quarter ended July 31, 2017 (1QFY18), from RM23.53 million a year ago, due to net foreign exchange loss recorded for the quarter.
It posted 12 sen earnings per share for the quarter, compared with 14.46 sen in 1QFY17. Revenue for the quarter, however, improved 12% year-on-year to RM293.71 million from RM271.39 million.
The garments and plastic packaging materials manufacturer announced a single tier interim dividend of 3.5 sen per share in respect of its financial year ending April 30, 2018 (FY18).
The group attributed the growth in revenue to higher garment revenue, which was partly offset by lower contribution from its packaging operations, due to the cessation of offset printing packaging business in 4QFY17.
Meanwhile, it said the decline in profit came following a foreign exchange loss of RM1.32 million booked by its garment operations — which contributed some 94% of the group's profit from operations — compared to a net foreign exchange gain of RM3.41 million recorded in 1QFY17.
The segment's profitability was also affected by higher minimum wages in Malaysia and Vietnam.
Its packaging segment's profit also declined following the cessation of offset printing packaging business. It said its pre-tax profit of continuing packaging operations was close to that in the year-ago quarter.
Going forward, Magni-Tech said the manufacturing and sales of garments will continue to be the major revenue contributor for the group.
"The lacklustre business landscape surrounding the group during 1QFY18 is expected to remain in the forthcoming quarter, namely 2QFY18.
"Nevertheless, both the garment and packaging businesses are expected to remain profitable for the remaining quarters of the current financial year," it said.
Magni-Tech shares fell 5 sen or 0.68% to RM7.30, giving it a market capitalisation of RM1.19 billion.