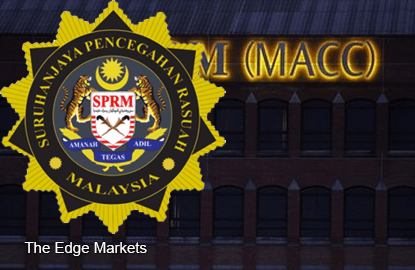 KUALA LUMPUR (March 31): The Malaysian Anti-Corruption Commission (MACC) has remanded Master-Pack Group Bhd executive chairman Datuk Syed Mohamad Syed Murtaza for investigations involving Yayasan Bumiputra Pulau Pinang Bhd.
Syed Mohamad is also an independent non-executive director in Globetronics Technology Bhd. Master-Pack produces packaging materials while Globetronics is a semiconductor manufacturer.
According to separate statements by Master-Pack and Globetronics to Bursa Malaysia today, the MACC had remanded Syed Mohamad "to facilitate and assist investigations currently being conducted by SPRM". The MACC is also known as Suruhanjaya Pencegahan Rasuah Malaysia (SPRM).
Master-Pack said: "The board of directors have been made to understand that he is being investigated under Section 23 of the SPRM Act 2009 for matters relating to Yayasan Bumiputra Pulau Pinang Bhd and not the company."
Meanwhile, Globetronics said Syed Mohamad, being an independent non-executive director, was not involved in the company's day-to-day operations. As such, the remand will have no impact on the group's business.
"The company has no details of the nature of the investigations or their status. The company does not have any further information other than those available in the media," Globetronics said.