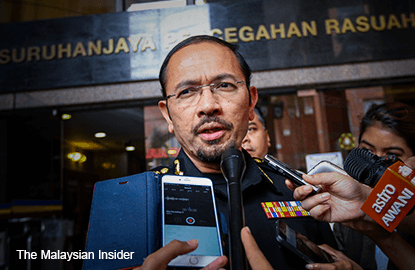 (Aug 10): The Malaysian Anti-Corruption Commission (MACC) will continue its probe into companies linked to debt-ridden state investor 1Malaysia Development Bhd (1MDB) now that two of its senior officers who were abruptly transferred out have been reinstated, its acting chief said.
MACC deputy chief commissioner (prevention) Datuk Mustafar Ali said the two officers would return to their former posts and hold the same portfolios.
"Our work and investigations will continue as usual.
"The director is back in place and the work of MACC which has always been transparent and professional will continue as normal," Mustafar told reporters outside the MACC office in Putrajaya today.
The officers concerned are Datuk Bahri Mohamad Zin, who heads the agency's special operations division, and its strategic communications director Datuk Rohaizad Yaakob.
The division is investigating SRC International Sdn Bhd, a former subsidiary of 1MDB. It is now owned by the Finance Ministry.
Bahri and Rohaizad were reinstated today after meeting with the chief secretary to the government and the Public Services Department.
Mustafar said the two officers were allowed to explain their response to the transfers.
The transfers occurred after Bahri openly criticised the police's questioning of seven MACC officers, including himself, over alleged leaks of official information concerning a probe into 1MDB.
The special operations division, which Bahri heads, was also raided for documents on 1MDB.
Bahri was seen leaving the MACC building at around 1.30pm but declined to speak to the press outside.
"Ask my boss," he told reporters.
Rohaizad, too, declined to speak to the press.
Chief Secretary to the Government Tan Sri Ali Hamsa in a statement earlier today said that the reinstatement of the two officers was decided at a meeting with them and the director-general of the Public Services Department Tan Sri Zabidi Zainal.
Police were investigating MACC over alleged leaks of official information on 1MDB as well as an alleged leak of a purported charge sheet against Prime Minister Datuk Seri Najib Razak published by whistle-blower website Sarawak Report.
Bahri denies that the leak came from within MACC.
Following public outcry against the police's actions, however, Inspector-General of Police Tan Sri Khalid Abu Bakar on Saturday announced that the force would temporarily halt its probe into MACC on the matter. – The Malaysian Insider