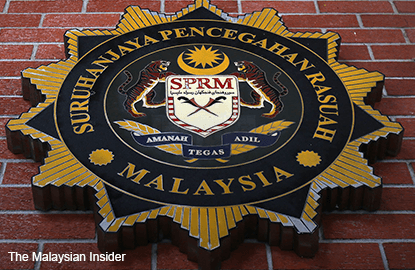 (Dec 3):  The Malaysian Anti-Corruption Commission (MACC) today confirmed they met with Datuk Seri Najib Razak to fix an appointment to record his statements on SRC International Sdn Bhd (SRC) and the RM2.6 billion deposited into his personal accounts.
In a statement released this evening, MACC confirmed they had a meeting with the prime minister's office but it was to fix an appointment to record Najib's statement at a later date.
The Malaysian Insider quoting sources today reported that MACC officers were expected to record Najib's statement, either at his office in Parliament or at his residence, today morning.
MACC's attempts to speak to the prime minister failed owing to his busy schedule.
This latest development into the probe comes after MACC officers had over the weekend recorded statements from businessman Low Taek Jho (also known as Jho Low), and SRC director Datuk Suboh Md Yassin.
SRC was a subsidiary of 1MDB until it was placed directly under the Finance Ministry in 2012.
Last month, in an interview with The Malaysian Insider, Attorney-General Tan Sri Mohamed Apandi Ali said that he gave MACC until the end of this year to record Najib's statement on the RM2.6 billion he received.
Apandi also said he informed Najib of this, and that the prime minister agreed he would have to be questioned.
Critics have accused the authorities of deliberately dragging their feet over the investigation, while the Conference of Rulers last month urged the government to complete the investigations related to 1MDB as soon as possible.
The Wall Street Journal (WSJ) had on July 2 published an article quoting an "unnamed investigator" saying that almost US$700 million (RM2.6 billion, at the time of publication) was banked into Najib's personal accounts, a large portion of which was transferred before the 13th general election in May 2013.
1MDB refuted the claim, while Najib denied taking any state funds for personal gain. He had also threatened to sue WSJ over the article.
The prime minister also said he was willing to give a statement to the anti-graft agency over the RM2.6 billion "political donation", and promised to do so "as soon as possible". – The Malaysian Insider