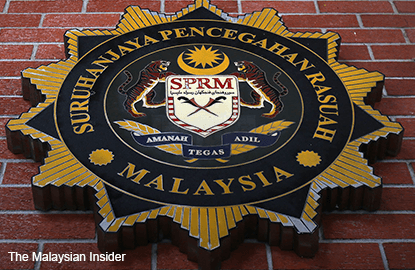 KUALA LUMPUR (Dec 31): The Malaysian Anti-Corruption Commission (MACC) today handed the attorney-general an investigation paper on SRC International and another on the RM2.6 billion transferred to Prime Minister Datuk Seri Najib Razak's accounts.
MACC said it was satisfied with the testimony of more than 100 witnesses, including the individual who allegedly gave RM2.6 billion to Najib.
"The investigations involving witnesses in the country are complete. A statement from the party alleged to be the donor was also taken down," said Datuk Sri Mohd Shukri Abdull, MACC's deputy director of operations.
Shukri said the investigation paper on SRC International was presented to an independent panel yesterday before it was submitted to the attorney-general.
The five panel members were representatives of independent bodies monitoring MACC's progress, he said.
"They are experts in the fields of law, banking, corporate business and investigations.
"The five members are former inspector-general of police Tan Sri Musa Hassan, former Court of Appeals judge Datuk Mohd Noor Abdullah, former Bank Negara deputy governor Datuk Zamandi Abdul Ghani, former Bar Council president Lim Chee Wee, and advocate and solicitor Datuk Zuraidah Atan."
Shukri said the panelists also gave their views and suggestions to MACC.
Najib has said the RM2.6 billion deposited into his personal bank accounts was a donation and the transactions were above board.
The prime minister has denied the money was from public funds or linked to state-owned investment firm 1Malaysia Development Bhd (1MDB).
The Wall Street Journal alleged in a July report that the money came from SRC International, a subsidiary of 1MDB.