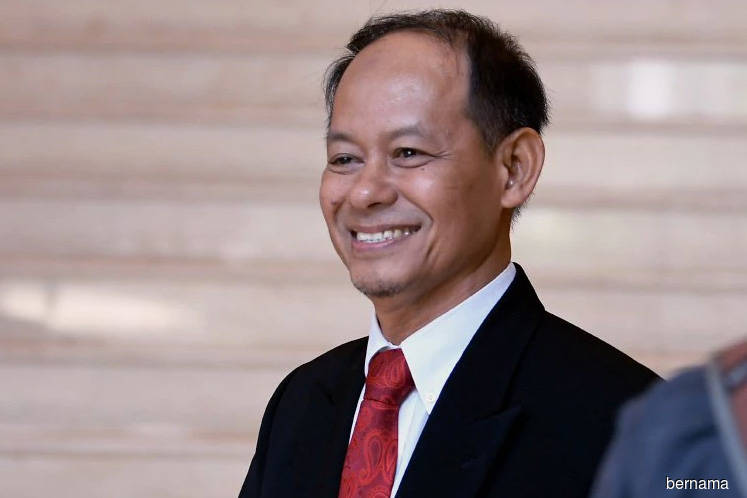 PUTRAJAYA (May 22): Newly appointed MACC chief commissioner Datuk Seri Mohd Shukri Abdull today revealed that he agreed to lead the anti-graft agency to attend to "unfinished business" when he left as deputy chief there two years ago.
Speaking at a media briefing at MACC headquarters today, Shukri said he came out of retirement to complete the investigations relating to SRC International Sdn Bhd and the RM2.6 billion allegedly channelled into the bank account of former prime minister Datuk Seri Najib Razak.
"It was one of the worst cases I've dealt with. They were too big to protect [from being exposed].
"At the time, either we (Shukri and former MACC chief Tan Sri Abu Kassim Mohamed) take action or action was going to be taken on us, if you know what I mean," said Shukri, who was MACC deputy chief commissioner at the height of the 1Malaysia Development Bhd (1MDB) scandal involving SRC International and Najib.
Shukri went on to share challenges MACC officers faced during the course of the investigations, including threats of being fired, early retirement, transfer to other departments, and ultimately arrests and death threats.
"Our witnesses were brought away. At times other agencies will question them on what they revealed to the MACC," said Shukri.
During the investigation, Shukri left to the US following speculation that he would be arrested for conspiring to take down the ruling government, after Tan Sri Abdul Gani Patail was terminated as Attorney-General at the time.
There he sought protection from the NYPD for about a week after he was followed by certain individuals.
"I told a senior officer in MACC to tell the then-IGP to send a better spy, because my team was following him [instead of] him following me," he said.
Shukri said upon his return to Malaysia, he and Abu Kassim split up to meet with ministers and to explain to them that the RM2.6 billion case was not a hoax but a real case.
"Only three ministers listened — Datuk Seri Shafie Apdal, Tan Sri Muhyiddin Yassin and [former deputy finance minister] Datuk Ahmad Husni Mohamad Hanadzlah," he added.
He also revealed that they have both met with the Conference of Rulers twice to assist on the progress of the investigation but were left "disappointed".
Additionally, Shukri also told of "an MP from the North" who paid him a visit twice to persuade him to cease all MACC investigations on both cases.
It is widely believed that Shukri was referring to Datuk Seri Abdul Azeez Abdul Rahim, the member of parliament for Baling, Kedah who also serves as chairman of pilgrim fund Lembaga Tabung Haji.
The straw that broke the camel's back, however, said Shukri, was when former MACC chief Tan Sri Dzulkifli Ahmad, who was previously also a deputy public prosecutor (DPP) got involved in the investigation.
"A DPP is supposed to find more information to strengthen a case, not to protect the subject of investigation. That was when I decided to retire early," he said.
"I didn't reveal all this before because I did not want my staff to be demoralised," he said, adding that no police report was lodged on uncertainty towards a thorough follow-up by the police.
Najib was asked to come to the MACC headquarters here today to have his statement recorded on the SRC International case.
SRC International was created in 2011 by Najib's government to pursue overseas investments in energy resources, and was a unit of 1MDB until it was moved to the finance ministry in 2012.
Meanwhile, the RM2.6 billion case involving Najib's bank account will be investigated by Council of Eminent Persons' 1MDB task force, of which MACC is also a member.
The monies were allegedly siphoned from 1MDB, a claim that Najib has since denied.
Additionally, Shukri emphasised that MACC's findings on the cases are "almost identical" to the report issued by US Department of Justice.