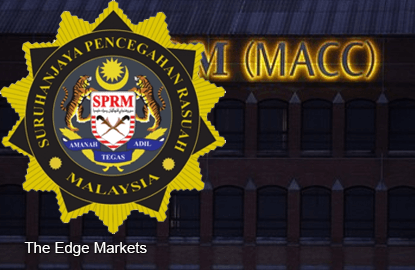 (Sept 3): Tunku Abdul Aziz Tunku Ibrahim, the chairman of Malaysia's anti-graft advisory board, has dismissed remarks by the head of Transparency International (TI) that Malaysia was a failed state rife with corruption, saying that one unresolved case did not mean the country was in a crisis.
Tunku Abdul Aziz, who chairs the Anti Corruption Advisory Board of the Malaysian Anti-Corruption Commission (MACC), said TI president Jose Ugaz was "ill-informed" and demanded an explanation from him.
"The speech made by the president of Transparency International where he repeated the charge that Malaysia is in a corruption crisis; I think that this statement is ill-advised; it was an ill-informed statement.
"I understand the case involves a huge amount but a proper and thorough investigation needs to be done before action can be taken.
"Why can't they wait until the investigation is completed?" Tunku Abdul Aziz said in a statement today, in response to Ugaz's remarks about the lack of answers from Prime Minister Datuk Seri Najib Razak over the RM2.6 billion donation in his personal accounts.
Ugaz had commented on the funds yesterday in his speech at the 16th International Anti-Corruption Conference (IACC), which Malaysia is hosting.
But Tunku Abdul Aziz, himself once the president of TI's Malaysian chapter, said that the MACC was still investigating the case and that everyone should wait for it to complete its probe.
Tunku Abdul Aziz added that MACC was as "independent as you can get".
"There are independent oversight panels that look into its performance.
"I hope this incident will not be repeated."
He also said that if the prime minister was found guilty in the end, he must face the full brunt of the law.
"If Najib is guilty and if the law says he should be hanged, then go ahead and do that, but I want to emphasise here that we are governed by the rule of law in this country.
"That is the basis of our legal system and civilisation," he said, adding that people should not allow emotions to get in the way of justice.
Yesterday, Ugaz had urged Malaysia to provide answers on the RM2.6 billion transferred to Najib's account, saying the country's commitment towards fighting corruption cannot be taken seriously as long as it did not explain who paid the money, why, and what happened to it.
The global anti-graft activist also said that Putrajaya's actions in changing the attorney-general in the midst of a probe into the funds, and the arrests and questioning of anti-graft officers, followed by the disbanding of the special task force, were not actions a government, which claims to be fighting corruption, would take. – The Malaysian Insider