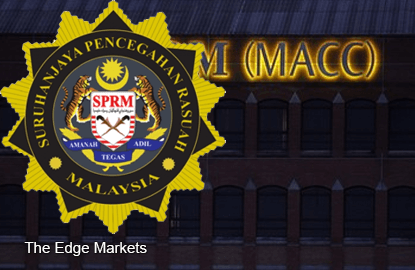 (Dec 1): The Malaysian Anti-Corruption Commission has disapproved the proposal to place it under the Enforcement Agency Integrity Commission (EAIC).
Calling the move "totally unnecessary", the MACC Anti-Corruption Advisory Board said it was already an independent enforcement agency.
"It would create an over-regulated situation in Malaysia which is already billed as one of the world's most highly regulated nations.
"What Malaysia badly needs to ensure the effectiveness of its various agencies is not to form more government entities, but to enhance their internal capabilities," said chairman of the board, Tunku Abdul Aziz Ibrahim, in a statement.
EAIC chairman Datuk Yaacob Md Sam told a press conference on Saturday that the EAIC Act 2009 would be amended to allow more enforcement agencies, including MACC, to be listed under the its purview.
He said among the proposed amendments was to delete Section 1(5) of the law which exempted MACC from the act.
He said incidents like the deaths of political secretary Teo Beng Hock and Customs officer Ahmad Sarbani Mohamed justified the proposal.
But Tunku Aziz said the board believed putting MACC under EAIC would not help it be more accountable for its operation, since it already had several "independent watchdog panels" overseeing its operation.
"The board therefore urges the government not to proceed with its move to amend the EAIC Act 2009 and not do away with the law that exempts the MACC from being accountable to EAIC.
"We regard such a move as futile and adding another layer of bureaucracy that might lead to greater inefficiency."
The proposed move comes amid MACC's probe into SRC International Sdn Bhd, a former subsidiary of 1Malaysia Development Bhd, and the RM2.6 billion transferred to Prime Minister Datuk Seri Najib Razak's personal bank accounts. – The Malaysian Insider