This article first appeared in The Edge Financial Daily, on January 17, 2019.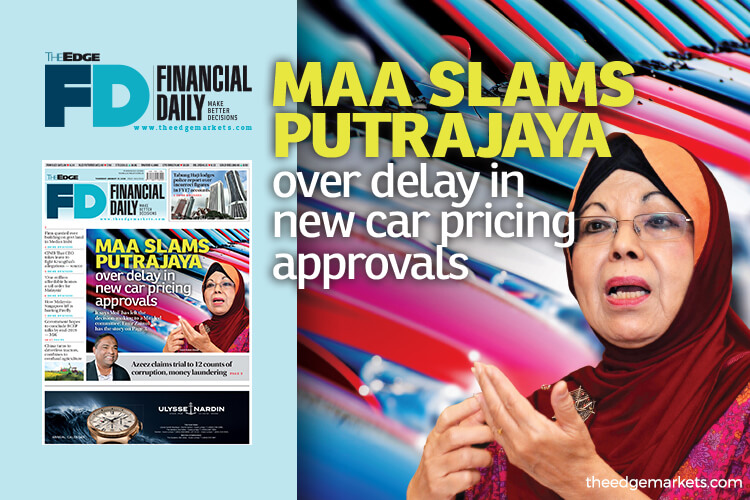 KUALA LUMPUR: The Malaysian Automotive Association (MAA) yesterday slammed the government over its inability to make decisions on tax incentives for qualified locally assembled vehicles, which has caused delays in approving the new car models' pricing and has affected its members' plan to launch new vehicles.
MAA president Datuk Aishah Ahmad said the delay is affecting locally assembled models that are applying for tax incentives under the Industrial Linkage Programme (ILP). She said the wait can reach between five and seven months, and will subsequently impact the sales of new vehicles in 2019.
"I cannot mention [who] specifically, but many of our members have been affected by this delay. There are a lot of models which we have shown during the motor show (Kuala Lumpur International Motor Show 2018) and we are supposed to launch them, but until today we still haven't got the official prices [from the authorities]," she said at a media briefing here yesterday.
Aishah claimed that the delay is due to the Ministry of Finance's (MoF) refusal to make decisions on the matter, and left it instead to a new government body under the Ministry of International Trade and Industry (Miti) known as the Automotive Business Development Committee (ABDC), making the entire pricing approval process more cumbersome.
The members of the committee, according to Aishah, include representatives from the MoF, the Royal Malaysian Customs Department, the Malaysia Automotive, Robotics and IoT Institute and the Malaysian Investment Development Authority.
A quick check on Miti's website showed that the committee is chaired by Miti. It is tasked to discuss incentive applications under the Multi Sourcing Parts Progamme and ILP schemes for the automotive industry.
"So the delay is because the MoF now does not want to make decisions [on this]. Everything is channelled back to the ABDC. So all goes to this committee and you must get everybody to sit together.
"Government officials are now holding back — they don't want to make any decisions on their own. It has to be a committee decision and it is not helping the industry," she said, adding that the change in government has held authorities back from making decisions and caused [a] setback in the approval process.
"We have voiced this out. It is very difficult because we cannot get prices and therefore we cannot launch our models," Aishah added.
Flat growth for auto sales in 2019
MAA estimated that the number of vehicle sales or total industry volume (TIV) in 2019 will grow at a marginal rate of 0.21% to 600,000 units from 598,714 units in 2018.
Aishah highlighted that the forecast has taken into account various factors throughout the year that would affect the TIV, including an expected subdued global economic growth, dismal local economy outlook, weak ringgit, lower public investment, and moderation in consumers' spending in light of economic uncertainties and inflationary pressure.
After two years of consecutive contraction, the local automotive market rebounded in 2018 with TIV of new motor vehicles of 598,714 units against 576,625 units registered in 2017, representing an increase of 22,089 units or 3.8%.
MAA attributed the uptick in demand mostly to the reduction in general car prices in June to August when the government announced a tax holiday for the three-month period by zero-rating the goods and services tax to make way for the introduction of the new sales and service tax regime.