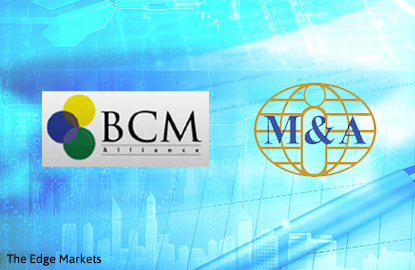 KUALA LUMPUR (Aug 22): BCM Alliance Bhd, which is scheduled for a listing on the ACE Market of Bursa Malaysia by October, has today signed an underwriting agreement with M&A Securities Sdn Bhd, in conjunction with the initial public offering (IPO) exercise.
Under the agreement, M&A Securities will underwrite a total of 31 million new shares, comprising 22 million new shares, made available for the Malaysian public and 9 million new shares made available to eligible staff.    
 
In a statement today, BCM Alliance managing director Liaw Chong Lin said the company has appointed M&A Securities as its adviser, sponsor, underwriter and placement agent for the IPO exercise.
"The appointment of M&A Securities brings us another step forward in our listing process with their wealth of experience and expertise, which will be invaluable to the company, going forward," he added.
 
Liaw also said the listing would enhance the company's profile in no small way, and propel it towards increasing its product range even further in the future.
 
BCM Alliance's IPO entails the issuance of 84.25 million new shares, representing 20% of its enlarged issued share capital.
Of the 84.25 million new shares, 22 million new shares will be made available to the Malaysian public via public balloting; 9 million new shares for staff, while the remaining 53.25 million new shares are earmarked for private placement to selected investors.
 
The existing shareholders of the company will also make an offer for sale of 42.13 million shares to selected investors, by way of private placement.
The proceeds from the IPO will be used to set up a chain of 11 new Speed Queen self-service launderette outlets as concept stores throughout Malaysia, purchase of new commercial laundry equipment and medical devices for working capital, and to defray listing expenses.