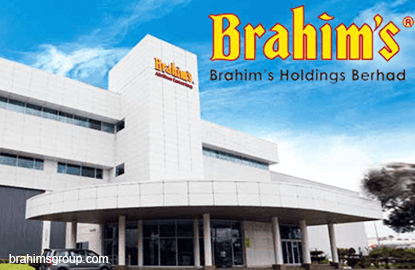 This article first appeared in
The Edge Malaysia Weekly
, on December 19 - 25, 2016.
A good asset will have many buyers. But disposing of a loss-making entity that faces a tough operating environment is a real challenge.
Yet, Brahim's Holdings Bhd managed to sell a 49% stake in Brahim's Airline Catering Holdings Sdn Bhd (BACH) to SATS Ltd for up to RM218 million. And there was the challenge of tight deadline of only 3½ months.
Affin Hwang Investment Bank Bhd was responsible for putting the deal together as principal adviser.
The divestment was part of a proactive measure and turnaround plan for Brahim's — taking into account the challenging business landscape in airline catering — that would allow the company to diversify into non-airline catering.
Recall that BACH has a 70% stake in Brahim's SATS Food Services Sdn Bhd (previously known as Brahim's Airline Catering Sdn Bhd), which operates a globally recognised halal flight kitchen with an integrated food logistics supply chain.
Operating out of Kuala Lumpur International Airport, its main client is Malaysia Airlines Bhd (MAB). However, Brahim's also services 43 international airlines, including British Airways, AirAsia X, Emirates Airlines and Turkish Airlines.
SATS Ltd is a Singapore-based provider of gateway services and food solutions, serving many of the same customers as Brahim's.
However, following the restructuring of Malaysia Airline Systems Bhd into MAB, the operating environment became more challenging for Brahim's. The catering arm incurred a loss in the most recent financial year, which made it difficult and challenging to negotiate favourable terms for the disposal.
In order to bridge the price gap expectations between buyer and seller, an earn-out structure was used. In addition, an outperformance consideration was negotiated to incentivise better performance.
The base consideration for the deal is RM110 million. That values BACH at 76.62 times EV/Ebitda (enterprise value/earnings before interest, taxes, depreciation and amortisation). To obtain the additional RM108 million, BACH will have to achieve certain financial targets. The maximum consideration of RM218 million values BACH at 144.25 times EV/Ebitda.
Recall that Brahim's' cost of investment for the 49% stake was RM129.63 million. If Brahim's is able to deliver its financial targets, it will be able to dispose of the stake in BACH at a reasonable premium.
In short, Affin Hwang was able to structure a deal that bridged the requirements of both buyer and seller despite the challenging nature of BACH's operations.