This article first appeared in The Edge Malaysia Weekly, on July 30, 2018 - August 05, 2018.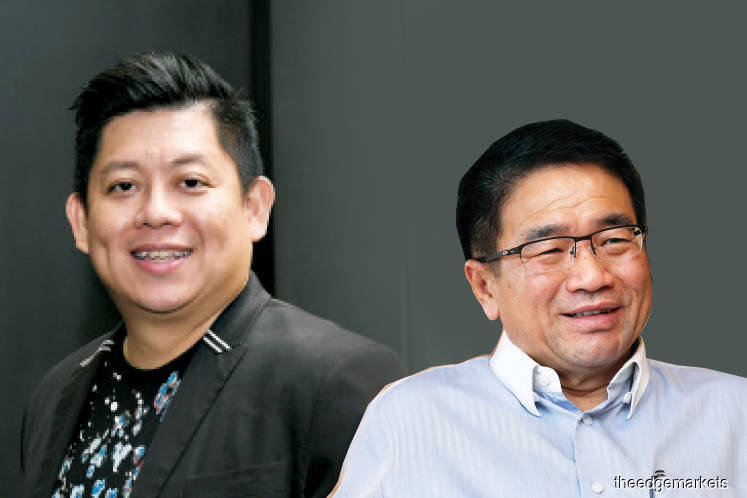 OVER the past few years, a number of ailing Bursa Malaysia-listed companies have been given a new lease of life by new substantial shareholders injecting their privately owned assets into these entities.
Last month, M101 Group founder and CEO Datuk Seth Yap Ting Hau emerged as a 25.5% shareholder of Meda Inc Bhd, a loss-making property firm. A series of direct business transactions saw Yap acquiring a direct 9.43% stake in the company and M101 Ventures Sdn Bhd getting 16.06%.
There is widespread speculation that Yap will soon be calling the shots — having most likely forked out RM35.7 million for 123 million shares based on Meda Inc's net assets per share of 29 sen — and that he may inject M101 or its property projects into the company.
The existing major shareholders of Meda Inc — Datuk Tiong Kwing Hee and the Teoh brothers, namely Datuk Dr Patrick Teoh Seng Foo, Datuk Kenneth Teoh Seng Kian and Teoh Seng Aun — are expected to sell their stakes and exit the company to allow Yap to take over.
If the rumours are to be believed, why did Yap choose Meda Inc as a listing vehicle for M101?
To put things into perspective, Meda Inc has been in the red for four consecutive years, reporting a net loss of RM3.1 million in its financial year ended Dec 31, 2014 (FY2014), RM55.7 million in FY2015, RM6.7 million in FY2016 and RM8.8 million in FY2017.
As at Dec 31 last year, it had accumulated losses of RM125.9 million at the group level while its revenue had dropped significantly from RM106.6 million in FY2015 to a mere RM21.4 million in FY2017. Over the same period, its total assets and shareholders' funds had shrunk 7% and 9.6% respectively.
Note that in January, 55 owners of condos in The Arc @ Cyberjaya launched a class-action suit against Meda Inc's wholly-owned subsidiary, Maju Puncakbumi Sdn Bhd, for allegedly defaulting on a guaranteed rental return scheme payment. The company said it intends to defend the suit "due to some discrepancies".
Notwithstanding that Meda Inc has not been well run — at least in recent years — it still has its merits.
Industry observers claim that Yap was attracted to Meda Inc for its 622.13-acre land bank in Kuala Linggi, Melaka, which had a net book value of RM71.98 million as at the end of last year.
When contacted, Yap says Meda Inc has qualities that suit M101's business expansion plans. "As we are new to Meda Inc, we are in the midst of studying the company's assets and deriving ways to maximise the potential of its existing assets," he tells The Edge.
According to its 2017 annual report, Meda Inc's total undeveloped land bank stood at 750.78 acres as at Dec 31 last year. Apart from the Kuala Linggi land, it has 112.8 acres in Sungai Siput, Perak; 9.73 acres in Tanjong Kling, Melaka; and 6.12 acres in Sepang, Selangor.
Yap points out that the Kuala Linggi land is under-utilised and that a lot of value could be derived from it. Consultants have been engaged to conduct a feasibility study and to come up with a master plan.
"Currently, we are in discussion with several international brands for potential partnership opportunities for the said land. Once we finalise the terms with our international partners, the necessary announcements will be made," he reveals.
Asked if he plans to raise his stake in Meda Inc, Yap says as a new major shareholder, he is familiarising himself with the other major shareholders as well as the operations of the company.
"Any decision to increase my stake in the company will depend on how the major shareholders collectively charter the future business direction of the company as well as market conditions at the time."
As to whether he plans to inject M101 or its property projects into Meda Inc, Yap stresses that the operations of the two companies will remain separate and distinct, at least for now.
"At this juncture, the team's focus is on how to maximise the potential of Meda Inc's existing land bank. While there are currently no plans to inject any private business into Meda Inc, the options remain open as and when the opportunity arises."
Lawyer turned developer
Yap graduated from the University of Liverpool in 2001 and is a lawyer by profession. Upon graduating, he did not practise law but ventured into various businesses, such as events management and advertising, real estate, outsourced banking, and property investment.
"Many people may know me as a lawyer but I would say that I am first an entrepreneur. I guess it is a blessing in disguise that all my businesses were somehow closely or directly related to developments and developers, which prepared me for the opportunity to venture into the real estate industry."
Today, M101's portfolio boasts three major property projects. The newly completed M101 Dang Wangi has a gross development value of RM130 million while the estimated GDV of its two ongoing projects — M101 Bukit Bintang and M101 Skywheel — is RM365 million and RM2.2 billion respectively.
M101 Skywheel — M101's flagship development — is an iconic 78-storey building that will feature the world's highest shopping experience owing to its sky mall and a Ferris wheel. It also offers designer suites by Studio F.A. Porsche and the first Planet Hollywood Suites in Asia.
Both M101 Dang Wangi and M101 Bukit Bintang are fully sold while less than a year after M101 Skywheel's official launch, it has registered sales worth more than RM500 million.
Interestingly, it was Meda Inc's Tiong who brought Yap into the company as a white knight.
When contacted, Tiong, who is also the CEO of property developer, EcoFirst Consolidated Bhd, speaks highly of Yap.
"The entry of Seth is definitely good for Meda Inc. I think he is excellent. I have very high expectations of him. I got to know him through my investment banker. We have not known each other for that long, but long enough to be partners. I find this young man to be very prudent," he tells The Edge.
Tiong, who owns 17% of Meda Inc, says the fact that M101 has completed many projects and managed to sell them all tells him that Yap has something up his sleeve.
"Obviously, Seth is the right candidate for Meda Inc. He is an aggressive entrepreneur. He is new blood and has many ideas. I am confident that he will turn Meda Inc into a big and profitable company."
Save by subscribing to us for your print and/or digital copy.
P/S: The Edge is also available on Apple's AppStore and Androids' Google Play.