This article first appeared in The Edge Malaysia Weekly, on October 22, 2018 - October 28, 2018.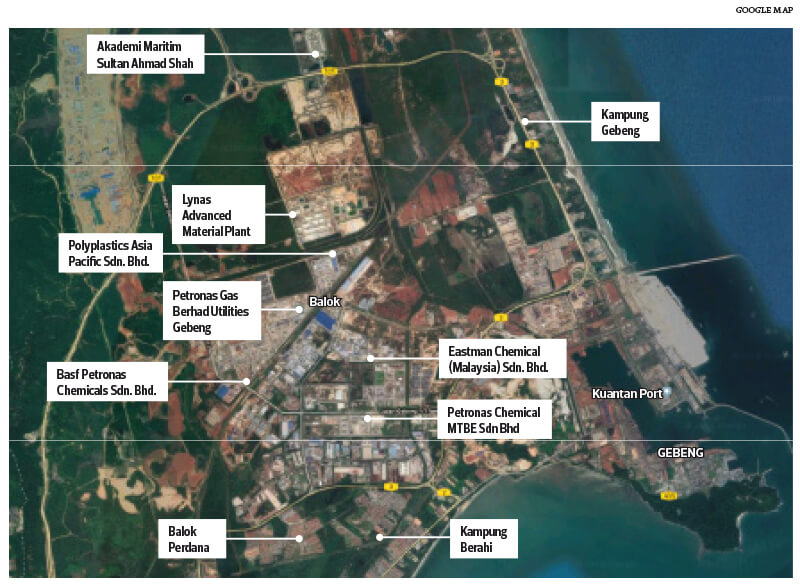 LAMP is located about 7km from the shore and is surrounded by other industrial plants and population centres in Balok, Kuantan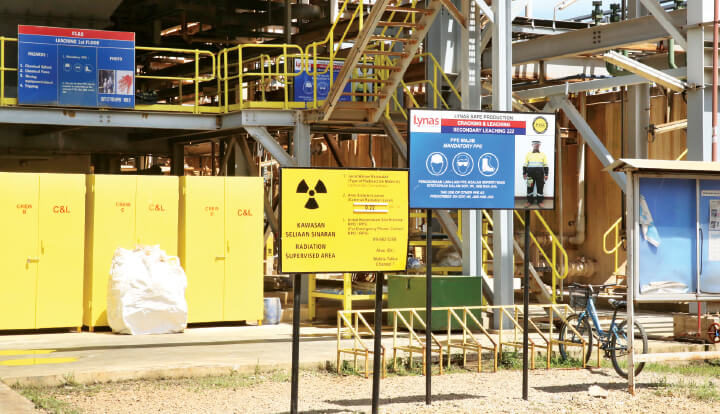 LAMP's handling and storing of radioactive materials is the core issue for its critics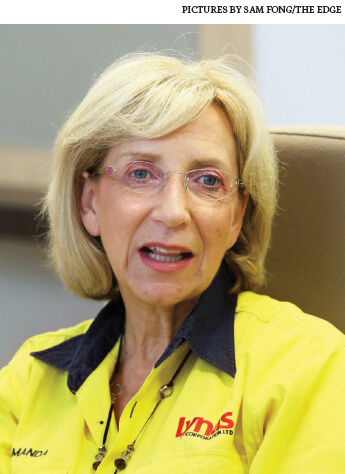 Lacaze: When people ask, 'Why are you here? Is it because it is easier for you?' Well, guess what? It is not.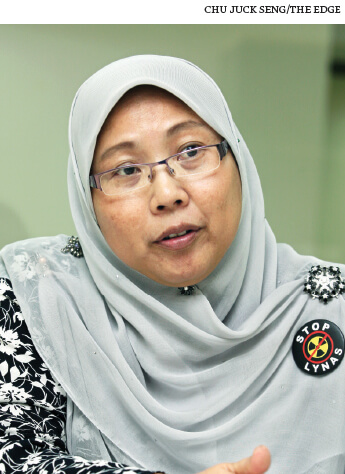 Fuziah: If Lynas were to operate in Australia, they will have to return the waste to the mines. Why do they practise double standard here?
PUBLIC discourse on Australian company Lynas Corp Ltd's rare earth separation plant in the Gebeng Industrial Park in Kuantan is often emotionally charged. But decision-makers looking at issues surrounding the plant, which has been in operation for six years now, have no choice but to clinically examine the facts presented by all the parties concerned.
For starters, how did the facility known as Lynas Advanced Material Plant (LAMP) end up in Gebeng?
In 2006, Lynas was scouting around for a suitable location to house its rare earth separation plant to serve the global rare earth material market, which at the time was controlled by China. Several locations were considered, including Australia itself.
According to Lynas chief executive Amanda Lacaze, it was the efforts of the Malaysian government, through the Ministry of International Trade and Industry (Miti), that brought the company here.
"We are here because the Malaysian government was doing a good job of selling the country as a destination for foreign direct investment (FDI). It has a stable economy, access to goods and services, as well as a skilled, capable and English-speaking workforce," she tells The Edge in an exclusive interview.
With Miti championing all these attributes back then, Lynas was sold. Being in Malaysia also meant that the company could be near its major customers in North Asia, especially Japan and China.
More than half the rare earth materials produced at LAMP are exported to Japan for its large automotive and electrical and electronics industries, says Lacaze, adding that Lynas also exports heavy rare earth materials to China.
She concedes that compared with Australia, Malaysia offered a low-cost operating environment while the 12-year tax holiday granted by the government was an enticing incentive.
But what is in it for Malaysia? Critics of the plant say the radioactive materials stored here are a grave danger to public health and the environment. Not only that, they point out, the government does not get any tax revenue from Lynas due to the tax holiday.
There is nothing wrong in granting tax holidays to attract FDI but when the investor is in a highly polluting industry, the government should ensure that the benefits derived commensurate with the risks taken to ensure the interests of Malaysians are protected, they argue.
While the government does not receive corporate income tax from Lynas' operation in Gebeng, Lacaze says the company spends about RM500 million a year on input materials from the region, creating jobs and business opportunities along the supply chain.
Indeed, LAMP employs 600 people, some 97% of whom are Malaysians. These workers enjoy an average salary that is three times higher than that earned in the east coast, says Lacaze, as the jobs at the plant are high-skilled.
The question is, should the interest of 600 workers be given more weight than that of the 600,000 people who live in Kuantan and its surrounding areas?
Kuantan MP Fuziah Salleh, a vocal critic of the Lynas operation in Gebeng, which is near her constituency, says the law on the management of radioactive materials back then was insufficient to cover the safety of Malaysians and the environment.
"In Australia, the regulations for managing radioactive waste are different. Malaysia was at a disadvantage because our law back then only covered materials used for medical purposes," says Fuziah when met by The Edge at parliament.
The three-term parliamentarian says when Lynas decided to invest in Gebeng, the Environment Quality Act did not specify that an industry that dealt with radioactive waste as a by-product or residue needed a detailed environmental impact assessment.
"They (Lynas) knew the loopholes and it was very unfortunate that the government fell for Lynas' 'green technology' claims regarding the plant. The government was probably oblivious of the radioactive waste that would be generated by the plant," she remarks.
After being appointed the representative of the parliamentary seat of Kuantan after the 12th general election, Fuziah was approached by concerned citizens and environmentalists about the setting up of Lynas' plant in Gebeng.
She took up the issue, garnering the support of her constituents in Kuantan and beyond. They pressed the government to review the Lynas plant and to tighten regulations regarding the environment.
It was only in August 2011 that the government came up with the Atomic Energy Licensing (Radioactive Waste Management) Regulations under the Atomic Energy Licensing Act 1984, which governs the management of industrial radioactive waste in Malaysia.
To allay fears that LAMP poses environmental, health and safety hazards to the country, Lacaze says the Atomic Energy Licensing Board (AELB) and the Department of Environment (DoE) may inspect LAMP's operations any time.
LAMP produces two types of by-products: iron phosphogypsum or WLP, which contains a very low level of naturally occurring radioactivity, and magnesium-rich gypsum or NUF, which is a non-radioactive material.
According to Lynas, gypsum produced as a by-product is defined as scheduled waste in Malaysia, but not in Australia. However, where WLP is concerned, the company says it complies with all the regulations in Malaysia.
The WLP residue at LAMP is stored on site in a purpose-built, above-ground storage facility designed, built and managed in accordance with the requirements of a permanent deposit facility (PDF) and international best practice, says Lynas.
"Our materials do not even require to be classified as radioactive in Australia. So when people ask, 'Why are you here? Is it because it is easier for you?' Well, guess what? No, it is not. The environmental regulations here are actually more stringent in a number of ways," says Lacaze.
LAMP's operations have been reviewed several times, likely thanks to Fuziah, current Bentong MP Wong Tack and a group called Himpunan Hijau voicing out their frustrations and opposition to the plant's presence in Gebeng.
There have been two special missions by the International Atomic Energy Agency (IAEA) and a parliamentary select committee (PSC), while Lynas' operating licence has been challenged numerous times in court, all of which were dismissed. A full merits hearing was also dismissed in 2015.
According to Lynas, it has complied with all the recommendations made by the IAEA and the PSC, and it has been operating in accordance with the regulatory requirements over the last six years. Every review conducted to date has confirmed this.
Nevertheless, to Fuziah, the fact that Lynas has yet to identify and build a PDF to store the radioactive residue is a big concern. The current storage facility that is sited within LAMP's compound is only a temporary solution, she claims.
"Even though the radiation is at a very low level, it is not to be dismissed because it is still radioactive waste. We have to look at the best practice when it comes to waste management. If Lynas were to operate in Australia, they will have to return the waste to the mines. Why do they practise double standard here?" asks Fuziah.
In the latest round of evaluation, Lynas has urged the Pakatan Harapan government to conduct the review in a fair and transparent manner based on scientific data. The government has set up a committee that includes experts in public health and environmental safety.
It is worth noting that Fuziah and Wong withdrew themselves from the executive review committee to ensure its objectivity. Energy, Green Technology, Science, Climate Change and Environment Minister Yeo Bee Yin then revealed a six-member new committee.
When asked what the end-game of the review was, Fuziah says the bottom line is that the radioactive residue should be contained in a PDF located far from population centres, water sources, whether above or underground, and vegetation.
"If a PDF is identified, then I am willing to consider strict regulations regarding the transport of the waste to the PDF. But let us cross the bridge when we come to it," she adds.
Lynas is listed and traded on the Australian Securities Exchange. Aside from LAMP, it has a mining and concentration plant in Mount Weld in Western Australia.
Its largest shareholder is ASX-listed fund management company Challenger Ltd with a 7.13% stake.
Lynas' share price has tumbled since May 9. It closed at A$1.69 last Friday, giving the company a market capitalisation of A$1.12 billion.
What is rare earth?
Rare earths comprise 17 chemically similar elements on the periodic table that are crucial in the making of many high-tech products. These elements are cerium (Ce), dysprosium (Dy), erbium (Er), europium (Eu), gadolinium (Gd), holmium (Ho), lanthanum (La), lutetium (Lu), neodymium (Nd), praseodymium (Pr), promethium (Pm), samarium (Sm), scandium (Sc), terbium (Tb), thulium (Tm), ytterbium (Yb), and yttrium (Y).
Despite their name, rare earths are found abundantly on earth's crust. They are, however, dispersed and often not concentrated enough to be economically extracted. Although not rare, they tend to occur together and are difficult to separate, making rare earths an expensive commodity. The extraction, processing and refining of rare earths, like the mining of other minerals, are polluting and may pose health hazards to workers and nearby residents, contributing to its value.
With the increase in the use of personal technology in our daily lives, rare earths are found all around us, in computers, mobile devices, cars and other electronic appliances, which has also created rising demand.
China produces 80% of the world's annual production of rare earths, followed by Australia and other countries in smaller quantities.
In the diplomatic spat over the Senkaku Islands in 2010, China limited rare earth exports to Japan — its prized auto and high-tech goods industries are major users of the minerals. This spurred Japan to diversify its sources of rare earth.
In March 2011, Sojitz Corp and Japan Oil, Gas and Metals National Corp announced they would provide loan and equity to Lynas Corp Ltd, in exchange for a minimum of 8,500 tonnes of rare earth per year for 10 years.
Save by subscribing to us for your print and/or digital copy.
P/S: The Edge is also available on Apple's AppStore and Androids' Google Play.